Every website and social media platform has a place for visitors to learn who or what the creator is all about. About pages, bios, profiles, channel descriptions – whatever the name – are valuable real estate that shouldn't be ignored or be done half-assed.
Interestingly, while the about page or bio is cornerstone content for your business, it usually isn't the first thing visitors see. They often come through a piece of content. When that entertains, informs, or just intrigues them, they start a digital investigation to see what this content creator is all about.
What will they find out about you? Since you control the narrative, that's up to you. But it shouldn't be too difficult to create a narrative about your content business if you already have your tilt and detailed your mission. After all, they speak to the who, what, why, and more you're creating.
Use that to create engaging descriptions that are memorable and motivate visitors to connect further with you and visit your owned and rented land.
Create memorable descriptions that motivate visitors to visit your owned and rented land, says @AnnGynn. #ContentEntrepreneur #SocialBios #AboutPage
Click To Tweet
These narratives also can help you and your business surface in search engine results. This is especially true for your channels on YouTube, which is the second-largest search engine in the world.
Tilt Advice
How do you craft a spectacular biographical narrative for your content business? Well, you can't create just one bio and use it on every platform. Tailor each description to where it's going to be seen but tie all of them together for consistent branding.
We recommend starting with the about page on your website and making it the grounding piece. You can pull excerpts from it and modify them to craft your social media bios, profiles, or channel descriptions.
Writing the about page
To write a detailed yet enticing about page, you should tell the story of you and your business. First, explain who you are. This is not your life story. It's the story of who you are as a content entrepreneur in relation to this content business.
Next, detail the who of your content business. What does it provide? Who does it serve? Nosh and Nurture takes a personal, conversation approach on its about page: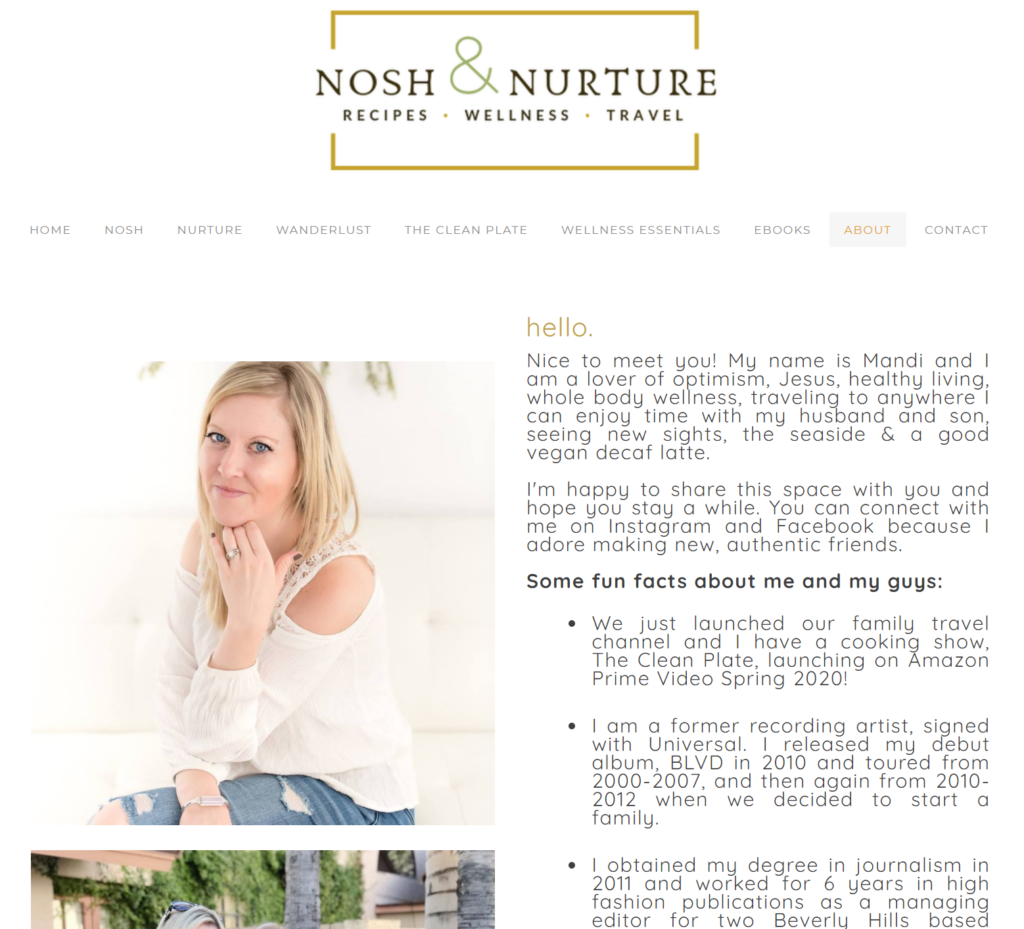 When those narratives resonate with your about-page visitors, they're likely to read on. Now give them the details of your content. Describe the frequency you deliver it (a schedule is ideal.) Include links wherever relevant so visitors can get to whatever you mention in one click. Don't forget to add your basic contact information too.
Add your content delivery calendar and include links on your site's about page. #contententrepreneur #website
Click To Tweet
Creating social bios
With your lengthier about-page complete, it's time to move onto your social media descriptions. In most cases, the shorter the better. That means you can only hit one to three points of what your business offers the audience. In fact, you really should get to the main point in the first 150 characters or so.
Stay focused on what the particular platform's audience would most likely want to know about or act on with your content business. For example, a Twitch about page may include chat guidelines and chat commands along with the usual stuff. A Twitter bio might include a few popular hashtags relevant to your business.
Create a unique bio tailored to each social platform's purpose, says @AnnGynn. #contententrepreneur #social
Click To Tweet
If you have more to say than is allowed – or manageable – include a link to your about page or link tree. Austin Rutland captures his about in three words – capturing calming moments – his Instagram profile and directs people to his TikTok account: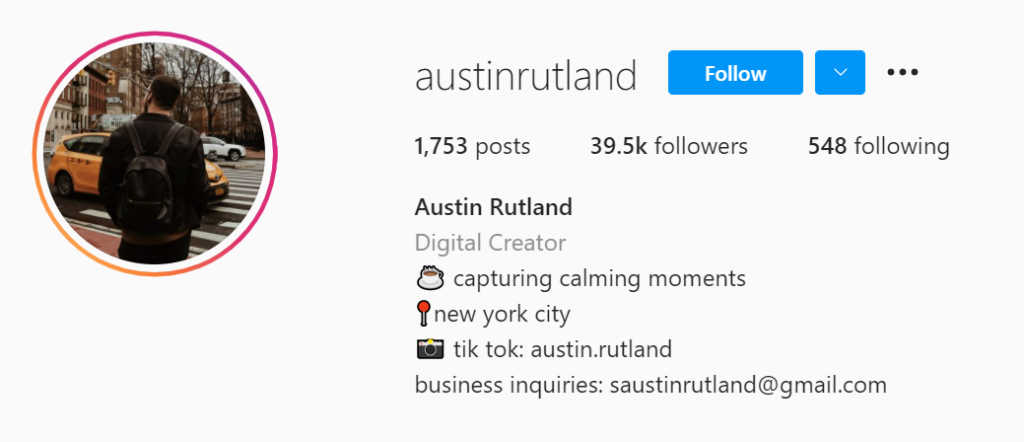 And here's a fun about page from DataDave on Twitch: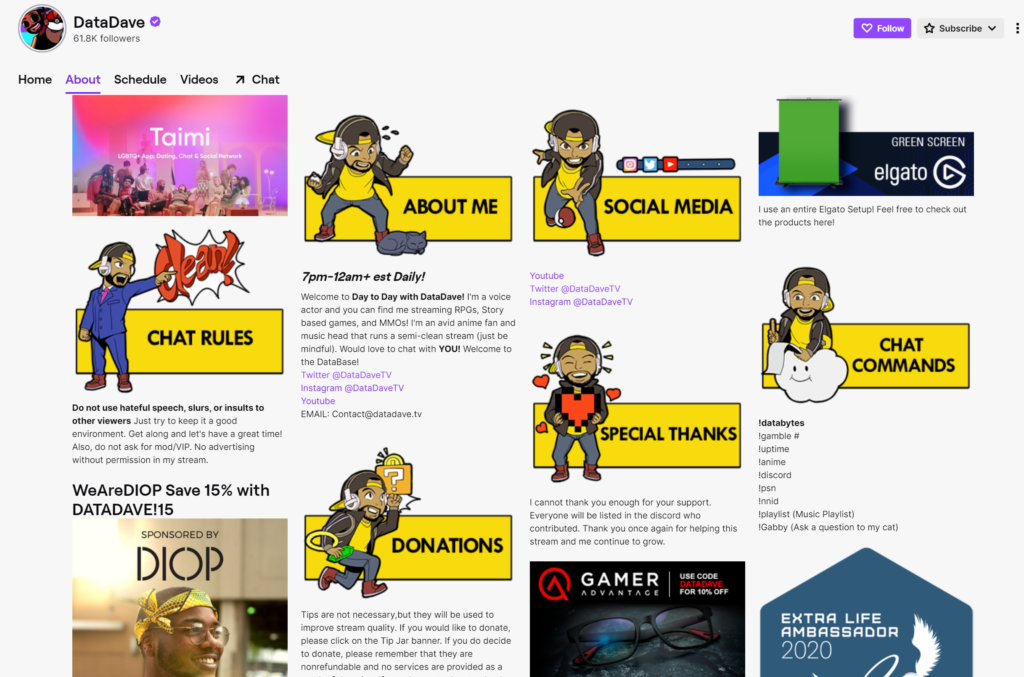 Growing a link tree
A link tree is a simple list on a web page where visitors can easily click on your offer, social media link, merchandise page, etc. Link trees began as landing pages for Instagram creators. Given Insta's restrictions to a single link in a user's bio, the link tree makes sense for creators who don't have a website to send visitors to or who have large audiences on mobile devices. Today, content entrepreneurs use link trees outside of Instagram as well.
Use only a word or two for your click-button labels. Otherwise, many visitors will turn away quickly because it's too much work to scrutinize each option. Linktree is the most popular tool to create them, but there are plenty of alternatives – some of which let you adjust the URL, letting you put your brand stamp on it.
Wrapping up all the about
Let's take a look at how Koo Koo Kanga Roo does it.
On their website's about page, they go into detail about their origin story and what they're up to today.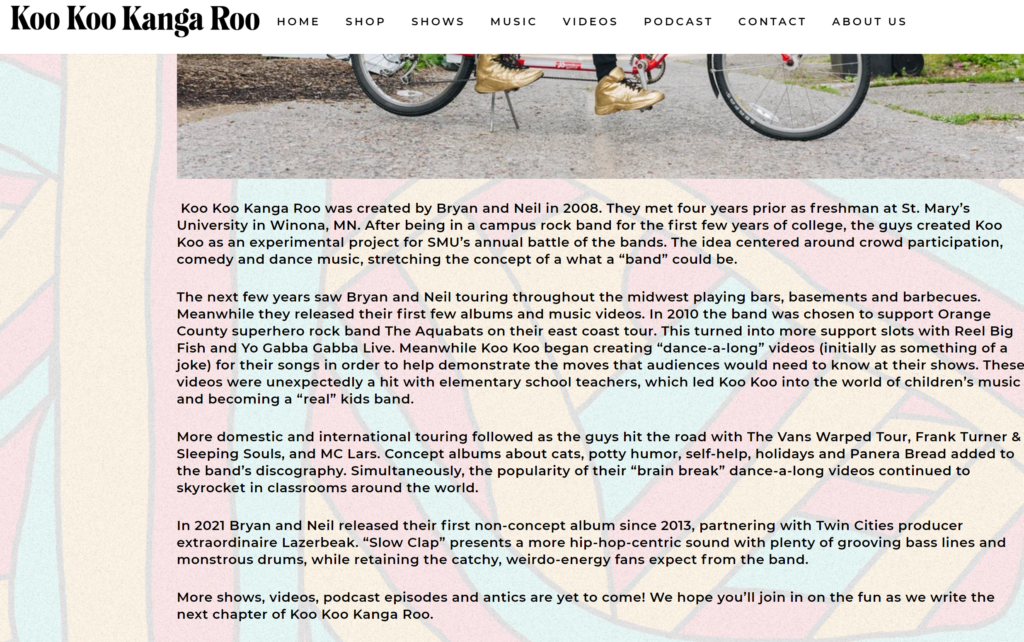 Their Instagram bio is brief but still tackles the who, what, and one of their "where" accompanied by a link:

Brevity also is the mantra in their Twitter profile: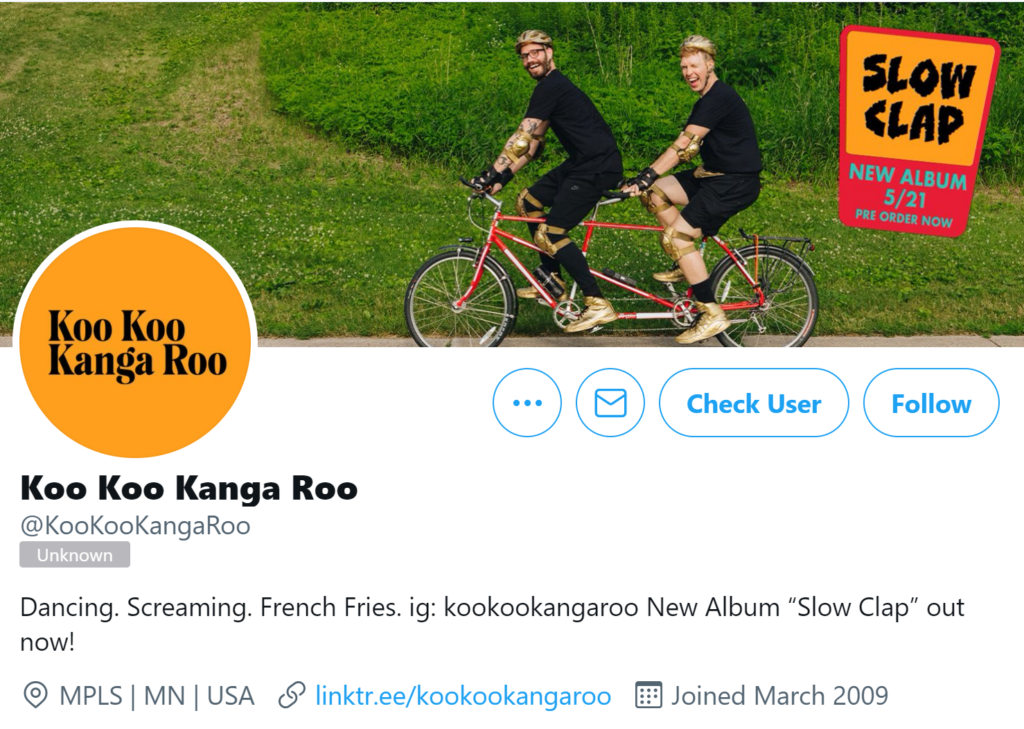 Koo Koo Kanga Roo goes more in-depth in their YouTube channel description. They continue their casual tone with a brief explanation in the beginning. But they include all their links and a detailed biography that is similar to their website's about page: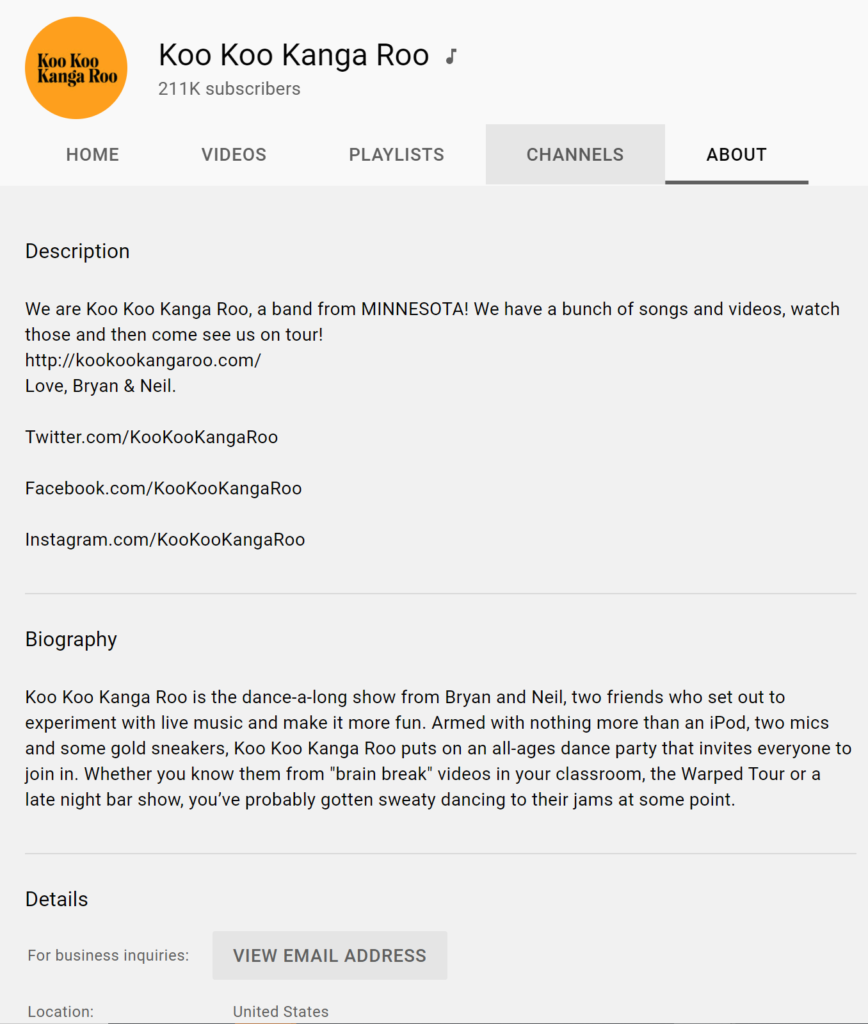 Finally, here's their link tree landing page. It's simply designed, but the branding and offerings are consistent across platforms: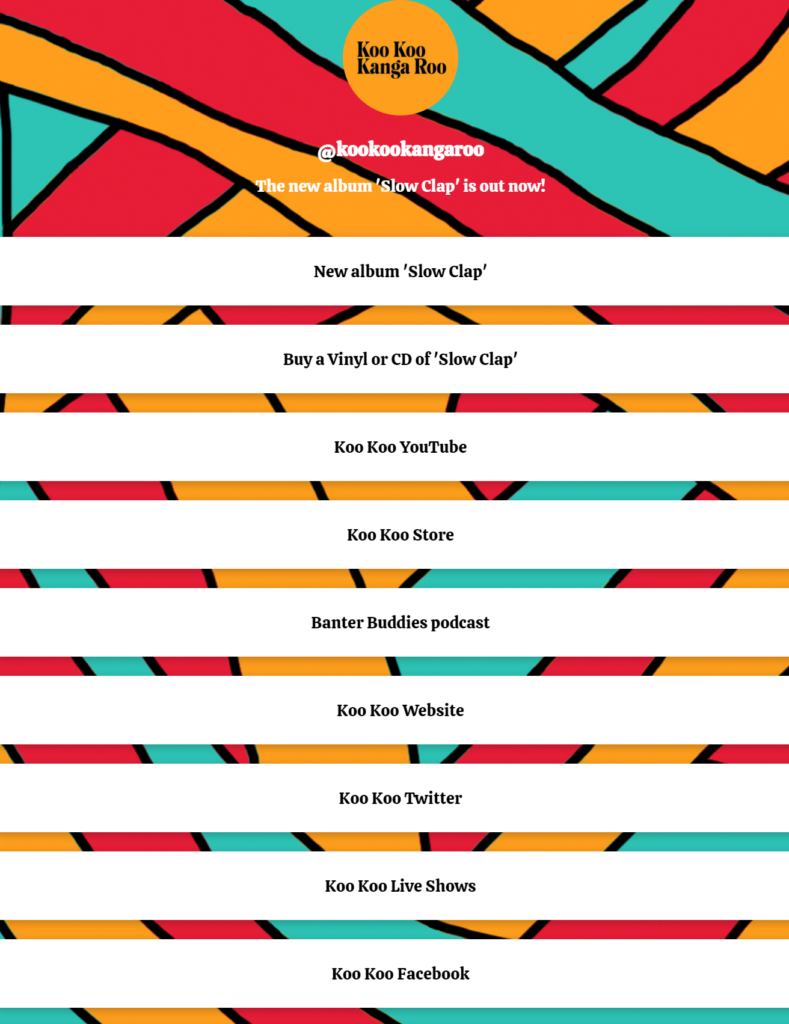 Ann regularly combines words and strategy for B2B, B2C, and nonprofits, continuing to live up to her high school nickname, Editor Ann. Former college adjunct faculty, Ann also helps train professionals in content so they can do it themselves.