Entrepreneur: Austin Rutland
Biz: Austin Rutland
Tilt: Cozy content (capturing calming moments)
Channel: Instagram (36.9K)
Other Channels: TikTok (1.7K)
Rev Streams: Sponsored content
Our Favorite Actionable Advice:
Pivot with a purpose: Austin found his tilt when he evolved from general personal to men's fashion and eventually cozy, calming images.
Roll the reel: Instagram's short video feature is a blockbuster success for Austin who sees great organic reach with some reels accompanied by a growth in followers.
Monetize organically: By partnering with brands that fit with both his content and his life, Austin avoids the mistake of "selling out" for any sponsored content, something his audience appreciates.
The Story
Shock and awe content isn't unusual. From TikTok to Instagram reels, your streams are probably full of dancing teenagers, pranksters, and adorable animals that capture your attention immediately. Sometimes, though, they may overwhelm as you browse from creator to creator with Doja Cat sounds blaring, the same few songs on repetitive loops with every swipe.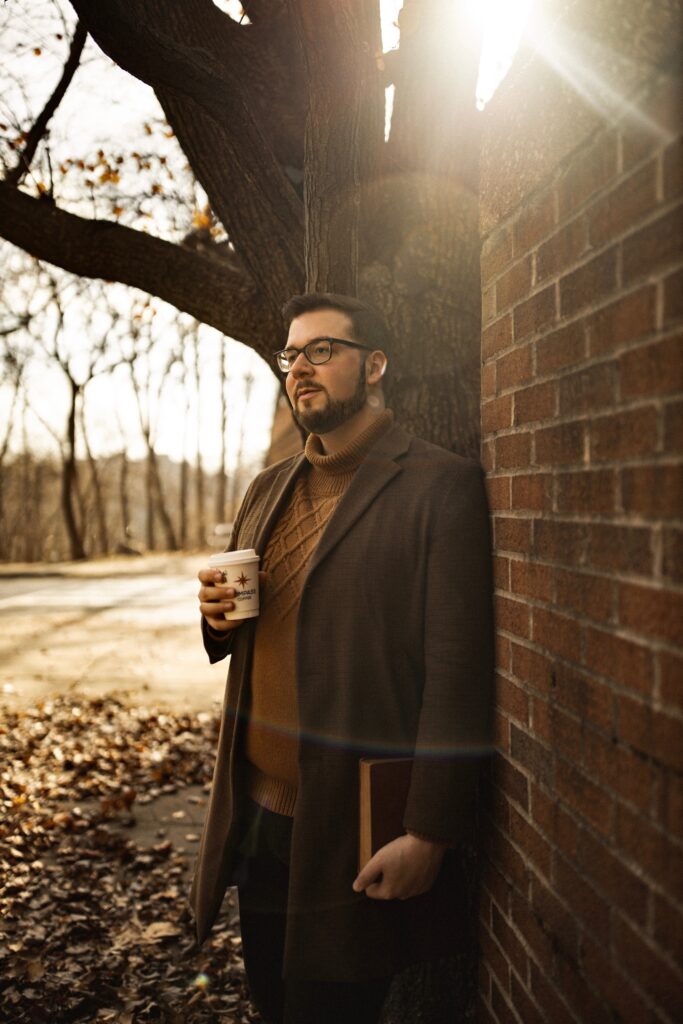 Content entrepreneur Austin Rutland designs content to combat that swiping fatigue and giving followers a place to rest their heads – or their thumbs – as they explore the beautiful, sometimes tiring social media environment. 
Austin, 25, specializes in cozy content. His warm-toned Instagram feed will have you craving rainy days, a good book, and a cup of coffee. The photos may even allow you to take the deepest breath you have all day. Austin posts comforting images of his morning coffee, charming bookstores and coffee shops he finds, videos of rainy days, and sweet interactions with his cat, Fig. And he's so good at it, most followers will likely feel transported to the moments themselves.
Develop the tilt and sponsors follow
"There are certainly other creators that fall into the niche of calm, cozy content, but when looking at social media as a whole, I would definitely say that it is a less common niche," Austin says. "Especially nowadays, so much content revolves around being as extreme and crazy as possible to grab a viewer's attention. As a consumer of content on multiple platforms myself, I definitely make a point to search for other creators that post relaxing or cozy content, so I have that mood incorporated in my feeds."
Cozy content of rain days, a good book, and a cup of coffee is a #contenttilt that works well for #Instagram creator Austin Rutland.
Click To Tweet
Austin began his Instagram like most creators – as a personal space to share bits of his life. It wasn't until he decided to transition the account to a men's fashion page that he began to get noticed by brands. He says it took about a year after making the switch for PR packages and free products to appear at his door. His first paid brand collaboration happened in 2019. Since, he's collaborated with giant names like Panera Bread, financial service Point Card, and Pepperidge Farm. Each piece of sponsored content, though, fits directly into Austin's cozy routines, from morning coffee to beautiful vacation escapes.
Sponsored posts weren't something Austin initially expected to include on his feed. "As a whole, sponsorships have allowed me to connect with brands that I have been a loyal customer to for years. I love having the opportunity to promote products and brands that I truly support and stand by," he says. "They have also become my main stream of revenue via social media, and I plan on continuing to accept sponsorships moving forward."
Sponsored #Instagram posts with brands like @PaneraBread and @PepperidgeFarm make sense for Austin Rutland who's been a loyal customer for years. #contententrepreneur #creatoreconomy
Click To Tweet
Caveat for content entrepreneurs
But Austin warned new content creators to be mindful of the sponsorship opportunities they do accept. "I have seen creator after creator 'selling out' and oversaturating their feed with sponsored content. This is something that no one likes to see, and it can take away from how genuine a creator is perceived. So to all my fellow creators out there: pretty please be smart and ethical about the sponsorships you participate in!"
There's no denying Austin has a strong, cohesive image that clearly defines his content. It may be the key to his success, his account boasting almost 40K subscribers who live for the comforting imagery.
"Every single social media platform is so incredibly saturated with creators now, so it is absolutely essential to have a clear niche," he explains. "If your content and profile don't have a niche, then it may be hard for brands to figure out what your audience is looking for from you. In my experience, brands reach out to creators that most closely align with the product that they want to promote. For example, the majority of sponsorships I get fall into the food and beverage category because I'm known for my coffee photos."
Roll out the Reel
Austin has truly mastered the art of a stunning, cohesive Instagram feed. Now, his attention has turned to Reels, Instagram's TikTok competitor. The short videos give him a chance to experiment more with sound while he uses the new platform to grow their following organically.
"I have personally seen a major correlation between reels and bringing in new followers. I've had a couple of reels pass 200K views each, and each time it results in about 500 to 750 new followers, so the impact is significant. Reels are definitely key for creators looking to build their following in 2021, in my opinion," he says.
#ContentEntrepreneur Austin Rutland says he's seen a big correlation between his Instagram #reels and an increase in followers.
Click To Tweet
New creator success may be impacted by a viral video or come naturally when the creator is truly passionate. For Austin, it's the latter. His success comes from his dedication to maintaining a comforting, unique corner of the internet.
"When I started out as a creator, I mainly posted fashion content, and while I enjoy fashion in my personal life, I quickly realized that I prefer to be behind the camera rather than the focal point of the photo," Austin explains. "Once I switched my niche into coffee/food photography, which I truly enjoyed creating, that was when my account started to grow. Your passion for what you are creating will come through in the final product, I promise."
Kelly Wynne is a journalist and creative writer living in Chicago with her pet dachshund. She's an advocate for women's rights, mental health, and chronic illness.