Now is a good time to talk about the content tilt – the key differentiator for successful content entrepreneurs, as Joe details in the book.
Where does the tilt concept come from?
It comes from a scene in The Matrix starring Keanu Reeves, Laurence Fishburne, and Carrie-Ann Moss.
Neo (played by Keanu) sits in a waiting room with others to see if they are "The One." A young boy holds up spoon after spoon, bending each one. Seeing Neo's perplexed face, the boy tells him he has to look at the spoon in a different way … that the spoon actually does not exist. Soon after, Neo tilts his head to the side and slowly bends the spoon.
But what is a content tilt?
Let Joe explain: "The content tilt is that area of little to no competition on the web that actually gives you a chance to break through the noise and be relevant.
"It's what makes you so different that your audience notices you and rewards you with its attention."
Your content tilt makes you so different that your audience notices and pays attention, says @JoePulizzi #contentcreator #contententrepreneur #ContentInc
Click To Tweet
Why does that matter to a content entrepreneur?
If you don't tilt your content just enough to make your story different, your content will fade into the rest of the clutter and be forgotten.
The Tilt Talk and Advice
Is a "content tilt" the same as a sweet spot?
No. You need a sweet spot before you can find your content tilt. A sweet spot works like a Venn diagram – the intersection of where your audience's interests overlap with your content-related interests. A content tilt is the section of the overlap where no or little competition exists.
Here's how that looks for Ann Reardon's How to Cook That content business: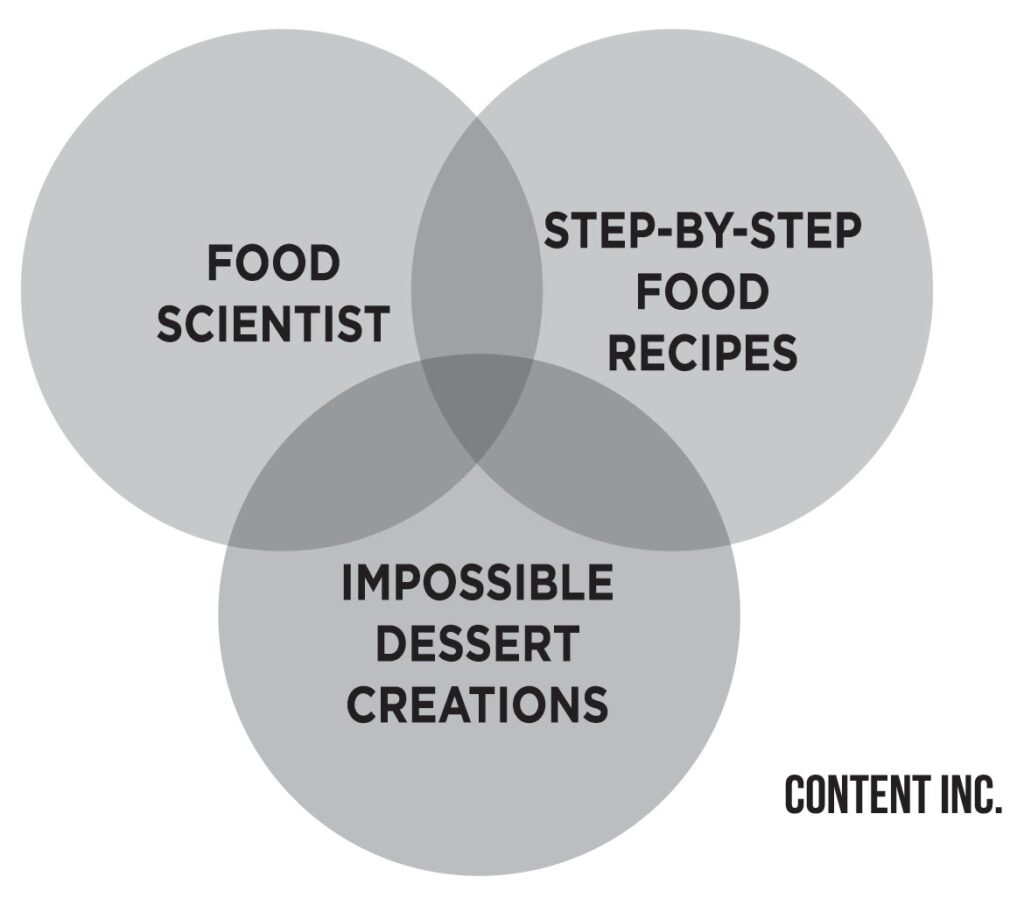 Ann is a food scientist and dietitian who started a recipe site called How to Cook That. When she started, she wrote a recipe post and uploaded complementary videos to YouTube every week.
Ann stood out among the voluminous cooking content on the internet because she had a content tilt – baking impossible desserts such as this one that looks like a Bob Ross painting.
She now reaches 1 million people every month across her platforms.
Can you share another example?
Of course, we can. We've featured over two dozen in The Tilt and will continue to feature them in every issue. But let's use another example from Content Inc.
Hundreds of blogs about chili peppers explain stories behind the peppers' heat. But Claus Pilgaard is different. His content talks about the peppers' taste. That content tilt led him to become an international chili-pepper celebrity with his own Wikipedia page and an expansion of his content business.
What should a content creator do?
Write down what your content tilt is. Use it as your North Star for every piece of content you create. Make it visible everywhere you work on your content, from your digital screen to the bulletin board next to your desk.
Use your tilt as the North Star for every piece of content you create, notes @AnnGynn. #ContentInc #contententrepreneur #creatoreconomy
Click To Tweet
What if you don't have a content tilt?
If you can't clearly define your tilt, you likely have a sweet spot. Start there. Explore what your content competitors are already creating around that sweet spot. Identify a subtopic or niche audience that isn't being served. Make that your tilt.
How do you know if your content tilt works?
Joe offers a simple answer: "Let's say someone rounded up all your content and placed it in a box, shut away as if it never existed. Would anyone miss it?" If the answer is no, you need a new tilt.
If your content never existed, would anyone miss it? No? You need a new content tilt, says @JoePulizzi, author of #ContentInc and founder of @TheTiltNews.
Click To Tweet
But how can you know that?
Look at your analytics. Is your email list growing at a good rate? Are you earning more followers? Is your audience sharing your content? Those are all good indicators to know if your tilt is viable.
Anything else?
One more thing. As he was writing the new edition of Content Inc., Joe found a needed tilt – content to help content creators become content entrepreneurs and grow thriving content businesses.
– Ann Gynn
To go beyond the content tilt and get the entire Content Inc. business model, grab a copy of Joe's book. 
Ann regularly combines words and strategy for B2B, B2C, and nonprofits, continuing to live up to her high school nickname, Editor Ann. Former college adjunct faculty, Ann also helps train professionals in content so they can do it themselves.