Entrepreneurs: Bryan Atchison and Neil Olstad
Biz: Koo Koo Kanga Roo
Tilt: Interactive dance music that appeals to bargoers and grade-school kids
Channel: YouTube Subscribers: 200K Total Views: 139M
The Tilt's Favorite Actionable Advice
Be flexible: The duo evolved their idea, which now appeals to the nightclub crowd and grade-school kids.
Find your own twist: Take the cool thing you like and make it yours.
Don't focus on quantity: They switched from doing a new video every two weeks to publishing three videos in a year. The three videos did better than the others.
The Story:
Koo Koo Kanga Roo's YouTube channel has racked up more than 139 million views. And with hit dance-along videos to high-energy songs such as Dinosaur Stomp or All I Eat Is Pizza, the Minnesota-based duo's top 10 most popular uploads have between 2.9M and 26M views.
But, despite the numbers, the band has never gone viral, and while it would be a nice badge of honor, its creators are fine with that. They've still been able to connect with fans and find content that clicks.
"At first, I used to think that, 'Oh my gosh, we haven't had this success in this way because that's what you're programmed to want and do," says Bryan Atchison, half of Koo Koo Kanga Roo. "And now, I'm loving it. I'm so happy that nothing pops up huge and we are slow burning."
Fans found in nightclubs and kids' parties
Koo Koo Kanga Roo has been slow burning since 2008 when Bryan and co-creator Neil Olstad launched it. The two met in college four years earlier and, after playing in a rock band, started Koo Koo Kanga Roo to engage with audiences in a different way.
They wanted to create a live band that got audience members on their feet and involved. Their music features call-and-response lyrics and dance-along videos on YouTube, where they demonstrate the moves to each song. Audience members can watch the videos at home and practice, so they're ready to dance with them when their live shows return.
The music is G-rated and silly. And while it wasn't intended to be just for kids, teachers caught on, thanks, in part, to the band's collaboration with GoNoodle, which provides digital content to schools.
Before Bryan and Neil knew it, Koo Koo was playing late-night gigs at bars and daytime birthday parties and family festivals.
"That's a through-line for the story of our band," Neil says. "Being flexible and always trying to find out what the next frontier is for the band and not being held down by traditional ideas of what a band is or what a musical artist can or can't do."
Flexibility brings pandemic survival
That ability to be flexible helped them in 2020. Until the pandemic, live shows, merchandise sales, and work with brands such as GUM Crayola and Intel were Koo Koo's bread and butter. Though they joined YouTube in 2008, revenue didn't reach $1,000 a month until about four years ago.
But with COVID shuttering concert venues, the duo looked online to keep their small business afloat. They added shoutout videos, custom digital live shows, and livestream concerts on YouTube where they ask for donations or promote their online store. On New Year's Eve, they livestreamed a concert and countdown via the platform Viddd.co.
In summer 2020, they partnered with Panera Bread for an at-home Camp Panera performance. The collaboration came about two years after the band released an album – without Panera's consent – called Fast Casual about their love for the restaurant chain.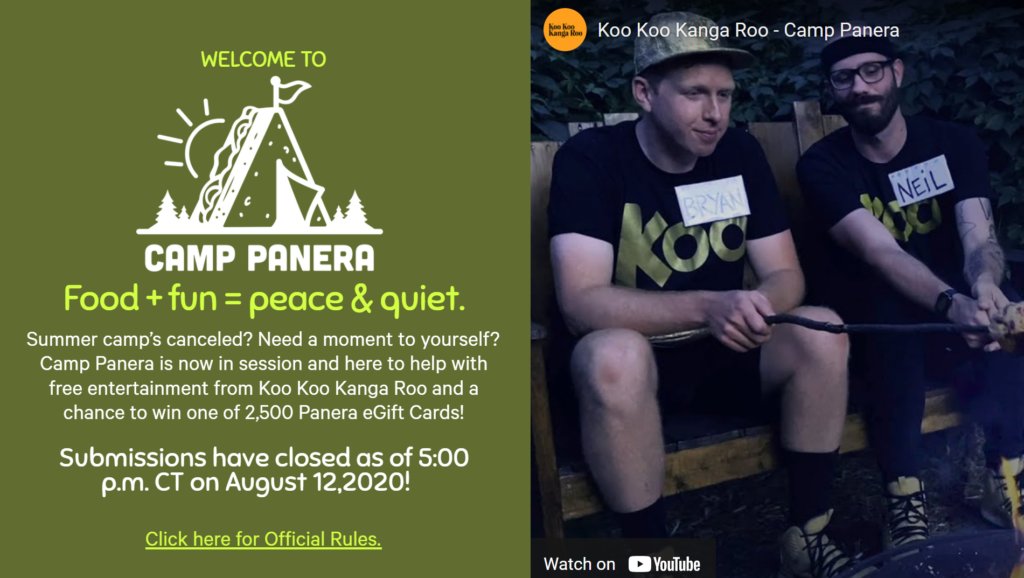 This spring, as they prepared to launch their latest album, Slow Clap, on May 21, they started a TikTok channel, gaining nearly 180,000 followers in a month or so. (And they now are a whisper away from 200K). Their TikTok fans often are tweens and teens who fondly remember watching Koo Koo Kangaroo videos during breaks in their grade school classrooms.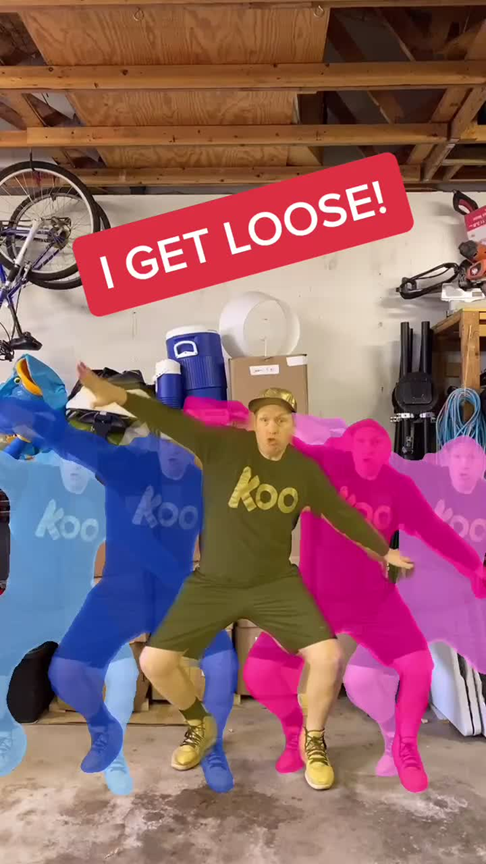 "I'm a 35-year-old white dad doing Tik Tok stuff, and I'm not Jack Black famous," Bryan says. "Some I deleted very quickly. We're just trying some stuff out."
Market by word of mouth and anticipation
Koo Koo's social media and marketing strategy is pretty fluid. They publish when they have something new to promote or fun to share. They're currently pushing out videos based on their latest album, a heavy collection of hip-hop songs. Most of their growth comes organically and through word of mouth, especially among grade school teachers.
The longtime friends are eager to get offline and back to performing live. But they likely won't completely give up virtual concerts. That livestreamed New Year's Eve show? It might become an annual event.
And their May 21 album release? They're releasing select videos before the launch, like Ice Cold Lemonade featuring Murs. They use countdowns until a new video is released to create anticipation, like this promo for Putt Putt Butt Butt.

Advice for entrepreneurs
Bryan and Neill share these tips for content entrepreneurs at any stage of their business.
Just put something out there: Don't wait for perfection. Early on, Koo Koo was shooting YouTube videos with only a miniDV camcorder and the help of some friends and family. "We made like 20 of them," Bryan says. "We did them all in one take. You just do it. Jump in."
Find your own twist: Bands have been making videos for decades, but for their dance-along videos, Koo Koo Kanga Roo found inspiration for its own twist on the genre from the video game Just Dance where players follow along to different dance moves. And they differentiated themselves from other children's music performers with tunes that don't talk down to kids and aren't lullaby-like.
"If you're mimicking what other people are doing, it's probably already popular and it's probably already something other people are doing better," Neil says. "You've got to be able to take that cool thing that you like and … make it yours."
Look to diversify: Whether it's different kinds of content or platforms, look for ways you can diversify what you're offering to the world. "Your job right away should be to find out how to be in these different sorts of areas to give yourself more opportunities to be seen by different groups of people," Neil says. More eyeballs trigger more opportunities.
Know your limits: To avoid burnout during the pandemic, the duo sometimes turned off their availability for shoutout videos or didn't stream a concert every week. They've stepped back before. After three years of releasing a new video every two weeks on YouTube, they paused and released three in one year. "And those three did better than the stuff we were cramming down the throat," Bryan says. "We've always trusted our gut and done what we like and what we want to do all the time and what we have time for as the two dudes we are. And that's what comes out."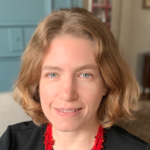 Sarah Lindenfeld Hall is a longtime journalist, freelance writer, and founding editor of two popular parenting websites in North Carolina. She frequently writes about parenting, aging, education, business management, and interesting people doing remarkable things.