Entrepreneur: Nick Pittmann
Biz: Nor'Easter Nick
Tilt: South Jersey weather
Primary Channel: Facebook (80K)
Other Channels: Website, Instagram (9K); Twitter (8K)
Time to First Dollar: 14 days
Rev Streams: Sponsored posts, speaking engagements, spokesperson deals
Our Favorite Actionable Advice:
Be visible: Growing a local brand requires being visible in the community. Attend that community event in an adjacent town, speak at the local school, plaster your name around as much as you can.
Be OK with working odd hours: To build a platform, you need to put in the time, and some of that time likely will be outside 9-to-5 hours.
Turn rejection into fuel to succeed: Losing his job but wanting to stay in the industry and his locale, Nick created his own content business.
The Story
In the world of meteorology, the path to take is tried and true. You go to a four-year college, start forecasting the weather on a small station and work your way up to bigger markets until you settle in a major city and finish out your career there.
But what happens when you don't go to a four-year college and the local affiliate where you did find a job gets swallowed up by the conglomerates from the major markets?
You sit in a hot tub in Key West and figure out a new path.
Sitting in a hot tub in Key West, Nick PIttman learned he lost his TV weather job. So, he dreamed up his new business: @NoreasterNick. #ContentEntrepreneur
Click To Tweet
At least that's what "Nor'Easter" Nick Pittman did. While on vacation in 2017 (that's where the hot tub comes in), he learned that the Southern New Jersey news station where he was forecasting the weather had been bought by Comcast. In a couple of weeks, he would be out of a job.
Becoming the business of Nor'Easter Nick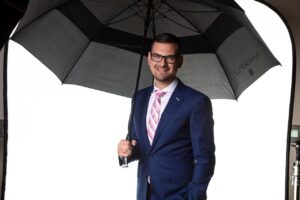 With no interest in relocating and starting at the bottom of the heap at a Philadelphia or a New York television station, Nick devised a plan to create a meteorological platform devoted to often-overlooked South Jersey. He would set up green screens, weather equipment, lights, and a camera and post regularly on his Nor'Easter Nick Facebook Page, where he already amassed 50K followers.
While formulating his plan to create his own content business, he called the local businesses that sponsored weather on his former employer's station and invited them to buy promotional spots on his Facebook posts. He priced the ads at the pre-Comcast rates, which were considerably cheaper than what the station now charged sponsors. Nor'Easter Nick sponsors also would be more visible to their local customers. It was a win/win. Within days he had revenue, a platform, an audience, and a content tilt.
@NoreasterNick charged ad rates similar to his former employer's for local businesses to be more visible to their customers on his Facebook page. #Revenue #ContentBusiness
Click To Tweet
Creating a sunny content business
Fast forward to today, and Nick delivers detailed South Jersey weather via his Facebook (now at 80K), Instagram, and Twitter channels. He publishes upwards of a dozen posts a day for two reasons: He knows his audience likes bite-sized content, and he needs to publish that many posts to keep up with all of his sponsors.
@NoreasterNick publishes a dozen #weather posts a day because his audience likes bite-sized content and he needs that many to keep up with all his #sponsors. #CreatorEconomy
Click To Tweet
In addition to sponsored content, his revenue streams include speaking engagements and serving as a spokesperson for businesses in the Atlantic City area. "I have a very lucrative sustainable income, and I never have to worry about working in a high-pressure situation again. I've got a fiercely loyal audience who have been with me all these years. It's because of them my model is successful," Nick tweeted on the eve of a New Jersey blizzard.
His brand of hyper-targeted weather has found the perfect storm: Local journalists are going by the wayside while extreme weather is on the rise. Nor'easter Nick is fully committed to consistently giving the people and businesses in the Atlantic City area reliable forecasts and a place where they can talk – and sometimes commiserate – about the weather that matters to them.
Recently, Nor'Easter Nick teamed up with a second meteorologist to handle the weekend weather reports, giving him needed downtime and the ability to grow the company to be more than a solo business.
Growing to add memberships
Nick knows relying solely on social media can be problematic. Over the summer, his personal Facebook account got hacked. Although his brand page remained unaffected, it was a reminder that just like a power outage during a hurricane, social media platforms can suddenly leave you in the dark.
To stabilize his platform, Nick is building a membership program for his email subscribers so they can get hyper-relevant weather information to their inbox rather than the general South Jersey forecasts he posts on social media. "Many people own second homes in the South Jersey area. They want to get the weather for both where they live and where their vacation home is. So we're building out more reporting in Delaware and Southeastern Pennsylvania, as well as North Jersey," he says.
Relying solely on social media can be problematic, @NoreasterNick is developing a membership program for his email subscribers. #ContentEntrepreneur #CreatorEconomy
Click To Tweet
He is even partnering with a local real estate agent to encourage more people to move to South Jersey, which would, in turn, grow his audience.
Shining bright
Nor'Easter Nick knows delivering regular, entertaining, and local content keeps his audience engaged. "I may not get the weather right every day – I certainly try to. But what I really want my legacy to be is that I helped the people in my community shine a little brighter."
Annie Schiffmann is keenly aware that so many arts organizations are stretched too thin, and every dollar counts. She helps brands make the most of their marketing so that their hard work is shared with the world. Annie is certified in both StoryBrand and Mailchimp, has two kids with Beatles-themed names, and is afraid to think what a day without coffee would look like.