Top content creators are making millions from merch. The earnings of Sidemen, MrBeast, Jake Paul, and KSI rival traditional celebrities such as Lady Gaga and Ariana Grande, according to NetCredit's 2021 Celebrity Merchandise Index.
While you aren't likely to earn MrBeast dollars – which NetCredit estimated at more than $19M – any time soon, you can generate another stream of income and provide a new way to connect with your audience.
According to The Influencer Marketing Factory's 2021 Creator Economy Report, merchandise accounts for about 7% of influencers' revenue. Among followers, buying merch is one of the top ways they prefer to support their favorite creators – more than tipping them on various platforms or buying products they sponsor. In other words, merch can further boost the engagement of the community you've worked so hard to build.
Merch is a top way followers prefer to support their favorite creators, even more than tipping, according to @the_IMFactory research. #CreatorEconomy #ContentBusiness
Click To Tweet
But how do you know if it's time for your own merch shop, and how do you go about setting it all up? We checked in with Damian Skoczylas at ICON talent agency and Caleb Dempsey of Hello Streamer (who uses they/them pronouns) for some details. Both have helped influencers with merch shops.
What are the signs a creator is ready for merch?
Don't open the merch store doors after your first few streams or posts – or even the first 100. Damian says it often comes from prompting from a merch vendor or your audience members who keep pestering you about when they can get a T-shirt emblazoned with your logo.
Caleb agrees. "If you have a community that's showing up for you consistently, you're recognizing names in your YouTube comments or Instagram comments or every night when you go live on Twitch, that's when you start thinking about merch," they say.
When you have a community that shows up consistently is the time to start thinking about selling merch, says Caleb Dempsey of @HelloStreamer_. #CreatorEconomy
Click To Tweet
But eager fans ready to don your hoodie aren't the only sign it's time to launch your own store. You need to be ready to do the work to make it successful, and that's not easy for every creator, Damian says.
A streamer may do a great job attracting an audience on Twitch, but selling branded trucker hats with their face on them involves a different skill set. Building a successful merch shop can require some intense promotion at launch and during special sales and events throughout the year.
Damian has worked with a streamer who had a social footprint of millions but never earned more than $2K on merch because they didn't take the time to promote it. On the other hand, he's worked with a creator with a much smaller following who invested their time and energy into boosting their merch shop and has sold tens of thousands of dollars worth of products.
@Damian_ICON says a streamer with a social footprint of millions earned only $2K on merch because they didn't take the time to promote it. #ContentEntrepreneur #CreatorEconomy
Click To Tweet
"When you're shilling for yourself, that's where it can be a little weird for creators," Damian says. "In promotions, you have to gun it. Whatever your window is, you have to be kind of annoying about it, and creators are kind of hesitant to do that."
What merchandise should creators sell?
A scan of content entrepreneurs' merch shops includes all kinds of options beyond the usual hoodies, T-shirts, and hats. Water bottles, jewelry, posters, bags, shot glasses, basketballs, and more pepper their online stores. But that doesn't mean your big merch store rollout should include a little bit of everything for everybody. The key is understanding your audience so you can be strategic about what you sell.
"To make great merch, you need to have a pulse on your community and what they are enjoying in your content, but also really lean into you," Caleb says. "It can sound campy at times, but the reality of the situation is people are here for you as a creator, and they want to rep you as a creator. So, if you think your little slogan is too goofy to wear on a shirt, do a limited run of a shirt for something and see if it performs well."
Wearing and buying merch allow fans to express their allegiance to your content brand. Think about the things you do and say that really resonate with your fans. Caleb suggests polling fans to see what they want or asking them casually for suggestions during a stream.
When Caleb helped Twitch streamer Leesh Capeesh set up her merch shop last year, they ended up going with sayings to which her community has always responded – printing T-shirts and sweatshirts that read: "Not-A-Cult Member" and "Shamanahonda."
"Shamanahonda" is Leesh's closing after delivering a long rant as if she's closing a sermon. When she notices a new follower or a bunch of people join during a raid, she'll sometimes greet them by telling them that her close-knit community is "not a cult." "It's a running joke," Caleb says.
@Leesh_Capeesh sells shirts emblazoned with "Not-a-Cult Member" and "Shamanahonda" – phrases her audience has come to know. #CEX #speaker #CreatorEconomy
Click To Tweet
Damian says creators should be excited about what they're selling. It's difficult to convince anybody to buy something that you wouldn't want yourself. "Anything that's unique to your content, that's a better way to go," he says.
Sell merch unique to your content, says @Damian_ICON. #ContentBusiness #Revenue #CreatorEconomy
Click To Tweet
How do you set your merch shop up?
You're in the business of content creation – and probably not the business of merch design, online ordering, and fulfillment. That's why most creators work with companies that help them build their virtual merch stores from the ground up – providing design services and printing and shipping orders on demand, so you haven't invested in an inventory of to-be-sold (or may-never-be-sold) merch.
Big players include companies like StreamLabs, Merch by Amazon, StreamElements, Spring, and Represent. But there are smaller shops that offer similar services. Leesh Capeesh is using Press N' Sow, a Black-owned business that caters to creators. "For Leesh, she really wanted to make sure whatever merch she made was wearable for her community and something that was affordable but still high quality," Caleb says.
Once you've set up an online shop, make it easy to find. Post the links on all of your latforms. Pin a tweet about it. Ensure it's easy to find on your website. You can find Leesh's shop, for example, linked prominently on the home page of website.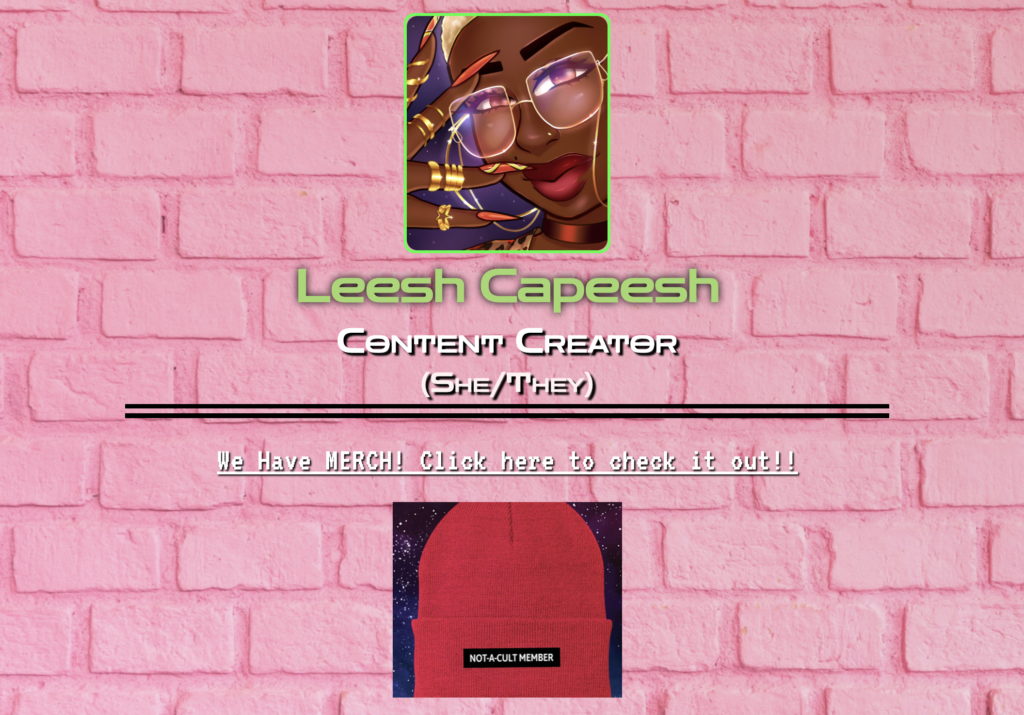 Social media platforms also are helping creators hawk their merch. For example, YouTubers who hit 10K subscribers and meet other eligibility requirements can unlock merch features, which lets them offer branded merchandise on the platform. Last year, Instagram made it easier for creators to sell branded merch via the platform with Shops.
Next steps … promotion
Once the shop opens, you'll need to promote it, and we'll cover the tricks of that trade in a Full Tilt article later this month. But fair warning: For some creators, keeping a merch store going, not setting it up, is the most challenging part because it takes ongoing effort. The work, however, can be worth it.
Think about why people will buy your merch and why they support you as the creator. Combine the answers into a physical manifestation of your brand, says Caleb Dempsey of @HelloStreamer_. #CreatorEconomy
Click To Tweet
"You can monetize any platform with merch," Caleb says. "It's just a matter of actually thinking through why do people buy merch, why do people show up for me, and how do I combine those into a physical manifestation of my brand."
Learn and engage with Leesh Capeesh (aka Alisha Ether) and other content creator experts at CEX: The Creator Economy Expo May 2-4. Sign up today for the best available rates.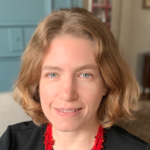 Sarah Lindenfeld Hall is a longtime journalist, freelance writer, and founding editor of two popular parenting websites in North Carolina. She frequently writes about parenting, aging, education, business management, and interesting people doing remarkable things.