Entrepreneur: Ann Handley
Tilt: Friendly approach to writing
Scene: Website, Newsletter (42K), Twitter (458K), Instagram (25.4K), LinkedIn (433K)
Snack Bites:
Five years after launching a newsletter, Ann pivoted it to be a letter, writing about what she's doing and what she thinks is important. The newsletter audience has grown to over 42K.
She's written a Wall Street Journal bestseller that frequently pops up on creators' "favorite" lists: Everybody Writes.
A speaker, Ann recognizes the value of working with clients before she takes the stage and with the audience after she steps down from it.
An advocate for great writing, Ann says "our online words are our currency.
Why We're a Stan: Ann's funny, personal approach to writing and creating resonates with many. She takes what can seem like a boring topic (writing) and turns it into a fun show.
The Story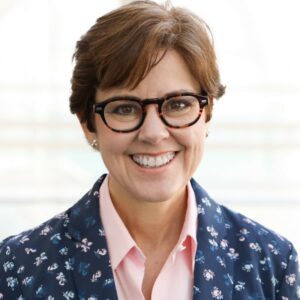 A writer by trade, Ann Handley has made her bread and butter for nearly two decades as the head of content at MarketingProfs, a marketing education and training organization.
The organization hosts in-person and online marketing coaching sessions for individuals to enterprises on topics such as SEO, branding, customer journey, and more. The company also hosts the popular B2B Marketing Forum. To her 600K subscribers, these educational programs help form the foundation of the company's mission – learning changes lives.
Total Annarchy pivot
But Ann hasn't limited her creations to MarketingProfs. She writes Total Annarchy, a biweekly letter (yes, she writes it in letter format) about what she's doing and the things she deems worth sharing. These newsletters are one of the first things followers see in their inbox on Sunday morning, a refreshing way to begin their week.
@AnnHandley writes Total Annarchy, a biweekly letter (yes, letter!) about what she's doing and things she deems worth sharing. #Stan #CEXevent #ContentEntrepreneur
Click To Tweet
But Total Annarchy is a content product that has evolved. With its 2013 debut, Ann intended it to be a complementary content marketing tool for MarketingProfs. But in 2018, she revamped it into the personalized letter it is today, and it took off. She now has over 42K subscribers.
Most, if not all, of the emails are content related. Ann shared A Valentine for Creative Marketers the day before Valentine's Day and her tips to get over writer's block. She also pens her own website's blog, encouraging readers to start drafting their book, personal newsletter creation reflections, daily writing habits to begin today, and tips for creating an exciting virtual event.
In her virtual event piece, she details the success behind her company's B2B Marketing Forum event, noting that an online event is a play, not a movie. Its purpose is to create a shared experience with others, begging people to not pretend a recorded session is live and hoping Zoom organizers would "deliver an experience to an entire group of people at one time."
After pivoting her work-adjacent newsletter to a personalized letter, @AnnHandley found her subscribers grew to over 42K. #Stan #CEXevent #CreatorEconomy
Click To Tweet
Bringing the funny
Her content is not only helpful but relatable and informative with a comical approach. And we're not her only Stan. Among her testimonials: Caroline Hull, field marketer director for Adobe, who calls Ann "absolutely delightful — easy to communicate with, walked us through her talking points, and adjusted them to fit the needs of our audience. She is a professional but also genuinely approachable and hilarious. She stuck around after the event and mingled with our attendees – that extra touch is something you can't get from everyone. We look forward to continuing our relationship."
Co-founder and CEO of KNAK Pierce Ujjainwalla says, "Working with Ann was excellent from the beginning. We collaborated on a date, and Ann wrote an amazing title and abstract for our event. … Ann's presentation was a huge hit with our audience, and I have personally never seen engagement from an audience on a virtual event like that."
Advice for #ContentEntrepreneurs inspired by @AnnHandley: Get testimonials or recommendations from the people and brands you work with to demonstrate what you have done to potential sponsors. #Stan #CEXevent
Click To Tweet
Writing matters
Even though having a senior-level position and owning a newsletter would be enough work for most, Ann puts her heart and soul into writing books. Two of her books, Content Rules and Everybody Writes, have made the Wall Street Journal best-selling list. Everybody Writes: Your Go-To Guide to Creating Ridiculously Good Content is a guide to revamping your writing on social media, newsletters, and websites copy. Her books like these have been translated into Turkish, Korean, Italian, Chinese, and 15 other languages.
The word and grammar expert's career success comes down to one thing: quality writing. As Ann explains: "Actually, writing matters more now, not less. Our online words are our currency; they tell our customers who we are … you've got to choose words well and write with economy and style and honest empathy for your customers. And it means you put a new value on an often-overlooked skill in content marketing: How to write, and how to tell a true story really, really well."
Our online words are our currency. They tell our customers who we are, says @AnnHandley. #ContentEntrepreneur #CEXevent speaker #CreatorEconomy
Click To Tweet
With sound advice like this, it's no surprise that Ann is making waves within the industry. Often referred to as one of the most influential marketers, Ann has over 800K combined followers on Twitter and Linkedin, has written contributing posts for Mashable, Huffington Post, American Express, NPR, and The Wall Street Journal, and is the world's first CCO, writer, and communicator, a mother of two and a four-legged friend.
Missed Creator Economy Expo?  We have you covered! Purchase the digital pass today to get access to over 40 hours of on-demand recordings from the event.  It includes all keynotes and breakout sessions.
Shameyka McCalman is a wordsmith whose work often centers around fashion, art, and other creatives of color. She earned her communications degree from the University of Massachusetts Boston and enjoys sifting through clothes in local vintage shops, frequenting nearby plays, and gazing at exhibitions on view in museums.