Entrepreneur: Allison Raskin
Biz: Emotional Support Lady and Just Between Us (with Gaby Dunn)
ESL Channel: Instagram Followers: 37.8K
JBU Channel: YouTube Followers: 679K Total Views: 174M
Rev Streams: YouTube, books, podcast acquisition, sponsored content, Patreon
Our Favorite Actionable Advice
Ask "Why should this content exist in the world?": You must have a good reason to motivate you to create and your audience to follow you.
View yourself as a storyteller, not a content creator: That shift in thinking will lead you to create narratives that resonate better with your audiences.
Bring your audience along: Allison built a following at Buzzfeed. Many of them followed her to Just Between Us and now Emotional Support Lady.
Allison Raskin is best known for her comedy YouTube channel, Just Between Us, which she co-hosts with her former Buzzfeed co-worker and best friend Gaby Dunn. Launched in 2014, the channel has grown to over 675K subscribers.
But the 31-year-old content entrepreneur isn't limited to YouTube videos. She recently launched a solo content brand – Emotional Support Lady, which includes an Instagram account and Patreon page. And she also creates content for her personal Instagram account (239K).
@JBUshow on @YouTube was the first channel for @AllisonRaskin. She recently added a solo endeavor #EmotionalSupportLady on @Instagram and @Patreon #contententrepreneur
Click To Tweet
A YouTube channel is born
"In 2011, I graduated from the University of Southern California – Los Angeles with a BFA in writing for screen and television. While I was there, I took a web series class, and my professor said everything would be moving to the internet," she says. From that day forward, Allison started creating all sorts of comedy web series and one-off sketches.
She and Gaby made popular sketches for Buzzfeed. After quitting their jobs at the popular platform, they created more videos for their Just Between Us channel. "We both had a desire to make stuff. We thought of a relatively easy concept to turn out weekly and stuck with it," Allison says.
Their channel features comedic and authentic videos about breakups, mental health, and sketches. Allison is adept at straddling the line between serious topics and comedy. She thinks humor is an incredible and helpful way to process life's challenges when done through a lens of compassion. Allison credits her experience in improv and stand up for her comedy and acting skills.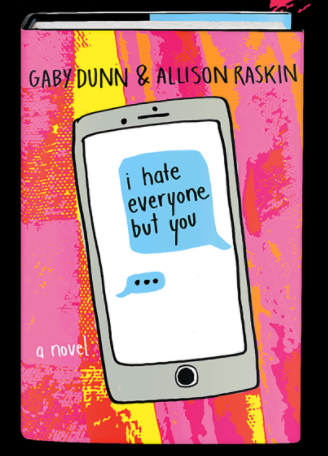 When they left Buzzfeed for an opportunity to create a pilot for MTV, the duo already had built a following. "Working at Buzzfeed certainly helped me get an initial audience and then, after that, it was about putting out content consistently and doing my best to have a clear brand so people would have a reason to follow," Allison says.
Allison and Gaby also have co-written two New York Times bestselling fiction novels about young adult friendships: I Hate Everyone But You (2017) and Please Send Help: A Novel (2019).
A few years ago, they entered the podcast world, producing a 12-episode podcast series, GOSSIP. In 2019, they added a podcast to their video brand line. The Just Between Us podcast is a comedic variety show that tackles all subjects from mental health to sex positivity.
Solo content tilt
Allison has always separated herself from the oversaturated influencer market by flaunting her authentic personality. Recently, she took her brand one step further by launching Emotional Support Lady and starting her journey to become a clinical psychologist.
She created the Emotional Support Lady Instagram account shortly before her fiancé left her. Her posts include stick-figure doodles about grieving an abrupt breakup, experiences with obsessive-compulsive disorder, and motivational approaches that have helped her heal.
"I've learned to reframe my mistakes as learning opportunities!" one stick figure says in a post from February. "Ooo I'm stealing that," another stick figure responds. In the caption, she writes: "Mistakes are inevitable but I'm all about intention. And if your intention is to learn and grow from your mistakes then it's hard to even think of them as mistakes at all!"
"ESL came about from a desire to have one designated account for my mental health advocacy. I wanted to build a community around mental health that was separate from my personal accounts," she explains.
#EmotionalSupportLady on @Instagram came about because @AllisonRaskin wanted to build #community around #mentalhealth separate from her other accounts #Instagram #contentcreator
Click To Tweet
The Instagram account has grown to almost 38K followers. Allison launched the Emotional Support Lady Patreon service, which now has 750 subscribers. The monthly $5 fee gives subscribers access to a Discord channel, a weekly blog, and twice-a-month videos.
"Creating mental health focused content has really helped me see the importance of sharing our stories and destigmatizing mental illness. I don't know if I'll move forward with getting a license … but the goal is to continue to write about and create mental health focused content from a more informed and professional POV," she says.
Advice for content entrepreneurs
As for creators who want to build and grow an audience, Allison says you should ask this question: "Why should this content exist in the world?"
Why should this content exist in the world? That's the question every #contententrepreneur should ask, says @AllisonRaskin
Click To Tweet
If you have a good answer, people will follow you because your content is serving a purpose in their lives. "And sometimes that purpose is as simple as laughter," she says.
Once you have a good answer, the next step is to do it. "Make stuff. And be open to things. Once you start to view yourself as a storyteller vs. a content creator in one specific type of medium (like YouTube vs. TikTok) more and more opportunities will present themselves. You are the core of everything you do. It doesn't matter where you do it."
Bonnie owns Word of Mouth, a content agency specializing in social media, content marketing, and editorial writing. She's written for Marie Claire, Harper's Bazaar, Coveteur, Man Repeller, Health.com, and more. She loves wearing fanny packs and laying in the fetal position.