Entrepreneur: Vantana
Biz: VantanArt
Tilt: Variety Twitch gamer and yoga instructor
Primary Channels: Twitch (3.9k followers)
Other Channels: Twitter (1.5K), TikTok (732) Instagram (183)
Time to First Dollar: 1 month
Rev Streams: Bits, subs, donations on Twitch; online yoga class; sponsorships
Our Favorite Actionable Advice:
Know your power: Initially, Vantana wondered if he should be playing more popular games or providing different content to attract an audience. Then, he realized his audience was coming to see him first. The topics were secondary.
Grab a pen: Take notes on how creators built their brand and found success, whether it's Beyonce or another streamer. Then make their path your own.
Find the free: Vantana takes advantage of the free resources available to improve his Twitch-based content business, such as how to boost production quality and manage the stream.
The Story
"I quit my f—— joooooooob," Vantana said a few months ago as he opened a stream on his Twitch channel, VantanArt. The chat lit up on the stream titled I Quit My Job To Play APEX. "I'm so proud of you," says one. Another echoed the sentiment using Vantana's opening words, channeling the energy of millions amid the so-called Great Resignation as so many have turned in their notice.
For Vantana, a Twitch streamer and certified yoga instructor, the jump from that 9-to-5 office gig in February has been an opportunity to focus full time on content creation. And that's netted him some big rewards. "I've been able to put so much time into what I've been doing lately, and I think that's why it resulted in being my best year yet," he says. "I'm really able to put the energy that I wanted into it."
Quitting his 9-to-5 job led #Twitch streamer @Vantanart to the best year for his #ContentBusiness. #ContentEntrepreneur #CreatorEconomy
Click To Tweet
Fun streaming leads to a check
A creative with a long interest in modeling, photography, and creative direction, Vantana's streaming life began when the pandemic canceled his photo shoots and meetups. He wasn't a stranger to content creation — as a kid, he uploaded videos on Myspace. But Twitch streaming, in the early days for him, was just something to do. When he launched in May 2020, he was playing Fortnite and teaching yoga on the platform.
He quickly built a following. In June 2020, his fledgling content business VantanArt hit affiliate status, and the payouts came soon after. "It's everyone's dream to make money online, let alone be playing video games," he says. "But when I saw there was actually money in my account from Twitch, I was like, 'Wait, this is real?' And the fact that the people that I met were the only reason why I got that check, in such a shaky time at that, was such a big deal to me. It was like, 'Wow, I can really do this.'"
Vantana changes expectations
Vantana pegs his growth, in large part, on the kindness of the Twitch community. As he streamed, he met other streamers like him who came into his chat. And those streamers connected him to a network of POC (people of color) and LGBTQ streamers.
"I thought it was a bunch of gamers who just streamed Call of Duty hardcore. I didn't know if there was a space for me," he says. "I quickly found out there were a lot of really great people on the platform, and there was a space for me."
I didn't know if there was space for me on @Twitch. I quickly found there were a lot of great people on the platform, and there was space for me, says @Vantanart. #ContentEntrepreneur
Click To Tweet
In 2020, Vantana's focus was on building a presence on Twitch. In 2021, he experimented more with the stream's content. Apex Legends was big on the platform, and he wasn't playing it. So, he started playing games like it. He second-guessed his choice and wondered if he should go back to Fortnite and yoga, but he realized it wasn't about what he was playing or doing, it was about what he brought to the table.
"Once I started doing it, I realized no matter what I'm doing on my steam, it will always be unique to me," he says. "No one can play Apex the way I do. No one can make jokes and do what I do on my stream. And I think that goes for every creator, no matter what you're doing, no matter what you're playing, people are there for you. And once I realized that everything just took off."
Once I realized no matter what I'm doing on my stream, it will always be unique to me, everything just took off, says @Vantanart. #Twitch #CreatorEconomy
Click To Tweet
Doing sponsor deals that fit Vantana's tilt and revenue goals
2022 is all about professionalizing his content creation business even more. He's signed with management agency Hello Streamer and launched his first sponsored stream with Bubble, a skin-care brand. It wasn't the first sponsorship he'd been offered, but the other opportunities didn't fit his brand – or bring enough revenue.
Bubble was the perfect opportunity – meshing with his health and wellness content tilt. "For Bubble to believe in me and what I'm doing, and to do skin care, which is something I'm really passionate about … was so amazing," he says. "I'm glad I did hold out and stick to my guns."
@Vantanart didn't take the first sponsor deal he was offered. He waited for one that fit his brand and his revenue expectations. #ContentBusiness #CreatorEconomy
Click To Tweet
Vantana also earns revenue from bits, subscribers, and donations on Twitch and a monthly virtual community yoga class that he teaches on Discord via a Ko-fi integration. "I'm able to give my community the gift of yoga, and that was really a big thing for me," he says.
Advice for content entrepreneurs
Vantana offers this counsel for creators building their content business:
Get inspired by other creators
Whether it's Beyonce, another streamer, or a creator using a different format, take notes on how they built their brand and found success. Then, take their path and make it your own.
"The livestreaming [and] gaming space is somewhat new and vastly changing; there's no real road map to success in this industry," Vantana says. "And that's why I think it's possible to learn something from everyone while also developing your own unique way of doing things. In any industry, we learn from sharing thoughts and ideas with our peers, and I think that's really relevant in the Twitch space."
Use available resources
As a struggling artist pre-pandemic, Vantana found plenty of online resources to help him improve and grow his creative work. He's done the same for improving his Twitch stream, especially for boosting the production quality and management of the stream. Seek out free resources via YouTube and elsewhere for guidance. "There's tons of stuff out there," Vantana says.
Use free online resources to improve your #ContentBusiness like @Vantanart did for his @Twitch stream. #CreatorEconomy
Click To Tweet
Be yourself
It's easy to play a character on Twitch – and that's fine if you're great at playing characters. But, often, the best streams come from creators who are comfortable being themselves online. As Vantana says: "Be authentic because nothing is more rewarding than being authentic and somewhat vulnerable."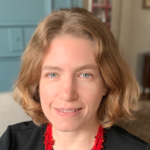 Sarah Lindenfeld Hall is a longtime journalist, freelance writer, and founding editor of two popular parenting websites in North Carolina. She frequently writes about parenting, aging, education, business management, and interesting people doing remarkable things.