Success is what every content entrepreneur wants according to our content entrepreneur research.
But what are the ingredients to a prosperous content business?
With the release of The Unconventionals: 2021 Benchmark Study of Content Entrepreneurs, a study of over 1,400 content entrepreneurs, we now know what goes into a successful content business: They are focused, disciplined, and patient.
Here are some of their characteristics and differentiators. They:
Spend two years on average before bringing in enough revenue to support one person
Work full time on their content business
See themselves as business owners, not just content creators
Prefer owned channels for their content rather than social or other third-party channels.
Successful content entrepreneurs: 1. Work full time on the business 2. See themselves as owners, not just creators. 3. Prefer owned channels for their content. #creatoreconomy
Click To Tweet
Let's look a little more into how you can translate that to help your content business.
Tilt Advice
Take the time
They know success doesn't happen overnight. The content entrepreneur research shows it takes about nine months until the first dollar is earned and 26 months until the business brings in revenue to support at least one person.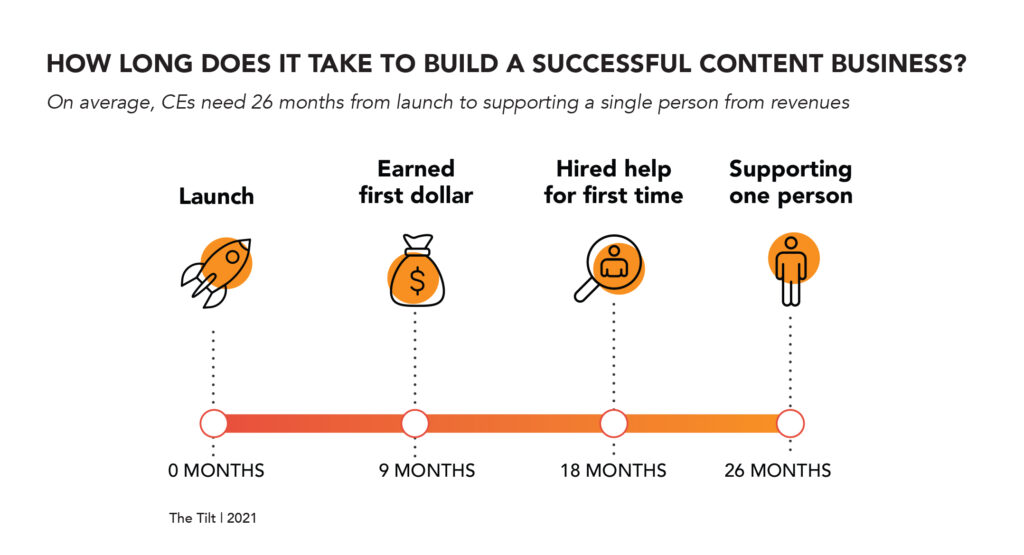 Did they know how long it would take when they started? Probably not. In this relatively new category, they didn't have anything to compare themselves to. But now you do. Use that knowledge to do two things:
Create a business strategy with realistic benchmarks and goals.
Expand your learning on what works and accelerate that timeline.
Do double duty
Full-time content entrepreneurs are seven times more likely to support at least one person than someone who treats it like a side gig, according to The Tilt research. That makes sense. If you're bringing in enough revenue to support someone, you likely don't need to work another full-time job. But if you're just starting out, you probably can't quit your day job and forgo a salary for two years. Yet, you can be a full-time content entrepreneur, building one business while working for another. Here are a few ideas on how to do that:
Schedule yourself for 30 to 40 hours a week. Block out time for each task and keep those "appointments."
Be efficient with structured work. Create to-do lists for each business category so you don't have to waste time figuring out what needs doing every day. If you run into "writer's block," don't stop, just go to something else on the list.
Choose one channel. You don't have to be everywhere (and probably shouldn't as an early-stage content entrepreneur.) Focus all your efforts to build and grow your audience around it.
Take a break. If you find yourself overwhelmed by juggling two full-time jobs, take an afternoon, evening, or day off. It might delay your accomplishments for the week, but it will be better for you and your content business' long-term health.
Even if you can't quit your day job, you can be a full-time content entrepreneur if you invest the time and stay focused, says @JoePulizzi.
Click To Tweet
Pursuing passion isn't enough
In our content entrepreneur research three in four content entrepreneurs say they got into business to pursue their passion. Yet, only 30% of a content entrepreneur's time is spent on creating content. Knowing that, here's what you need to do: Adopt a business mindset. Get into all the business things like marketing, sales, project management, finances, and more from the very beginning.
Only 30% of a content entrepreneur's time is spent on content creation, according to first-ever #creatoreconomy survey from @TheTiltNews.
Click To Tweet
Also, don't try to do everything yourself. You're not a lawyer or an accountant. It's better to invest now for experts than to pay later because you didn't have them. Look for expert resources who understand an entrepreneur's world. Don't hesitate to ask them how you can do the non-expert legwork to keep the bill as low as possible. Frankly, as much as possible, outsource everything you don't like to do or are not good at.
Take control
Successful content entrepreneurs are likely to create blogs, newsletters, and other content on their owned channels, usually their website and email list. They dismiss the need for intermediary platforms as revenue channels.
We've long been big advocates of owning your content channels. With emails, you have a direct way to reach your audience. With websites, you know how your audiences behave with your content in detail. You can't get that on social media platforms.
After all, Facebook, TikTok, Twitch, Instagram, YouTube, Twitter, etc., are focused on how to grow their business. Sure, creators are a part of that, but decision-making always revolves around what's in the best interest of the business. 
It's OK if you use those third-party platforms to market your business or even start building your audiences there, just make sure you have a plan to move those fans onto your owned channels. Another benefit? You'll likely see healthier profit margins because you won't have a middleperson taking a cut.
You can read this data and more in the primary report: Unconventionals: 2021 Benchmark Study of Content Entrepreneurs. Want to see all the results? It's exclusive for The Tilt subscribers.