Entrepreneur: Wally Koval
Biz: Accidentally Wes Anderson
Tilt: Travel stops that look like they could be in a Wes Anderson movie
Channel: Instagram Followers: 1.4M
The Tilt's Favorite Actionable Advice
Be consistent: Set an expectation with your audience. Though Wally hasn't missed a day in three years, fans speak up when he doesn't post at his usual time.
Have conversations, not posts: Talking with your community is better than posting at your community.
Create a big vision: Wally wants to build a brand that everybody wants a T-shirt of.
The Story:
A fan of filmmaker Wes Anderson, Wally Koval loved to view images that looked like they could be in one of his movies.
Wally scrolled through Instagram, searched Google, and dove into Reddit. He found many cool-looking places reminiscent of the distinct visual style of films like The Grand Budapest Hotel, The Royal Tennenbaums, and Rushmore.
But he couldn't find the one thing he wanted – the locations of those places. Without that information, he never could create his Wes Anderson travel bucket list.
Instead of trolling every post, criticizing the posters for not sharing the location, Wally took on the challenge. He did the research and posted a Wes Anderson-inspired pic – with the helpful geographic context – every day to his Instagram account.
As his followers grew, Wally added even more locally relevant hashtags and posted submissions sent by fans of Wes Anderson and Wally's Instagram account. Major international tourist boards and media companies began following him. And after reaching around 3,000 followers, Wally switched his Insta handle, and Accidentally Wes Anderson was born.
Standing out in sea of travel handles
"Sure, travel photography is this saturated place … (I)t's almost like we made our way in there without trying to make our way in there," Wally says. "We just tried to have meaningful connections with people in this community."
He explains: "I cultivated the audience in a way that I was having a conversation with them. I never engaged in a way that was like, 'I'm running this thing. Here's what we're doing,'" Wally says. At the bottom of every caption he posts, it says, "Know more? Comment below."
That intentional dialogue worked with some help from Vogue that came calling in 2017 – two years after he started to post. The resulting feature article led to 10x follower growth.
Chatting with friends
Wally attributes AWA's success to that community mindset. They create a tone as if they were just chatting in the living room with friends trying to figure out where to travel next.
And the conversation goes farther than virtual travel. When Wally and his wife Amanda went on a trip to Argentina, they messaged the AWA community via Instagram story, asking where they should go. At that time, they had between 30,000 and 50,000 followers.
"We thought we would get a couple of responses … We had thousands of responses. We had people wanting to meet up with us, write articles. We were interviewed. We went on the radio while we were there – all these very unexpected things," Wally says.
The couple didn't stop at recommendations. They posted as they traveled, sharing their experiences and asking the community what they should do next – kind of like a choose-your-next-adventure game.
When they returned from that trip, the tourism board in Vienna invited them to Austria to do something similar there. They said yes.
And that's the key – authenticity. Brands can't be just interested in getting tagged or accessing the email list. They must be interested in a substantive conversation with real context, connection, and meaning that the audience is attracted to.
That's why AWA says no to about 95% of opportunities that have come their way.
Getting a book deal
In 2020, AWA didn't say no to a book deal. Accidentally Wes Anderson became a bestselling book (with a foreword from the man himself, Wes Anderson). It's earned rave reviews: NYT – "A visual adventure of Wes Anderson proportions … (S)tunning photographs of real-life places that seem plucked from the just-so world of his films, presented with fascinating human stories behind each façade."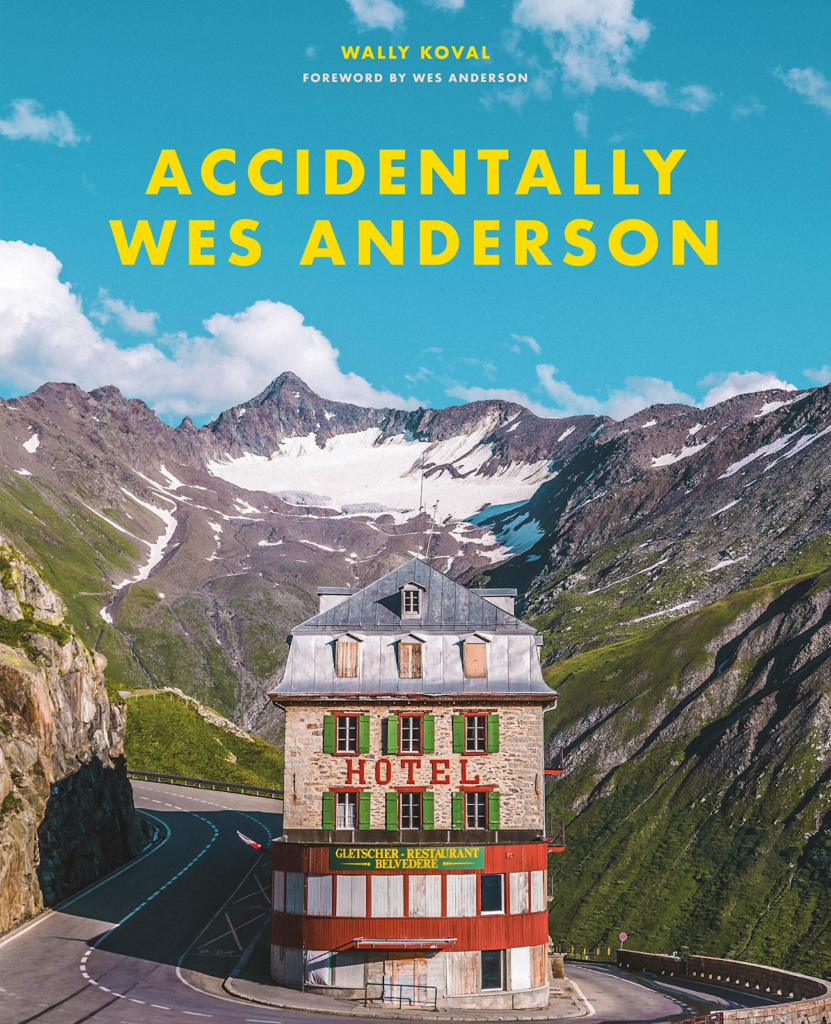 With the book complete and the advance check cashed, Wally felt comfortable enough to leave his 9-to-5 job. AWA slowly and deliberately expanded by adding an e-newsletter and a website. The latter is designed as a searchable destination for travelers planning their adventures based on locale. The site also sells AWA merchandise from tote bags to wall prints. (Check it out: https://shop.accidentallywesanderson.com.)
Big future with small team
AWA is a small-time operation run by Wally and Amanda, along with help from a few friends. When they ponder new opportunities, they look outward to the most dedicated people in their community who regularly email and interact with them.
"They know us the best, so we're trying to utilize them to perfect the new channels before we announce them to the full community, just as we did with Instagram," Wally says.
Do they plan to do away with Instagram and focus only on their owned channels? No, Instagram (1.4M) will always be part of the Accidentally Wes Anderson brand. But they will continue to expand the brand. As Wally says: "I want to build the brand that everybody wants to wear the T-shirt of."
One more piece of advice
Wally has one thing he wishes he had done differently: Start building the email list on day one. He explains, "Unless I have your cell phone number, an email is the second-best contact … There's no algorithm in between saying whether or not you see it."
This article is based on an interview with Clare McDermott.
Wally is one of the content entrepreneurs featured in the upcoming new edition of Content Inc. by The Tilt founder Joe Pulizzi. You can pre-order your copy before the May release.