In college, Austen Tosone took to Tumblr to document her outfit every day. She obsessively read BryanBoy, Sea of Shoes, Fashion Toast, and many other original fashion bloggers. By 2012, just two years into her publishing foray, this microinfluencer decided to start her own website. The blog Keep Calm and Chiffon was born. Still going strong, the blog garners an average of 10,000 readers a month, many of whom convert to her weekly newsletter.
Aha moment
Four years after the blog launch, Austen landed her first paid brand partnership with the fashion retailer ASOS. They wanted her to promote their college student discount. "They gifted me an outfit and paid me. I was floored," she recounts. "It was then that I realized that brands liked this type of advertising because it was more relatable and cost effective than traditional methods," Austen explains.
From there, she joined influencer networks like InfluenceHer Collective, Social Fabric, and Fohr to get alerted about opportunities. When she got laid off from a magazine job for the second time in 2019, she started pitching brands directly as a microinfluencer.
Smaller is better for microinfluencers
Brands work with her because of the content she provides for her audiences. "While larger influencers can be beneficial for brand awareness, microinfluencers have proven that their close relationship with their audience creates a trust that ultimately results in more sales from product recommendations. There is a better return on investment for brands looking to drive sales when working with microinfluencer campaigns," she explains.
Microinfluencers typically have between 1,000 and 100,000 followers. Austen fits that profile well – Insta at 11.4K, TikTok at 15.7K, Pinterest at 20.8K, and YouTube at 4.55K. (She's also recently joined Clubhouse to talk all things content creation.) Of course, she would be thrilled to have more followers, but that's not her priority. "I've learned not to define success by numbers. There are thousands of talented creators out there with fewer than 10K followers who can convert their audience into customers for a brand."
For Austen, a typical microinfluencer brand campaign might include one Instagram feed post, one to three Insta Stories with a swipe-up link. (Swipes are possible because she has over 10,000K followers.) Or it could be a sponsored YouTube video.
More than a beauty blog
Her fashion and beauty content business expanded a few years ago. "Once I became a full-time freelancer and started reaching out to brands, other creators started to ask me how I did it. 'Do you just email them? 'Where do you find their contact information?'" she says.
In response, the 26-year-old began filming "week-in-my life" vlogs on her YouTube channel to give viewers a glimpse into her life as a self-employed creator. She turned Keep Calm and Chiffon into a place where influencers – and those wanting to be influencers – could score advice on how to pitch brands, negotiate deals, and make money creating.
Her YouTube channel now features a category for creators with videos such as How to Respond to a Collaboration Offer from a Brand and How to Charge for a Sponsored Post as an Influencer. She also has well as a category for product reviews like this one for Florence by Mills Cosmic Shadow Review.
She says she is no longer drawn to the platforms where she has the most followers. While Instagram will always be a place where people can get to know her better, it wasn't bringing in a ton of money.
"YouTube and my blog are big priorities for me because they're searchable content. I create something once and it gets discovered over and over again, unlike Instagram, which has a shorter lifespan of content," she explains.
Her content on those channels also works well as marketing for her other content products. She sells an e-book Right on Pitch ($9) and is working on a second one. "E-books are great because they're accessible, easy to make, and you can easily share info with anyone who wants to learn," Austen says.
And recently, the content entrepreneur hosted her first workshop on SEO best practices, which sold out and garnered over $1,000 in ticket sales.
More on money
Austen believes the influencer community would benefit if more would talk about their revenue. She has income conversations on her YouTube channel and Instagram feed. "In 2019 and 2020, I was able to bring in five figures in revenue from my blog and social channels. I've also done multiple four-figure brand deals with beauty and fashion brands," she says.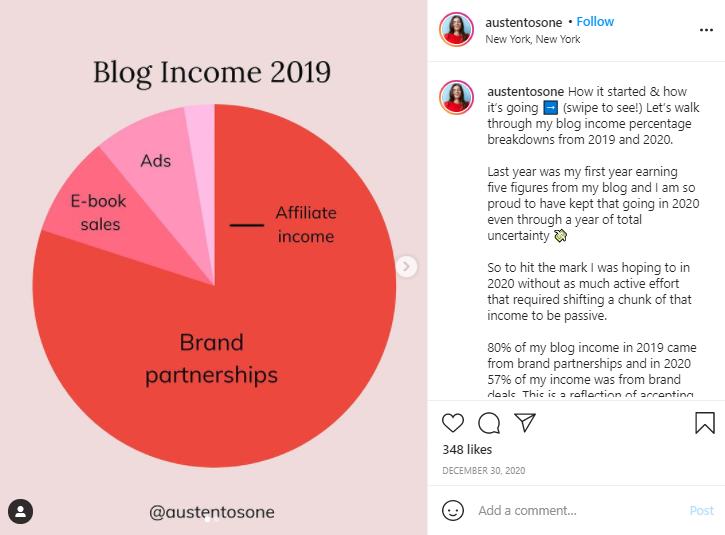 In 2019 – her first five-figure year – 80% of her revenue came from brand partnerships. In 2020, revenue remained in the five figures, but her content business' income streams diversified. Only 57% came from brand deals, while 30% of her revenue came from YouTube ads and her e-book. "This is a reflection of … focusing on great content on YouTube to increase retention and ad revenue as well as doing more content marketing for Right to Pitch (e-book)," she shares.
Bonnie owns Word of Mouth, a content agency specializing in social media, content marketing, and editorial writing. She's written for Marie Claire, Harper's Bazaar, Coveteur, Man Repeller, Health.com, and more. She loves wearing fanny packs and laying in the fetal position.