What's the news?
A confluence of the explosive gig economy and the growing creator economy is happening. It's an unprecedented time with extraordinary possibilities.
It's a second renaissance, according to Patreon CEO Jack Conte. "Years ago, when Patreon was raising money, we used to structure our pitches, so the first 30 minutes of the pitch, we would explain what creators were … And now it couldn't be more the opposite … Everybody's seeing where this world is going.
"We are literally at the beginning of a new renaissance, a world in which tens of millions of creative people are building businesses and building their dreams and making it happen."
Jack continues: "The amount of money being poured into this ecosystem right now is making more creators; it's making more creative businesses. It's financing creators in a way that they've never been financed before. All the companies that are now popping up, you know, I'm in a Slack channel with 300 companies that are building for creators, 300 companies building for creative people to build their businesses."
Isn't the gig economy like ride-sharing drivers?
Yes, Uber and Lyft drivers get the headlines. But the gig economy is much bigger. It's really any short-term, contractual work. One estimate says creatives make up the largest percent (14%). And gig work is only growing. By 2023, 40% of the U.S. workforce is expected to make 40% or more of their income via gigs. (Forbes)
What's the creator economy?
"It's the class of businesses centered around independent content creators, curators, and community builders including social media influencers, bloggers, and videographers." (SignalFire)
Venture capitalist Clara Lindh Bergendorff says the creator economy is the evolution of the attention economy. As she explains in Forbes: "The attention economy monetizes an audience, they speak at while the creator economy turns that audience into a real asset: a community they engage with."
How big is the creator economy?
It's estimated only 4% (2M) of the 50M content creators are professionals, according to SignalFire. But "professional" by those standards only means making some money.
SignalFire's research shows about half of professional creators – 1 million – are on YouTube. They have over 10K followers, which makes them eligible for YouTube's Ad Partner Program. A half-million (25%) are on Instagram – they have over 100K followers and are labeled active influencers. Another 300K (30%) are on Twitch with partner or affiliate status. Finally, 20% are in the other category defined as musicians, podcasts, writers, illustrators, etc.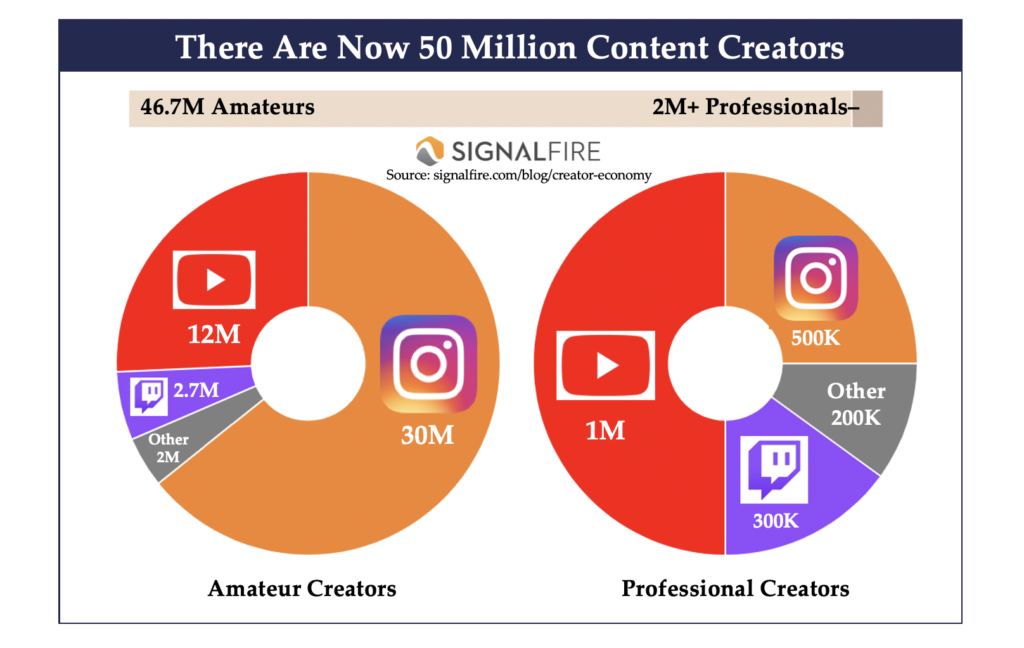 One study found 96.5% of YouTubers made less than $12,140 (the U.S. poverty line). Though that data is from 2018, major changes are unlikely to have happened. (Fast Company)

The Tilt Talk and Advice
What's the tilt?
Being a content gig worker – getting paid to create content such as freelancers or intermittent earners through social media views – is good. Being a content entrepreneur is better.
Are you a content gig worker?
If you're thrilled to reach 10K followers on YouTube and even more excited to get $100 in ad revenue from those videos, you're a gig creator or a hobbyist creator.
If you operate as a freelancer whose income depends on clients contracting with you to create the content for them, you're a content gig worker.
Are you a content entrepreneur?
If your goal is to build and grow an audience through content and eventually make money from that content, you are a content entrepreneur, according to our definition at The Tilt.
You are the individuals driving the creator economy because you aren't a dime a dozen like content creators. Your audience-first strategy leads you to operate as a business, buying tech tools, and maybe even hiring content creators.
As SignalFire explains: "The job has come to encompass product management, design, community engagement, e-commerce, and data science along with being an entertainer.
"But with that diversification comes resilience. Creators become less vulnerable to shifts in priorities of the tech giants or their algorithms by owning the direct relationship with their fans."
What are the three things a content entrepreneur-to-be should do?
Focus on a niche audience and spend every day understanding what that audience needs and wants.
Generate a system for ongoing feedback from your audience. Ultimately, your review ideas will come directly from this group.
Scratch out your exit strategy. Formulate what you want this business to become.
What are the three things experienced content entrepreneurs should do?
Ensure you're developing and following a set of methods and processes to make your content success repeatable and scalable.
If you publish on a third-party platform, like YouTube or Medium, make plans on how to migrate your audience to your owned channels. Or at least figure out how you can own those audiences. (We at The Tilt like email.)
Detail your exit strategy.
What's the future for content entrepreneurship?
It's the fastest-growing new business sector, according to The Tilt founder Joe Pulizzi: "The majority of new businesses launched today are and in the future will be content-first/audience-first businesses.
"These individuals will build massive audiences and monetize those audiences in dozens of ways. They will not only make money as media companies do, but they will sell products and services if they wish."
SignalFire says they expect content entrepreneurs to become more diversified in their revenue streams and being funded directly by their fans.
As Patreon's CEO explains: "People are starting to realize that creativity is a real, viable, sustainable life for people. And that's a sea change in the world."
Anything else?
Well, as an entrepreneur, your friends and family will better understand what you're building.
Ann regularly combines words and strategy for B2B, B2C, and nonprofits, continuing to live up to her high school nickname, Editor Ann. Former college adjunct faculty, Ann also helps train professionals in content so they can do it themselves.