Entrepreneur: Tabitha Brown
Tilt: Vegan take on feeding the soul
Scene: TikTok (4.9M) YouTube (720K) Facebook (2.7M) Instagram (4M) Twitter (239.K)
Snack Bites:
Tabitha's gregarious take on Whole Foods' vegan BLT earned 1M views in a week.
She created multiple weekly video series with her and her family on Facebook.
The New York Times bestseller list included Tabitha's book: Feeding The Soul (Because That's My Business).
Why We're a Stan: Tabitha Brown found early success with a video review, but she retained that audience and added more by focusing on her vegan-driven content and eventually expanding her content to encompass joyful living.
The Story
Hoping to make it big in show business, standup comedian Tabitha Brown moved to Los Angeles. Having a hard time booking her dream roles, she became an Uber driver. In between her shifts, she stopped at Whole Foods and shot videos for her Facebook fans.
Tabitha's review of Whole Foods' take on a BLT – a TTLA made with tempeh, tomato, lettuce, avocado, and her personalized addition of a pickle – started making rounds online. "We want to pray for you because what you've done in this sandwich, y'all have set souls on fire. I feel like I've been anchored in the lord," Tabitha declares in the video published Dec. 30, 2017. "Go to this deli. Ask for this TTLA and watch your life change."
<
The video garnered 1M views in one week and even launched the #TTLAChallenge. Vegans, non-vegan, and flexitarians rushed to Whole Foods to experience even a fraction of Tabitha's unapologetic rave.
Tabitha is more than just a fixture on the Whole Foods TTLA section of their website. Raised in Eden, North Carolina, she has made a name for herself on Facebook and TikTok, dishing up mouthwatering vegan dishes for her followers. She also advocates living a more vegan lifestyle and uses her platform to promote the benefits of the diet change. She made the switch was to combat her depression, chronic pain, and anxious thoughts.
We're a #Stan of @IamTabithaBrown who turned a viral review of @WholeFoods vegan BLT into a #ContentBusiness. #CreatorEconomy
Click To Tweet
On TikTok, Tabitha has expanded her content business by developing short-format videos, such as her simple recipe for vegan carrot bacon.
Growing her content businesses
She took her videos to the next level with a weekly Facebook series Very Good Mondays, which features her, her daughter Choyce, adorable dog Blacky Brown. They unbox vegan products and unrelated cruelty-free products from fans (and brands are among her biggest fans), tagging the product in the video description. The kind-hearted Southerner doesn't stop with Mondays. She also has hosted Guess Who's Coming Wednesdays and Fridays with Tab and Chance.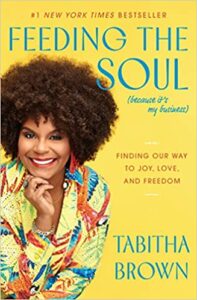 Last fall, her book Feeding the Soul (Because It's My Business): Finding Your Way to Love, Joy, and Freedom topped The New York Times bestseller list. A month later, Tabitha got her own YouTube Original series, Tab Time, where she teaches preschoolers to be the best versions of themselves. As she explained in the announcement, "Teaching children to grow together and love each other with kindness will create a better world. We're at a place right now where the world needs healing. It needs light, and children are that light. It's been said a million times, but children are the future, and healing change begins with them."
She exudes a warm, kind energy on all her platforms, and her growing fame opened the doors to appear as herself on other platforms, including The Ellen Degeneres Show, NBC's Will &Grace, Bounce TV's Family Time & Stone Cold Christmas, Netflix Freeform's Switched at Birth, and Amazon Prime's I am Still Here and Tamron Hall.
@IamTabithaBrown evolved her video #vegan content into a book, Feeding the Soul (Because It's My Business), and a @YouTube series for preschoolers called Tab Time. #Stan #CreatorEconomy
Click To Tweet
As she changes the world for animals, the creator connects with fans at her speaking engagements, including the Vegan Women Summit and her book tour. She sells merch branded with "I can if I want to because it's my business."
The plant-based/vegan food influencer also has been featured on GMA3 Strahan, Sara & Keke, Buzzfeed, Tasty, Now This Food, and Goodful. And she's even achieved her earlier acting dreams with a breakout role in Showtime's The Chi.
As Tabitha explains to Time, "I pursued a dream for over 20 years, and it was not successful for the majority," she says. "But I never stopped because the faith inside of me said something greater is coming."
Shameyka McCalman is a wordsmith whose work often centers around fashion, art, and other creatives of color. She earned her communications degree from the University of Massachusetts Boston and enjoys sifting through clothes in local vintage shops, frequenting nearby plays, and gazing at exhibitions on view in museums.