Entrepreneur and Biz: Corina Layton, RDH, aka Tooth Fairy
Tilt: Dental health
Primary Channels: TikTok (2.5M), Instagram (130K)
Other Channels: YouTube (3.19K)
Time to First Dollar: 18 months ($50 deal)
Rev Streams: Brand deals, YouTube ads, speaking engagements
Our Favorite Actionable Advice:
Consistently post consistent content: Set up the expectation for your audience on the type and frequency of content you deliver. Then meet that expectation.
Reply one way or the other: Reply to comments in the comment section of your feed and answer followers' questions in separate posts. It engages your audience more than a one-way conversation.
Don't get stuck on numbers: Corina used to stress out about why a video hadn't gotten 1M views. But then she shifted her mindset so she didn't define her worth based on the numbers.
The Story of Corina Layton
In 2019, early in her content journey, Corina Layton had a viral TikTok that she didn't even realize. As she traveled through scenic Door County in Wisconsin with little phone service for a couple of days, views on her video ticked higher and higher.
When she opened the app, the video had 17.1M views and she had 150K followers. "To this day, I don't understand how that went viral. … There is no explanation," Corina says.
She posted with more consistency, watching her followers grow as she studied to become a registered dental hygienist. Eventually, she found her content tilt after seeing high engagement in her dental-related TikToks. Viewers were interested in her videos about topics such as teeth whitening and when to switch the brush heads on your electric toothbrush.
@LaytonCorina made dental health her #ContentTilt after seeing her @TikTok audience more highly engaged with videos on that topic. #ContentEntrepreneur
Click To Tweet
Today, she has 2.5M followers on TikTok and another 130K on Instagram. Her posts highlight her fun-loving personality and knowledge of all things teeth as she collaborates with consumer dental brands and solutions that support the dental industry.
For Corina, content creation is an opportunity to educate people about dental health and periodontal disease and reach an audience much bigger than the patients who sit in her chair. "I literally just feel so blessed," she says. "I'm able to consistently share what I already love to do every single day."
Hustle and work hard
While the audience came quickly, revenue took longer. About 18 months after that first viral video, she earned $50 on her first deal. Though the payment was small, it triggered her search for more money-making opportunities.
"If you're not going to hustle, they're not going to just come to you," Corina says. "You have to put in the hard work."
She emailed and messaged brands directly and eventually signed a non-exclusivity deal with an agent, which allowed her to continue to look for brands on her own. Her first deal with a big-name brand came to promote an electric toothbrush made by Procter & Gamble's Oral B.
"And that was when I was like, 'I've made it,'" she says. "I love this toothbrush, and now I get to promote it."
First big-name brand deal for @LaytonCorina? @OralB. She thought, "I've made it. I love this toothbrush, and now I get to promote it." #ContentEntrepreneur #CreatorEconomy
Click To Tweet
What works best for her content business, she says, is consistency – a mix of dental-related and lifestyle posts. She relies heavily on text overlays and green screens. Her followers ask questions and post comments, which give her content ideas. Many of Corina's posts revolve around their questions about relatable patients, dental health, and dental-hygiene-school tips.
In this sponsored video, Corina talks about mouthwash.
Along with her work as a dental hygienist, her revenue streams include brand deals and YouTube ads. She's also growing her speaking engagements — working with and representing brands at dental conferences and events. Corina recently represented a software solution for health-care practices at a dental association conference in California.
Viral videos can come and go, she says. Corina aims to grow in the professional space, educating the general public about dental health and supporting her fellow hygienists by sharing information about the best instruments and tools for their work. "It's a weird realm that I'm still feeling out," she says. "But that is the goal."
Advice for content entrepreneurs
For content creators growing their business, Corina shares this advice:
Respond to comments
Not every comment on social media is productive or healthy, and Corina has had to take time away for her own mental health. But responding to comments – in the comment sections or by answering the questions in a separate post – is an important way to grow and engage with followers, she says.
Respond to comments by answering the audience's question in a separate post, says @LaytonCorina. #CreatorEconomy
Click To Tweet
Find a hook
Corina uses the "Did you know?" or some variation to engage viewers. "You need to have a hook – something to make people sit on your video long enough to either boost it in the algorithm or make them want to continue to follow you and watch videos," she says.
Don't focus on the numbers
Consistently posting consistent content is key. But don't get too focused on the viewing numbers. Today, she celebrates a post that gets 200K views today, but she once spent time wondering why it hadn't reached 1M.
"I noticed that during those times that I was concerned about [views and followers], I was way too stressed," she says. "It's just a mindset change. It's not defining your worth."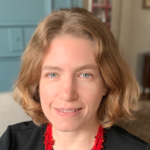 Sarah Lindenfeld Hall is a longtime journalist, freelance writer, and founding editor of two popular parenting websites in North Carolina. She frequently writes about parenting, aging, education, business management, and interesting people doing remarkable things.