Entrepreneurs: Christina Riley and Carl Hedinger
Biz: NC Tripping
Tilt: North Carolina travel
Primary Channels: Blog, Facebook (40.7K)
Other Channels: TikTok (17.3K), Instagram (9.5K), Pinterest (8.4K), Twitter (1K)
Time to First Dollars: Seven years after launching their first travel blog, they earned about $700 a month
Rev Streams: Website advertising revenue
Our Favorite Actionable Advice:
Consider third-party ad services: Christina and Carl use Mediavine to handle the advertising on their blog site. It's helpful to have business support if that's not your skill set.
Write with singular focus: They gave up broad roundup posts totaling thousands of words. Instead, they focus each article on individual destinations, restaurants, or activities. It's helpful for SEO and your audience.
Don't play the game: While they do consider SEO, this duo is focused on quality content, not attempting to game the elusive algorithm.
The Story
More than a decade ago, just out of college, Christina Riley and Carl Hedinger started blogging. From their home base in Korea, where they were English teachers, the couple backpacked across Asia and wrote about their adventures, mainly for their family to read.
Five years in, Christina was ready to return to the United States, and they landed in another place unfamiliar to them: Durham, North Carolina, where Christina's sister lived. "We decided to do the same exact thing (we did) in Korea but in North Carolina – treating it as a foreign country that we could explore," Christina says.
Going full time
The couple shared their adventures on Travel Through Life, a blog launched in 2012. NC Tripping came in late 2017 after the birth of their daughter when a fellow blogger recommended they start a niche site focused on their adopted home state.
@NCTripping began after a fellow blogger recommended they start a niche site in their new home state. #casestudy #contententrepreneurs
Click To Tweet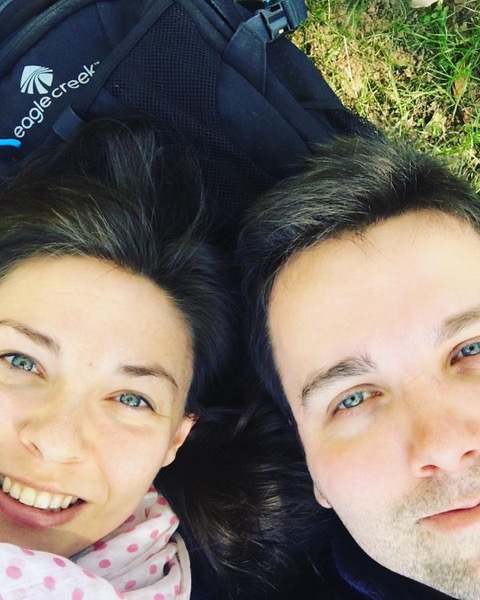 At the time, Christina, who had worked in event management and as a Montessori teacher, was focusing on their baby girl. Carl was stuck in an unfulfilling corporate job as a copywriter. They wondered if they could make it on blogging alone. When Carl lost his full-time job in April 2019, the couple considered it a sign that they should give full-time content creation a shot. But the travel blog content business was only earning them $700 a month — more than four times less than Carl's take-home pay at his previous job. It wasn't enough to pay the mortgage or feed their family. Christina remembers feeling terrified and excited all at once.
But with more time to travel and focus on their content, the couple could go all in. Christina, who had served primarily as the photographer, got more involved. Today, they both share in the writing and split other content business duties. Carl focuses on web publishing and search engine optimization. Christina runs social media.
"We spent a lot of time listening to a lot of self-help books and, it's going to sound super hokey, believing that it could happen and believing that this was supposed to be our path," she says.
Hitting goals
Those beliefs turned into reality. Ten months later, they had met their big goal – earning $2,200 a month, about the same as Carl had earned at his corporate job.
A month later, COVID hit, shutting down travel around the world and in North Carolina. Website traffic plummeted. But by June 2020, they saw a resurgence of interest in the blog as more people looked for safe ways to travel, including short-term rentals and outdoor activities. Hiking guides and content about North Carolina's many waterfalls and outdoor recreational opportunities became popular. "We hiked a lot last summer, and I really think that opened up a lot of doors and success for us," Christina says.
This summer, blog traffic was five times higher than it was in February 2020, and monthly revenue is way up too, as they hit $10,000 for July.
@NCTripping bloggers went from revenue of $700 a month in 2019 to $10,000 for the month of July, primarily through paid ads on their site. #contentbusiness #creatoreconomy
Click To Tweet
Growing audience
Nearly all that revenue comes through ads on the website of this travel blog content business. The couple uses Mediavine, a full-service ad management company, to populate their site with advertising. The revenue is based on page views. "The more people who are reading our site, the more money that we make," Christina says.
Most of the blog traffic comes from search followed by social media. Though Christina has begun growing a TikTok presence, Facebook offers the biggest playoff. They do targeted ads and boost top-performing content to attract more eyeballs to their Facebook posts and, in turn, their blog. NC Tripping is now the couple's primary focus. They stopped updating their original blog, Travel Through Life, about a year ago.
"We really saw that going niche was more profitable, and it was also where our hearts were," Christina says.
Advice for content entrepreneurs
As they traveled across North Carolina, stopping at mountain waterfalls, sandy beaches, and other destinations along the way, these tactics worked to help Christina and Carl build an audience and their travel blog content business: tiering content, being authentic, thinking local.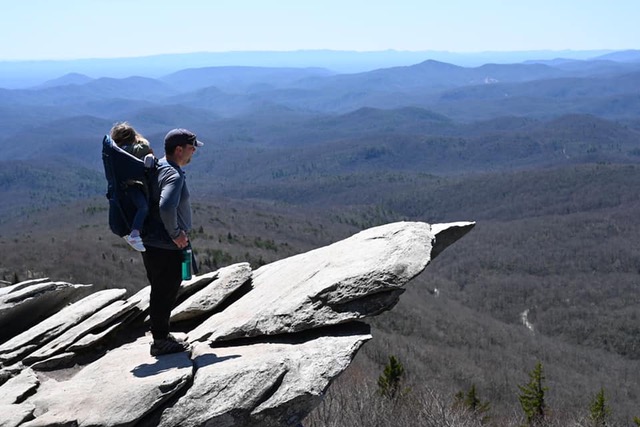 Tier your content
Before February 2020, a lot of NC Tripping's content was broad, such as a 3,000-word blog post about things to do in Durham. With time on their hands at the start of the pandemic, Christina and Carl realized tiering their content could spark better results. Now, they write shorter posts on individual destinations, free activities, and great restaurants. "Sometimes having 700 words on one place is just as important and adds to this network and spider web of SEO that was actually really, really important that we didn't realize until we had time to sit back," she says.
Be authentic
Be yourself, Christina says. Share the mistakes and the not-so-great experiences. And don't focus on trying to beat the system. "That's what I see a lot of these blogging tactics are – just trying to game the system. And the system can't be gamed," she says. "The system knows whether or not you're authentic and your heart is truly in it or not. It will catch you. And people will catch you … People want to see you for you."
Think local
Christina gets the allure of international travel, having traveled across Asia, from Korea to Bangkok, and missing it herself. But that's not their content business. "For a lot of content creators, it's not sexy to be in one place," she says. But firmly planted in North Carolina has been valuable to their business. "If you want to have a niche blog, you have to have relationships with people in your niche because then you'll see their passion, and you'll get that same excitement that you do from going to a brand-new country or a brand-new city," she says.
As Christina considers the life she and Carl have built for themselves, she can't believe that their travel blogging is how they support themselves. She always thought she'd spend her days in a classroom as a teacher. Now, her office is an entire state.
"I get to sit back at the top of a mountain and be like, 'Whoa, I'm making money right now just by sitting here,'" she says. "And that's awesome and amazing, and I love my life."
Christina Riley of @NCTripping gets to sit atop a mountain and make money. "That's awesome and amazing," she says. #contententrepreneur
Click To Tweet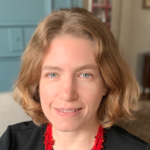 Sarah Lindenfeld Hall is a longtime journalist, freelance writer, and founding editor of two popular parenting websites in North Carolina. She frequently writes about parenting, aging, education, business management, and interesting people doing remarkable things.