Entrepreneurs like you don't want to climb the corporate ladder. But you'll definitely want your audience to climb the "offer ladder." But first, you create one.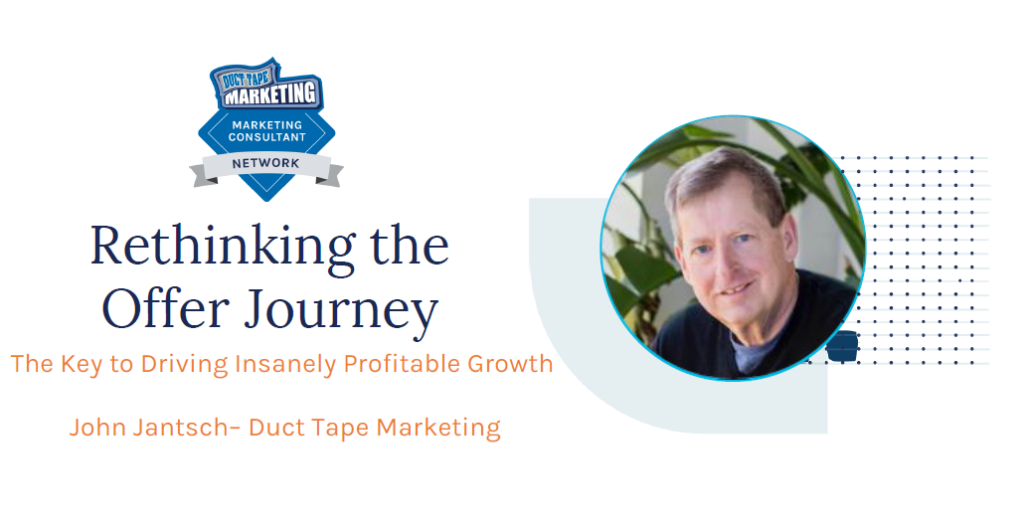 Based on the wisdom and practical experience shared by John Jantsch of Duct Tape Marketing at this year's Creator Economy Expo, here are five things to do to begin construction.
1. Think of your audience as members, not customers: In business, sales and marketing usually adopt a customer mentality. It's all about research, purchase, and refer. But when you see the audience as members, it's all about engage, invest, and evangelize.
"A customer wants to buy. Members think about investing in something they believe in," John says.
2. Begin with the Know rung of the offer ladder: It's all about the free content and outreach partnerships to bring in organic traffic. At least twice a month, John does a webinar for another business to educate and connect with their audience. He shares problem-specific calls to action and the places where they can get more information on what he's talking about in the webinar.
You could do webinars for others, be a guest on a podcast, or write an article for a site that has an audience you want to attract.
Entrepreneurs don't want to climb the corporate ladder. But your audience should climb the "offer ladder" outlined by @DuctTape (John Jantsch). #CreatorExpo #ContentBusiness
Click To Tweet
3. Go for Like, not an upsell: Now that you have someone who's raised their hand to indicate interest, a lot of businesses go for the upsell. Instead, seek to strengthen your connection to the new audience member. John sells workbooks at a nominal price ($17 to $102) and includes a call with an adviser.
4. Get their Trust: After finding value in your free and nominal fee content, the audience member will ask, "What else do you have?" In John's case, the next level involves self-guided training ($199) and a subscription to their academy – a digital library of sorts – at $49 a month.
The Know, Like, and Trust rungs aren't designed as money-making endeavors for the business. They're designed to engage the new member and strengthen their connection to the business. It's all about creating WTP – willingness to pay.
5. Add the Try, Buy, Repeat, and Refer rungs: At the Try rung, you sell something that will help the member address their immediate need or problem. In John's case, the offer is problem-specific coaching ($1.5K to $3K)
Once the member has sampled a higher-priced ticket item, they should be more ready to step up to the Buy rung – your premium product offer. For John, that's membership in a flagship program and network ($7.5K to $10K).
Now is when the real magic begins in the member relationship – give them the chance to move up to the repeat (retention) rung by purchasing or renewing their purchase of your product. (John offers small group, short-term cohorts priced at $5K to $400K.)
And get them to the Refer stage by offering a value-added service for paying members to entice them to refer high-quality members. For John, that value-add is a free, invitation-only mastermind group. His participating customers get automatic admission and the ability to invite a few people to join.
Once they become customers, we are doubling down on the value, giving them the ability and the tool to introduce us to somebody else who needs what they're getting. The ROI is ridiculous. They become strategic partners, John says.
Go deeper into the offer ladder and get more tips from John. Watch his CEX presentation for free.
Ann regularly combines words and strategy for B2B, B2C, and nonprofits, continuing to live up to her high school nickname, Editor Ann. An IABC Communicator of the Year and founder of G Force Communication, Ann coaches and trains professionals in all things content. Connect with her on LinkedIn and Twitter.