Biz: Darcy Michael
Tilt: Comedy and life as a househusband
Primary Channels: TikTok (2.6M), Instagram (136K)
Other Channels: YouTube (9.89K), podcast
Time to First Dollar: 5 months after TikTok launch
Rev Streams: Sponsored ads, merch, Cameo, upcoming comedy tour
Our Favorite Actionable Advice:
Watch the reactions: A comedian, Darcy gave glimpses into his family life. When those videos gained traction, he added more. Now, his husband works full time on the content business.
Know your numbers: Analytics help you understand your audience's behaviors across platforms. Pay attention when they take a rise or drop, and adjust accordingly.
Do deals deliberately: Darcy isn't interested in making every dollar possible. He says no to sponsorships with brands and products he doesn't believe in.
The Story
Darcy Michael launched his successful career as what some might call a traditional content creator. A popular standup comedian and actor in Canada, he's starred in the CTV sitcom Spun Out and has appeared on shows like Lucifer.
He also says he was "terrible at social media." But as the pandemic bore down and gigs dried up, he had time and a new dog. "I had heard that TikTok was really popular for dog videos, and so I started an account for our dog because I was just like, 'She's a puppy. We'll get some cute videos, and it will be easy to edit on there,'" Darcy says. "And then after about six months of being on there, she blew up, and the next thing you know, my dog has 100K followers on social media."
Standup comedian @TheDarcyMichael couldn't let his dog beat him on #TikTok. The result? A #ContentBusiness on @TikTok, @Instagram w/ a podcast and merch. #ContentEntrepreneur
Click To Tweet
Darcy had maybe 10K across all his accounts combined. In December 2020, he decided to take online content more seriously. He now has 136K fans on Instagram and co-hosts the podcast High School Sucked, which consistently ranks among the top comedy podcasts in the world.
Triumph over his TikTok dog
Darcy has eclipsed his dog on TikTok, having more than 2.6M followers on his human channel. Though Yuma Dog is still quite popular with 235.6K followers on TikTok and 12.1K on Instagram.
"The brilliance of TikTok is that algorithm," Darcy says. "I've always been on traditional TV where it's a crapshoot who your audience is. TikTok drives content to the people who are into what you're putting out."
@TikTok algorithm drives content to people who are into what you're putting out, says @TheDarcyMichael. #CreatorEconomy #ContentEntrepreneur
Click To Tweet
Comedy and a personal touch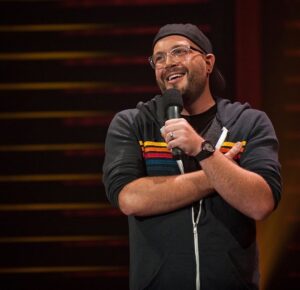 Darcy started posting bits from a standup comedy special, but it was videos about his own life, starting with a clip about being a gay dad, that really took off. "Overnight, it got like just over a million views," he says, "and I was like, 'Wow, that's crazy powerful.'"
He continued sharing clips from his comedy routines as he shared more about his personal life, including his role as a "househusband" to his husband, Jeremy Baer, who himself has 47.7K followers on Instagram and 574.7K fans on TikTok.
"The people that knew me from before TikTok were enjoying seeing this kind of fly-on-the-wall aspect of our life, and my interactions with my husband really started to take off," Darcy says. "And then my husband started to film things from his angle, and that's when things really kind of blew up. We hit 1 million followers in four months."
His online content really took off when comedian @TheDarcyMichael let his audience be a fly on the wall of his life and his interactions with his husband #JeremyBaer. #ContentEntrepreneur #CreatorEconomy
Click To Tweet
The reach of TikTok is "insane," Darcy says. "We can't go anywhere without somebody coming up to say 'Hi.'"
Even a passing mention on TikTok about his podcast, which launched in February 2021 with his longtime friend and fellow comedian Jane Stanton, has netted thousands of downloads. "The stats and the analytics show the direct connection between it all," Darcy says.
Not a merch fan until …
Darcy's original for his online content was to grow his standup and acting career. Soon, he saw his standup specials and album getting streamed and downloaded more often. His royalty checks grew. Then people started asking for merch. "I was really not for it, to be honest," he says. "I didn't get the hype around it."
But he wasn't a stranger to merch as he'd sold it on his own standup tours. His online merch store launched at 7 p.m. on a Sunday night in April 2021. By 8 p.m., he brought in $1.5K in revenue. In less than nine months, sales totaled $100K.
An hour after @TheDarcyMichael launched his online #merch store, he earned $1.5K in revenue. In nine months, sales totaled $100K. #ContentEntrepreneur #CreatorEconomy
Click To Tweet
Darcy uses the vendor Spring, which caters to creators and their merch shops, in part because it is size-inclusive, offering sizes up to 5XL. "As the merch store became more successful, Spring started providing way more support," he says. "Now we have our own design team. If we want something done, we literally just send it to them."
More than merch business
Revenue from merch was their first taste of money from content creation. Then came the offers for ads and sponsorships. His acting agents weren't much help, so he signed with Shine Talent Group in August 2021. The agency has helped him connect with major brands who are OK with his tongue-in-cheek style. "Finding companies that are willing to play around and know that we're kind of making fun of doing an ad at the same time as doing them has been really fun," Darcy says.
Content creation has been a life-changing experience for the couple. Jeremy quit his full-time job in December to support the content business. "It's definitely been the best thing that's happened career-wise," he says. "I always thought having a sitcom was going to be the peak of my career, and here we are."
Comedian @TheDarcyMichael thought always thought getting a sitcom would be the peak of his career. Instead, it's been becoming a #ContentEntrepreneur with his online content. #CreatorEconomy
Click To Tweet
Advice for content entrepreneurs
Be strategic about merch
Their fans are top of mind as they roll out new slogans and sayings on merch. They are low key about promoting it on TikTok, sometimes just throwing up a link in the comments. "We like the fact that it's a little underground," Darcy says. "It's an inside-baseball kind of thing."
On occasion, they'll do a quick release, offering up a design for a limited time to encourage fast sales. And while he's not promoting the shop on social all the time, he makes it easy to find at the top of his links page. He also started running sales at Black Friday. "We just found that giving a discount helps drive people," he says, "plus we just want to be affordable for people."
Since Jeremy left his full-time job, he's worked on the shop's designs and aesthetics – making sure that colors are on the same visual scale and the look is more cohesive. "I've already noticed that it's improved sales," Darcy says. "Before, it was just random T-shirt colors and sweaters, and they were all mismatched. It was like a sneak peek inside how my brain works. We wanted it to look a little bit more professional."
Pay attention to analytics
Darcy relies on Beacons to track analytics and movement across his platforms. He recommends tracking those analytics and making changes to your content or approach as needed.
"We see 1K people leaving TikTok and going to the merch store, and if 10% of those people are buying something, you're doing something right," he says. "But if you're finding less than 5% of those people are buying something, maybe your design is not right or your prices are too high."
Be thoughtful about sponsorships
Darcy is mindful about the brands he promotes through sponsorships. He won't do what he calls "snake oil" sales – pills, vitamins, or anything related to "diet culture," which, he says, he's a survivor of. "We make sure we're putting things out that our fans will be interested in," he says. "We're not just slinging whatever is going to pay the bills."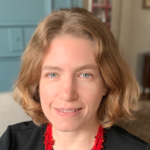 Sarah Lindenfeld Hall is a longtime journalist, freelance writer, and founding editor of two popular parenting websites in North Carolina. She frequently writes about parenting, aging, education, business management, and interesting people doing remarkable things.