Entrepreneur: Julia Dina
Biz: Storioni Girl
Tilt: Violinist on Twitch, playing classical and video game music
Primary Channels: Twitch (17.1K) and Patreon
Other Channels: YouTube (5.7K) Instagram (1.2K) TikTok (147)
Time to revenue: Within a month
Rev Streams: Twitch (partner status), Patreon
Our Favorite Actionable Advice
Don't assume: Julia thought Twitch was just about gaming, but at her husband's suggestion, she dug a little deeper and found musicians there too.
Get traction: She had a big spike thanks to a donor's attention, but she waited until her income stream was consistent before she quit her concertmaster work.
Play to the channel: Post content that fits the platform. Julia thinks differently about what she posts on Instagram vs. TikTok vs. YouTube.
The Story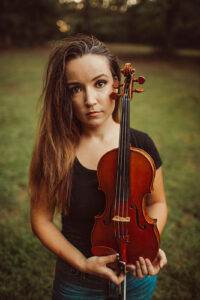 In the competitive classical music world, violinist Julia Dina entered the traditional way at age 2 1/2. She earned a prestigious certificate of violin performance from Yale School of Music. And she was named concertmaster for the Huntsville Symphony Orchestra in Alabama.
But Julia stepped off that traditional track to try something new – Twitch. Since launching her channel in June 2020 and thanks, in part, to a mention from popular YouTuber Jacksepticeye, she has built a following of more than 17.K on her Twitch channel StorioniGirl. This past spring, she quit her concertmaster gig.
"I had my last concert with the symphony in May," says the mom of a young child. "And that was in order to be able to spend more time at home and pursue social media."
Classical violinist @JuliaDinaViolin created a Twitch channel so successful she quit her concertmaster job. #Twitcher #ContentEnterpreneur #CreatorEconomy
Click To Tweet
Starting with Minecraft
The focus of StorioniGirl wasn't music at first. When the pandemic canceled live concerts, Julia rediscovered video games – specifically Minecraft. Not enjoying solo play, she started watching Minecraft builders on Twitch. Her first stream, a test with a single viewer, was all about Minecraft.
Her husband suggested she stream her violin playing, but Julia initially rejected the idea. Twitch is a channel for gaming only, she thought. But his suggestion piqued her curiosity, so she looked up musicians on the platform and landed on someone she knew – DrumUltimA, a Yale classmate.
"I realized that he's also kind of making money off of it," she says. "And, I thought, 'This is kind of cool.'"
Twitch isn't just about gamers. @JuliaDinaViolin is playing violin on her channel and growing a content business. #TwitchCreator #ContentEntrepreneur
Click To Tweet
Off to a scratchy start
Her first violin stream in July 2020 was "awful," she admits. The sound setting was off, and she hadn't practiced much. Bach was on the program. But even with the bad sound and rusty playing, viewership grew faster than when she was playing Minecraft. So, she kept at it. Within a month, she earned affiliate status. That allowed her to start making some money from the channel before she became an official Twitch partner.
Unexpected donor
Not long after, she was streaming on a Wednesday evening when a viewer named "Sans" donated $300 and asked her to play a violin cover of Megalovania from the role-playing game Undertale. As details of the donation popped up, Julia looked shocked. "Am I supposed to keep playing?" she asked before wiping away a few tears.
Two days later, she learned the real identity of Sans. It was Jacksepticeye, the Irish YouTuber who has more than 27 million followers. He had been donating to smaller streamers and posted a YouTube video of their reactions. Her image is the thumbnail on the video that's drawn over 5M views, drawing even more eyes to her Twitch channel.
"That's where the whole big blow-up happened," she says. A fellow streamer alerted her to the mention and told her to start streaming. "I went to stream and, right then, I had 300 viewers," she says. Usually, she had 50. In a couple of hours, her followers had doubled – from 400 to 800.
A donation and reaction video from mega #YouTuber @Jacksepticeye prompted the Twitch channel of @JuliaDinaViolin to explode. #contententrepreneur #creatoreconomy
Click To Tweet
"That was the big income spike," she says, thanks to people using bits (virtual goods) or gifting subscriptions.
While the growth tapered off by January, viewers regularly tune in because they learned about her through Jacksepticeye.
Quitting concertmaster job
Making the decision to leave the orchestra became easier once her income stream steadied in February. These days, most revenue comes from the money she earns on Twitch. She also recently launched a Patreon.
"Once the income became steady enough to the point I could rely on it, I realized, 'OK, this is a good sign,'" she says. "It wasn't just a spike after Jacksepticeye."
Serious from the start
Today, she streams noon to 4 p.m. Mondays, Wednesdays, and Fridays, playing a mix of classical music, video game music, and other selections. Requests from her song list are free. Otherwise, they are $5 per piece.
To other Twitch streamers hoping to monetize their channels, she recommends getting serious from the beginning. She spent a lot of time thinking about her channel's rules – what music could be requested, how she would structure the streams, and the chat rules. She made StorioniGirl family-friendly, so parents can listen to it with their kids.
@Twitch creator advice from @JuliaDinaViolin: Establish your chat rules and stream structure from the beginning.
Click To Tweet
That upfront work is critical because of the nature of Twitch. Compared to Instagram or YouTube, where every post can be carefully edited, the platform is a more "genuine" form of social media, Julia says.
"The stuff you can control happens behind the scenes, and you have to do that before you start streaming and after," she says. "It takes a lot of work."
'Weird new world'
These days, Julia continues to work on her streams and build her other social media channels. On YouTube, she's been more intentional about posting song covers. And on Instagram, she's mindful about the need to not just post videos but candid shots from daily life.
"In order to have the videos of you playing actually getting enough traction, you have to post enough in between them," she says. "It's this weird new world that I've jumped into. It's fun trying to figure it out."
For Julia, the future will continue to include social media. It gives her the flexibility to be home with her son. And she has the freedom to pick and choose how she works and what she plays. Whether she returns to an orchestra in the future is yet to be decided.
"It's not a no. It's not a yes," she says. "I do think that Twitch, YouTube, social media, all of this is going to be part of my life for a very, very long time. Whether it involves orchestra, I'll cross that bridge when I come to it."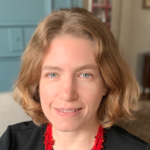 Sarah Lindenfeld Hall is a longtime journalist, freelance writer, and founding editor of two popular parenting websites in North Carolina. She frequently writes about parenting, aging, education, business management, and interesting people doing remarkable things.