If you think livestreaming is just for gaming and the young, think again.
Livestreaming is expanding as the preferred method for content creators of all ages and in many topical areas.
Restream research shows 54% of streaming covers gaming and esports, while music/sports/entertainment make up 17%, followed by professional content (9%), and IRL/everyday life (6%).
Don't think streaming is just for gamers. Only 54% of livestreaming covers gaming and esports, according to @restreamio. #livestream #contententrepreneur
Click To Tweet
In the past year, livestreaming viewership has grown exponentially – increasing an average of 49% in 2021 compared to 2020, according to Stream Hatchet. A survey by livestream and New York Magazine that asked about brand livestreaming found 80% of adults preferred to watch live video than to read a blog. Sixty-seven percent of viewers said quality is the most important factor for watching a livestream.
Livestreaming viewership grew 49% in 2021 compared to previous year, according to @StreamHatchet. It presents big potential for #contentbusinesses.
Click To Tweet
With all that growth in topics and viewership, it makes sense for content entrepreneurs to evaluate streaming opportunities. It could be a less crowded marketplace for your content, and your audience is likely to be on those platforms (or joining them soon.)
Tilt Advice
You are getting ready to launch your stream and be able to interact with your audience in real time. Be reassured, there is no need to spend thousands of dollars to have a good setup, but some basics need to be nailed down to grant a neat experience for your viewers.
Here are a few of the best practices from the most-watched streamers on the planet to help you build the most attractive stream.
Sound is the key component
When Twitcher Gotham Chess (486K) started only two years ago, he just bought a microphone. To give the best listening experience, you should make the sound mix perfect for your audience so they won't have to tweak their speakers at every step of your stream.
The embedded microphone in your laptop is not an ideal experience for listeners. The captured sound is cavernous and distant. Though it might be adequate as a short-term solution, you should quickly shift to a dedicated microphone.
Embedded microphones in laptops don't create ideal experiences for #livestream viewers. Instead, use a dedicated microphone, says @notoriousbykoff. #creatoreconomy #contententrepreneur
Click To Tweet
The average solution would be a headset microphone. Is it durable and comfortable? What sound features and aesthetics suit you and your content brand? Remember you will wear this headset for hours. Comfort is always a prior criterion.
The top-notch solution is a dedicated microphone. To ensure a good audio experience, you should always get your microphone mounted on an arm. It will prevent any accidental movement, which could generate muffled noises. The distance between your mouth and the microphone should be no more than 10 inches.
From several audio sources to 1 output
Many streamers use VB- Voicemeeter Banana (free) to mix audio sources, so they don't have to set up their streaming software to capture all audio sources and try to find the right balance. Among the extra features, you can tweak the balance or gain easily.
If you are overwhelmed or confused when you first open the software, take advantage of the abundance of tips and tutorials on their site. The community is resourceful, and you also could easily find your answer on YouTube.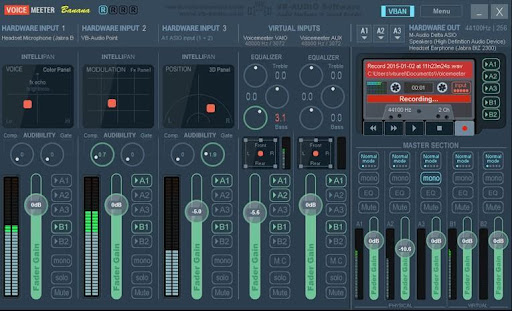 Now they hear you, they need to see you
Voice is the key but seeing the face of the talking person is more crucial. Even Twitcher Dakotaz, who only streamed his unique voice for five years, eventually did a face reveal. As usual, money can dictate quality, but there are solutions out there to get you started without investing in a reflex camera.
Light
If you stream during daylight, think about facing a window. To supplement this (or if you're streaming after the sun sets), purchase ring or other studio-type lights. They start at around $20. Set them up so the light shines on you and adjust them to avoid shadows.
Background
Most streamers are using a green background to hide everything that could interfere. But the background can be a solid element in your storytelling. An object, a tube light, or an item on a shelf that changes weekly can trigger your audience to ask questions. You can even use it to promote future giveaways. The possibilities are endless, find something matching your content brand.
Don't go green screen for your #livestream. Make the background an element in your storytelling. Talk about the objects in view. Switch out items every week, says @notoriousbykoff. #contentbusiness
Click To Tweet
Webcam
No need to jump right in and buy a reflex camera, like a DSL, to film you. An external camera is usually better than the one built into your computer. Look for one that captures at 720p minimum and 60 fps (frame per second) to create a flawless image. You can find these webcams starting at around $50.
In terms of alignment between the webcam and your focus (the point you are going to stare at the most), think vertical. For example, if you need to focus on the screen, place the webcam just above it. A high-angle shot is always preferred.
Keep an eye on the chat
The chat is the heart of your stream and the only place where your viewers are going to interact. Livestreaming platforms, like Twitch, offer a range of chat features, from emojis and polls and result predictions. These Twitch-focused tips can help you make your livestream more manageable:
Set up a bot: A bot can help filter some words you don't want to appear in the chat or trigger pre-set messages responding to standard audience questions or comments.
Name a moderator: Assign a moderator status to one of your most loyal followers who's also a subscriber. The moderator can review flagged messages and delete them on the fly. On Twitch, those actions will be displayed in the chat, mentioning the username and "message deleted by moderator."
Read messages often: You have to keep an eye on the chat. Read and reply to messages in real-time (that's the point of livestreaming). Creating interactions will make your audience feel more connected and valued and may lead them to become paid subscribers.
Livestreams work well because they're interactive. Read and reply to your audience's messages frequently, says @notoriousbykoff.
Click To Tweet
No dead moment
Keep in mind that people are watching you. Even if no one is watching for the moment, don't stop talking or presenting. It's good practice, and you never know when someone might join the stream.
Discipline and consistency
As a new streamer, don't expect to generate hundreds of viewers after only a few streams. When GothamChess started, he had only a few viewers, but after Netflix's Queen's Gambit mania, he managed to reach 1M subscribers on YouTube and streams to over 10K viewers on a regular basis.
You don't need to be streaming eight hours every day, but you should create a schedule and hold on to it. Your viewers will know when to expect you. Also, don't think you're done when you conclude the livestream. Distribute the recording to your other channels that need to be fed, like YouTube, Instagram, and Facebook.
Nicolas Bykoff is a digital writer. His favorite topics are gaming and sport. He uses his digital marketing experience to get the best out of any piece of content. When he is not writing, this born-and-raised Frenchman enjoys a round of golf thinking about what you would like to read next!