Entrepreneurs: Sarah Stewart Holland and Beth Silvers
Biz: Pantsuit Politics
Tilt: Curiosity over conflict
Primary Channels: Podcast  (20M downloads as of October 2022)
Other Channels: Instagram (46.6K), Twitter (17.3K), Facebook (13K), TikTok (1.2K)
Time to First Dollar: About a year (4 years until they could make it their full-time jobs)
Rev Streams: Podcast advertising, listener support, live events, merchandise, affiliates, speaking engagements, and book sales
Our Favorite Actionable Advice:
Market on other podcasts: Sarah and Beth credit their appearance on Jen Hatmaker's podcast for attracting many new subscribers. They also appeared on Decode DC podcast.
Don't set unrealistic expectations. You don't need hundreds of thousands of listeners to make it a viable business. They average 40K downloads per episode and now employ four people, including themselves.
Keep overhead low: Resist the urge to invest in the best equipment when you launch. "We have maintained a lot of creative freedom because we haven't taken on debt," Beth says.
The Story of Sarah Stewart Holland and Beth Silvers of Pantsuit Politics Podcast
Sarah Stewart Holland had more than dabbled in the content space before she started the Pantsuit Politics podcast with longtime friend Beth Silvers in November 2015. She'd run a parenting blog with another friend and then launched her own.
But the podcast's potential felt different from the blog, which was mostly a fun hobby, Sarah says. It was, after all, the beginning of a heady time for podcasting — the hit podcast Serial, which debuted a year earlier, had triggered big interest in the medium. And, in 2015, a politics content tilt meant there was plenty to talk about given the upcoming contentious U.S. presidential election.
Still, as the first episodes went live, Sarah never thought the Pantsuit Politics podcast would grow into what it is today. The content business reaches tens of thousands of listeners each month and brings in revenue to sustain full-time jobs for four people, including Sarah and Beth.
"As I look back on it, I think all the pieces were there," Sarah says. "We had good timing. We had really natural chemistry in both our conversations and our partnerships and the upsurge of interest in politics. It was a lot of stars aligning."
Good timing, natural chemistry, and an upsurge in interest in politics contributed to @PantsuitPolitic podcast's early success, says @BluegrassRed. #ContentEntrepreneur
Click To Tweet
Friends partner in the podcast business
The Pantsuit Politics podcast is designed as a conversation between friends about political issues where they "prioritize curiosity over the conflict." Sarah is a Democrat. When the podcast launched, Beth, who has since switched her party affiliation, was Republican.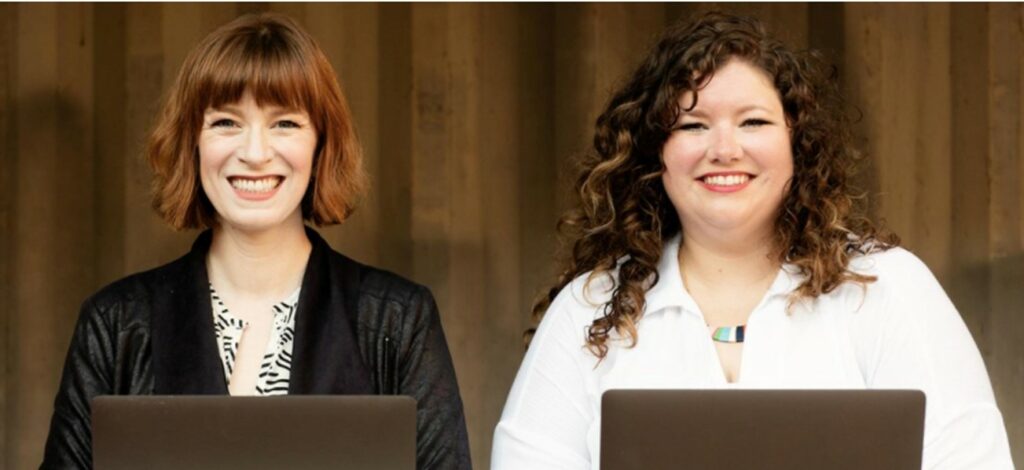 The two met as students at Transylvania University in their native Kentucky and later earned law degrees at separate law schools. Sarah had long been in politics, working for Hillary Clinton's 2007 presidential campaign and serving as a city commissioner in Paducah, Kentucky. Beth became chief people officer for a law firm and, later, a business coach.
By 2019, as the podcast grew in popularity, both women made Pantsuit Politics their full-time job. The work had become more than just making the podcast
"It just kept ballooning and taking more and more of our time. We didn't sit down and say, 'Well, let's diversify our revenue stream.' But we were doing it, and it was requiring more of us," Beth says.
Pantsuit Politics took off thanks to some lucky promotional breaks, the duo says. Apple named it a New and Noteworthy podcast. The podcast Decode DC featured them. And Jen Hatmaker, the popular author, speaker, and blogger, invited the two on her podcast a couple of times. Jen also has appeared on Pantsuit Politics. Their appearances on Jen's podcast and the chaos of the 2016 election were huge boosts for Pantsuit Politics, Beth says.
But listeners stayed because of the way they broach controversial topics. "We take a very values-driven approach, not political values," Sarah says. "It's bringing bigger values to the conversations around politics, and I think people really responded to that."
'First hump of legitimacy'
By spring 2016, Sarah had sold the first ad to a company she knew from her blogging days. By early 2017, as political news stayed front and center in the headlines even after the election, interest — and revenue sources — grew. They connected with an ad network. A literary agent approached them. They began seeking listener contributions.
"That first hump of legitimacy, especially when it comes to making money as a content creator, it's just showing people that this is legit, and you really do have an audience and can really make it happen," Sarah says.
The first "hump of legitimacy" for content creators is showing people you have an audience and can really make the business happy, says @BluegrassRed of @PantsuitPolitic podcast. #CreatorEconomy
Click To Tweet
Today, revenue comes from podcast advertising, listener support, live events, merchandise, affiliates, speaking engagements, and book sales. Their books include Now What: How To Move Forward When We're Divided (About Basically Everything) and I Think You're Wrong but I'm Listening): A Guide to Grace-Filled Political Conversations.
Beth acknowledges their privilege. While they've worked hard, they never had to hustle. Their partners had good jobs that they could rely on in the early years.
But she also has learned content entrepreneurial success doesn't mean each episode has to go viral all the time. Most of Pantsuit Politics' episodes have about 40K downloads at the 30-day mark. Overall, they average 150+K downloads per week, 650+K downloads per month, with 20M downloads to date.
"I had the sense that a lot of people have about media – for it to be a living, you have to be huge. You have to have 300K followers on Instagram and 100K downloads a week and be chatting with Oprah or whatever," Beth says. "I didn't understand there was a world in which you just have your audience, and it's a nice, manageable-size audience of people that you really form a relationship as much as you can with and that it could turn into a business, and that's just fine. It's a really nice living."
Advice for content entrepreneurs
For newbie podcasters and other content creators, Sarah and Beth recommend:
Do it for love: "Don't do it to go viral. Don't do it to make a bunch of money. Do it because you love creating the content," Sarah says. That might sound cliche, but it's critical for long-lasting success.
"The reason both of us were able to do this in the face of full-time jobs, lots of kids, little babies, no sleep is because it was interesting," Sarah says. "If it had been boring, I can tell you I would have stopped because I don't have a great attention span to begin with."
Allow it to remain creative: A successful podcast is a business, and it's easy to lose sight of the creative side, Beth says. Don't, because the creativity of podcasting is what draws people to it.
"We frequently have to pull back and go, 'Wait. It's our show. We don't have to do that.' We don't have to keep that segment (to a prescribed) number of minutes," Beth says. "We can do a special episode if we've got something we can't wait to talk about until next time. You get more and more constrained somehow as you get more deeply resourced. Resist that as much as you can."
Keep overhead low: It's tempting to spend a lot of money before the launch – getting the best microphone or paying top dollar for a website. But Beth is glad they kept overhead low for a long time. "We have maintained a lot of creative freedom because we haven't taken on debt," she says. "And I feel very fortunate that we could live our lives and not have to do that – even for the business."
Want inspiration and practical advice? Read more stories about content entrepreneurs.
Subscribe to The Tilt newsletter, delivered Tuesdays and Fridays to your inbox.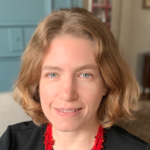 Sarah Lindenfeld Hall is a longtime journalist, freelance writer, and founding editor of two popular parenting websites in North Carolina. She frequently writes about parenting, aging, education, business management, and interesting people doing remarkable things.