Entrepreneur: Carly Anderson
Biz: Lipgloss and Crayons
Tilt: Body positivity, girl power, motherhood
Primary Channels: Instagram (91K), website
Other Channels: Twitter (35.5K), Pinterest (34.3K), Facebook (15.4K)
First Revenuer: $25 for a sponsored blog post
Rev Streams: Sponsored content, affiliate marketing
Our Favorite Actionable Advice:
Get a manager: When Carly started working with a manager, she secured more lucrative work. It's often helpful to have a third party negotiate on your behalf. They may know the market – and your value – better.
Stop the chase: Don't seek celebrity status on social media. Fame is fleeting. Instead, hone your content creation and business skills.
Create these two things: Every entrepreneur should have a website and an email list of subscribers. That's been Carly's mantra for years.
The Story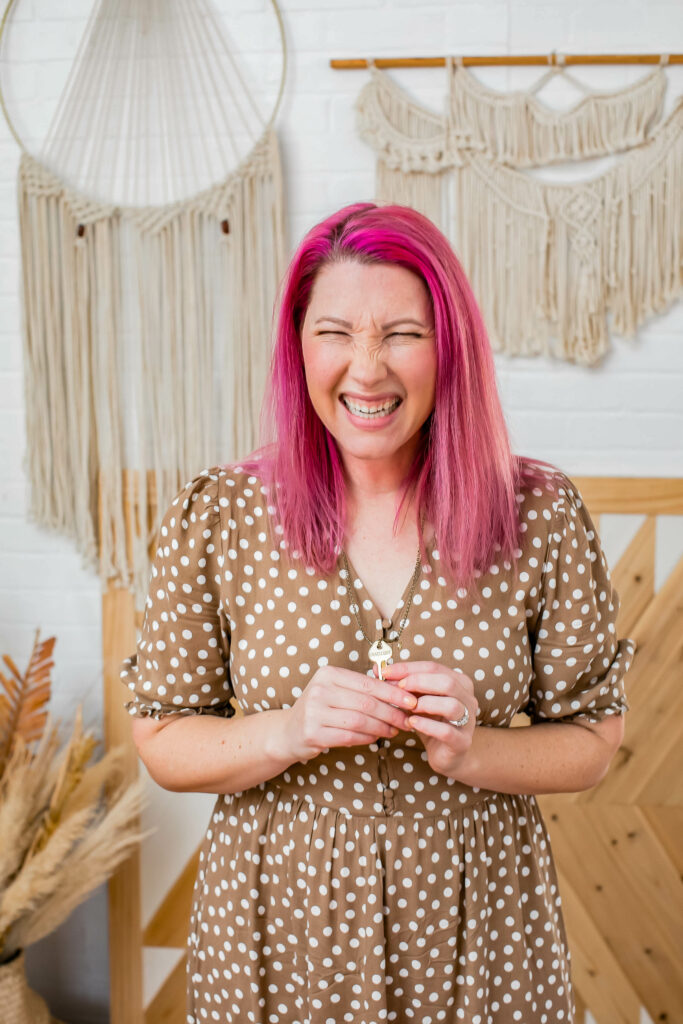 By day, Carly Anderson was an elementary school teacher and administrator in high-poverty areas of Los Angeles. In her off time, she was the lifestyle blogger and Instagrammer behind Lipgloss and Crayons, covering life in the city, teaching, and fashion.
When she launched her blog 11 years ago, Carly never planned to take it full time. Eight years ago, though, the birth of her daughter triggered her to reevaluate what she was putting out into the ether. As she posed for pictures to post on Instagram in a stylish outfit that included stiletto heels and with her newborn baby just off camera, she remembers thinking: "This is ridiculous … What am I doing?"
"There was this disconnect," Carly says. "I felt this need to start to share a little more about parenting, what was going on in our life, and maybe not have it look so glossy and perfect."
Before her daughter's birth, Carly Anderson created lifestyle content. Afterward, she saw the disconnect and shifted to parenting, female empowerment, and body positivity. #LipglossandCrayons #ContentEntrepreneur #Blogging
Click To Tweet
Her content shifted to focus more on parenting, female empowerment, and body positivity. And soon, her mindset began to shift about the business potential of the platform she'd built.
Her mother, who was caring for her infant daughter during the school day, had to stop because of health issues. To pay for a nanny the rest of the school year, Carly determined she'd need to earn an additional $12K in four months. When she wasn't at work, she spent every moment figuring out how to bolster her earnings from her blog and Instagram. "Spoiler: I made the $12,000," Carly says.
It proved to Carly that what she was creating could be more than a hobby. "I just needed to figure out a better system," she says.
And she did. She dove into the topics of content creation and online marketing to understand how the business worked. At the same time, she narrowed her content to the things that really resonated within her community. Soon, she was building an audience of highly engaged fans – and drawing brands who were eager to connect with them.
Going full time as a content creator
When her husband finished graduate school and got a job, Carly Anderson took a one-year sabbatical from education to see where she could take her content business. Not long after, COVID hit.
And, it turned out, her expertise as a teacher was essential to parents dealing with online schooling. She was sharing content about setting up an at-home learning space and other ways to support kids at home, and brands were flocking to her to hire her. "The irony is that I was exactly where I was supposed to be," she says. "The timing lined up."
Today, success for her is not about page views but authentic engagement. "Growth means different things to different people," Carly says. "For me, growth is about conversion when I'm working with a company. How many eyeballs? How many of their products have I sold to the people who trust me versus how many likes did I get on a photo? Because, to me at this point, (likes are) really a vanity metric."
Success for Carly Anderson's Lipgloss and Crayons content is authentic engagement, not page views. #Blogging #ContentEntrepreneur
Click To Tweet
That means that she's not afraid to wade into controversial subjects that might turn away some audience members. She's even launched a Tough Topic Tuesday feature where she addresses the pandemic, politics, and racial justice, among other issues. "This is the anti-growth tactic," she says. "But my thing is, that's OK. If you're not into this conversation, there are plenty of fashion bloggers who will talk to you about shirts, and that's OK too."
Along her content creation journey, here's what's worked for Carly.
Get expert help
Carly started working with a manager about five or six years ago. She learned about contract legalese, such as whitelisting, and secured more lucrative work. "It was immediately very obvious that the work she was getting and the rates she was charging were significantly higher than the rates I was getting on my own," Carly says.
Carly Anderson says working with a manager in her #ContentBusiness helped her charge rates significantly higher than she did on her own. #ContentBusiness #CreatorEconomy
Click To Tweet
Carly's original manager is no longer managing, and she's now working with Savanah Deming at Illuminate Social. Because of the close relationship they've cultivated, Savanah can find projects that are a perfect fit for Carly's brand and message. "Now we have this great relationship that I think has led to some really unique partnerships that are more specific to me," Carly says.
And, when issues or questions come up, especially when it relates to the role Carly's daughter will play in any content, she's always able to loop in Savanah. "It's really important to me to be thoughtful and to protect anything that my daughter is involved in," she says.
Learn the craft
When Instagram first exploded, Carly saw people chasing the celebrity of it all but not honing their content creation skills. Celebrity, however, is fleeting, she notes. Skills matter. "If you want to be an Instagrammer, you need to learn how to take great photos," she says.
Carly has hired photographers, but she's also invested in the right equipment and taken classes to boost her own skills. "It's very important before you outsource things to know how to do them yourself," she says.
Build your own platform
When you only post on a social media platform, you don't have much control over your content. Instagram could pull it without notice or remove your page entirely. Too many entrepreneurs lose their entire business when they rely solely on social media, Carly warns. "You need to have a place where you own your content. This has been my mantra for years."
Creators need to have a place where you own your content. That's been Carly Anderson's mantra for years. #ContentEntrepreneur #CreatorEconomy
Click To Tweet
Content creators should have their own website and/or have an email list to communicate regularly with subscribers. "Those are two things that, if Instagram disappears tomorrow, where you have an ability to continue to reach your audience," she says. Carly has a website, maintains an email list, and sends multiple newsletters each week.
What's next is anybody's guess, Carly says. But she loves what she does. While she may no longer be in the classroom, she's still teaching – her students are women across the country.
"This is my full-time job for now," she says. In 2022, she hopes to expand her speaking engagements and launch a couple of her own products.
"I always say, 'The world changes, your needs change,' and what I will be doing in three or four or five years from now, I'm not sure. But, for now, it is really fulfilling."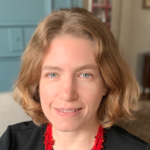 Sarah Lindenfeld Hall is a longtime journalist, freelance writer, and founding editor of two popular parenting websites in North Carolina. She frequently writes about parenting, aging, education, business management, and interesting people doing remarkable things.