Entrepreneur: Denny Underwood (aka Denny VonDoom)
Tilt: Embracing inclusion in gaming
Scene: Twitch (6K), Twitter (6.3K)
Snack Bites:
For seven years, Denny Underwood made it his mission to uplift marginalized communities on Twitch.
He's the community manager of The Cookout and Shacknews, online spaces that support diverse creators and gamers.
Making God of War Ragnarok's Angrboda, a Black female character, pushed him to speak up in support of their decision.
His platform refutes racism, sexism, and homophobia.
Why We're a Stan: Denny Underwood's outspoken approach to racism, sexism, and homophobia makes his platform open to all, helping visitors feel safe online and on his platforms. His DennyVonDoom Twitch account, The Cookout, Shacknews, The Fight Club Weekly, and other content attract diverse communities.
The Story of Denny Underwood
Since 2015 Denny Underwood has spent most of his free time playing on Twitch, a platform dedicated to gaming updates, online hot takes, and impressive gameplay.
His love for video games started when his father handed him the famous Sega Genesis. Since then, the content creator has moved beyond playing video games on Twitch. He's spoken at TwitchCon, C2E2 (Chicago Comic and Entertainment Expo), and Queer Esports. Today, the Chicago Bears fan uses his platform to push for inclusion in his industry.
Advocating for inclusivity in gaming communities
A digital advocate for diversity and inclusion online, Denny fosters community among his fans and followers. He manages The Cookout, an online community of gamers, streamers, and creatives. It was created to offer a safe place for people of color. Denny interacts with #CookoutFam's 2.5K followers by posting highlight videos and content.
@DennyVonDoom manages #TheCookout, an online community of gamers, streamers, and creatives. It's designed as a safe place for people of color. #Stan #CookoutFam #ContentEntrepreneur
Click To Tweet
He writes for Shacknews under his pen name Dennis White. The site allows him to voice his opinion on topics that affect him and other people of color, specifically Black gamers.
Last year, DennyVonDoom took to his Twitch stream to discuss God of War Ragnarok's choice to make Angrboda a Black woman, leading to the importance of diversity in video game characters overall. As he explains in this Shacknews article: "I was very happy and surprised to see a Black woman becoming part of this world; a world that frankly the majority of me and my Black gamer friends have pretty much accepted as being very White."
@DennyVonDoom told his @Twitch audience he was happy and surprised to see a Black woman be revealed as a main character in God of War Ragnarok. #Stan #ContentEntrepreneur
Click To Tweet
Denny continues, "There is truly some new ground being broken here, and it kind of sheds a light on missed opportunities to include more Black and Brown faces in other games."
Denny is not the first person to voice these concerns. Last year, Newsweek reported 79.2% of lead characters in games are male. Females of non-white ethnicities made up 8.3% of main characters in games. Shortly after the God of War Ragnarok outcry came, Denny said that type of inclusion piques "the interests of a much larger demographic when you start to branch out of white Vikings and white European characters."
Community, community, community
You can watch Denny on Fridays at 8 p.m. (US Eastern) as he co-hosts The Fight Club Weekly, a once-a-week fighting game tournament. As Denny VonDoom, he and DF Agent present two teams who game-fight live for viewers. The two provide commentary, making each event lively and upbeat.
He cultivates an inclusive atmosphere for game-watching on his Twitch page. He details the community guidelines that prohibit racist, sexist, and homophobic comments while keeping a vibe and minimizing the need for gatekeeping.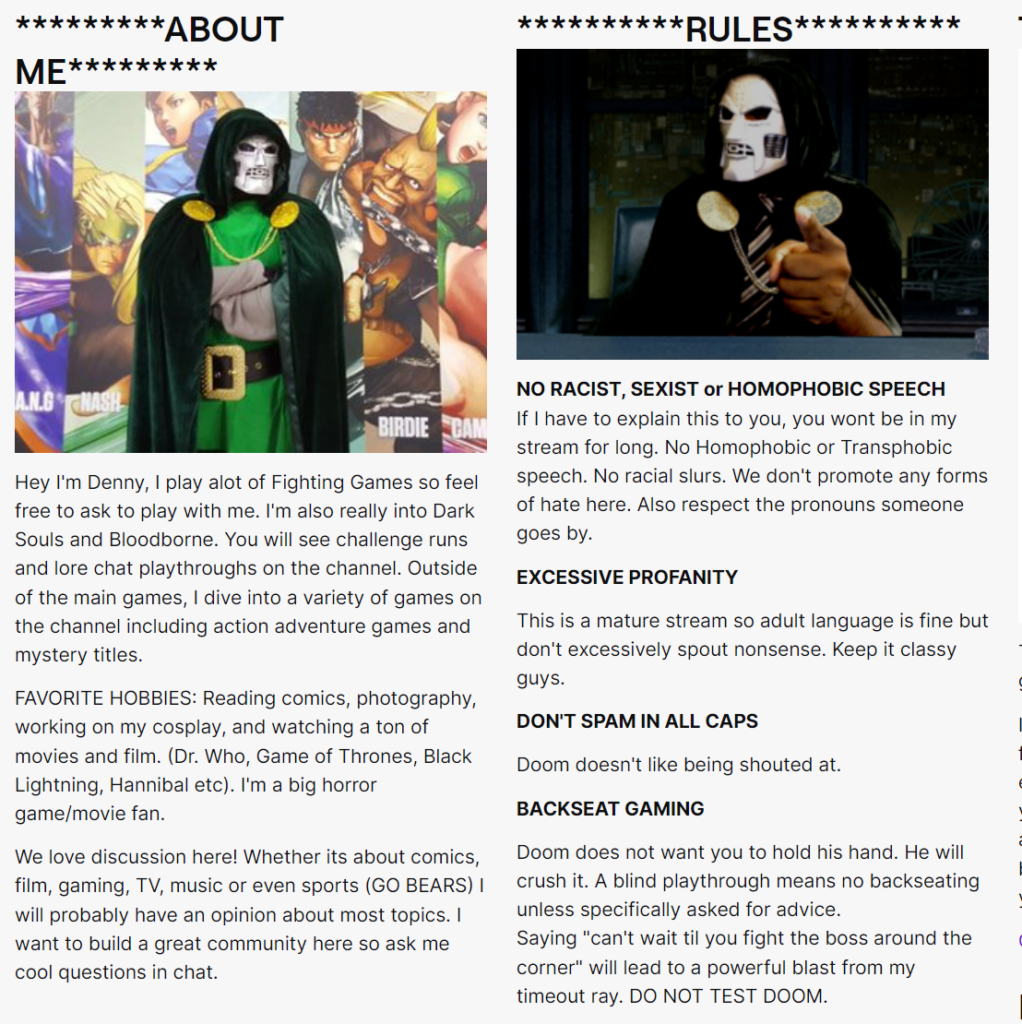 As Denny explains in his about section: "If I have to explain this to you, you won't be in my stream for long." He also is explicit about the parameters: "No homophobic or transphobic speech. No racial slurs. We don't promote any forms of hate here. Also, respect the pronouns someone goes by."
It's understandable why Denny made this explicitly clear on his account, seeing as Twitchers left the platform last year. Users noticed an increase in offensive language towards Black, queer, disabled, and trans people.
All of his efforts to form a diverse and supportive community online placed him on Influencer Marketing Hub's list of 13 Black Twitch Streamers You Should Be Following Right Now. The site perfectly sums up why we're a fan: "[Denny's] channel is also pro conversation, an aspect [he] feels is critical for creating an inclusive community. While his channel is only 6.1K followers strong, DennyVonDoom makes our list a voice worth paying attention to and streamer worth watching."
Shameyka McCalman is a wordsmith whose work often centers around fashion, art, and other creatives of color. She earned her communications degree from the University of Massachusetts Boston and enjoys sifting through clothes in local vintage shops, frequenting nearby plays, and gazing at exhibitions on view in museums.