Entrepreneur: Chistina Nicholson
Biz: Media Maven
Tilt: Public relations for marketers and business owners from a former television personality
Primary Channel: LinkedIn (23K), podcast
Other Channels: Facebook (22K), X (14.7K), YouTube (4.23K), Instagram (1K), website
Time to First Dollar: 1 month
Rev Streams: Consulting, courses, affiliate marketing
Our Favorite Actionable Advice
Hire independent contractors: Hire team members as needed for projects to alleviate your workload and stress. It is easier to add and reduce team members when they are contractors. It also reduces business stress because you don't have to deal with tax deductions for employees.
Invest in yourself and your business: Learn everything you can for free, but don't be afraid to spend more than you think is comfortable if the end result pays off. Just make sure to follow through to get the maximum value.
Prioritize your time: Set a schedule that benefits your business and time. Prioritize the business essentials (operations, content production, etc.) Consider a task-focused schedule, such as Monday = podcast day, Tuesday = content production, Wed = business items. etc.
The Story of Christina Nicholson
Christina Nicholson never planned on being an entrepreneur. She was happy and successful as a TV news personality in Florida. Unfortunately, a career in TV news is not conducive to raising a family. It can be done, but Christina and her husband both had seven-day-a-week, time-consuming careers and no family nearby to help. With two little kids, Christina left the TV business in 2014 and got a "more regular" job at a PR agency in 2014.
"It's a natural transition for a lot of people in the news business because we go from getting pitched to actually doing the pitching because we know what a newsroom wants and how decisions are made," she explains.
But agency life didn't bring the 9-to-5 job she sought, and her boss frequently asked her to work during her off time. She looked for work she could do remotely, but in 2015, all the jobs she found required going into the office.
Agency life didn't bring the 9-to-5 life former newscaster @Christinaallday sought, so she quit and started her own business. #ContentEntrepreneur
Click To Tweet
Christina took the situation into her own hands, "Forget this," she recalls thinking. "This is a service-based industry. I can do this on my own. I don't need any money to get started. I can do this. So I quit."
Given she needed some income and that it takes 12 to 18 months to build a revenue-sustainable business, Christina took freelance jobs found on LinkedIn and Upwork for next to nothing. She undercharged and over-delivered to build a name for herself.
Hiring a business coach
The PR service part of the business was easy. The business side wasn't.
"I had no idea what I was doing. I didn't know anything about contracts, asking for the sale, automating invoices, and doing my books. This was the struggle with being in business by myself," Christina says.
She downloaded every free PDF, attended every webinar, and consumed every piece of content she could find about running a business. Yet, she still worked 10-hour days with inconsistent revenue for two years.
In early 2017, she hired her first business coach for $15K. Christina admits she was terrified of putting so much money on her credit card but knew she needed to do something. She told herself she was going to do everything the coach told her.
Christina Nicholson (@christinaallday) paid $15K for a business coach and told herself she would do everything the coach told her. Within six months, she paid off that investment, according to @MarcMaxhimer. #CreatorEconomy
Click To Tweet
Within six months, Christina paid off the $15K investment. She still works today with coaches and participates in professional communities to help her business.
The business coach taught her how to let go of responsibilities. If you hire good people, you can free up your time. "I was nervous to let go, but once you do and just hire good people who do what they're supposed to do, it's such a weight off your shoulders," Christina says.
Building the business
Christina brought on her first team member in 2016, gaining freedom and reducing her stress. She works with independent contractors and can easily add or reduce the team size. Christina says she finds independent contractors produce a high quality of work in a shorter time, which increases productivity and efficiency.
Christina also followed the advice she gave her clients and appeared as a guest on podcasts to grow her audience. She was working on starting her own podcast when Pat Flynn, who led her mastermind group, asked why she didn't start right then. So she did.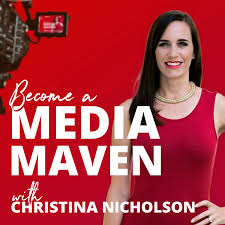 Become a Media Maven debuted in 2018. It's become the marketing cornerstone for her courses and consulting, raising awareness and driving traffic to her website. She doesn't accept sponsorships.
Realizing not every business owner has a big budget for PR services, Christina created a three-tier coaching course. The $37 entry-level course, The Pitch Publicity Profit program, gets clients and solopreneurs in the door who may not be ready for the next step or higher price point.
The next two tiers involve more hands-on consulting by Christina and her team. The mid-level tier, The Media Mentoring Program, is a three-month shared process between the client and Christina. The top tier is a done-for-you program where Media Maven takes over media pitching and content creation by acting as an extension of the client's team.
Offering three tiers means she does not have to turn anyone away.
Creating and eventually selling a new product
As she taught clients how to guest on podcasts and ran her own podcast, Christina realized how tough it was to find appropriate podcasts to pitch for an appearance. In her PR world, curated media lists for online, print, radio, and TV were easily accessible, but nothing similar existed for podcasts.
In 2019, she decided to fill that gap. She and a small team researched the top 250 podcasts in multiple categories to build the list. In 2020, Podcast Clout launched. As it grew, Christina spent more and more time on it. But she built the software for her own use, not to run a software company. In March 2023, she sold Podcast Clout, retaining 10% ownership and serving as an adviser.
Adding a newsletter
Christina invested in membership in Jay Clouse's Creator Science's The Lab and discovered the allure of newsletters and direct access to your audience.
In 2023, Christina launched the Media Maven newsletter. Sent every Thursday, it teaches how to get media attention without paying for ads. In a few short months, she has grown the audience to over 6K subscribers. She credits her podcast and ConvertKit's creator network, which lets other creators recommend newsletters to their audiences, as her primary growth tactics. 
@christinaallday grew her Media Maven weekly newsletter to 6K subscribers in a few months thanks to her podcast and @ConvertKit creator network. #ContentBusiness
Click To Tweet
Christina uses Instagram, Facebook, and YouTube, but her main marketing channel is LinkedIn. Her side hustle is also a content business and marketing tool. Christina All Day is a lifestyle blog where she earns affiliate revenue and drives business to Media Maven. She uses Instagram (49.7K) as her primary marketing platform for the blog.
Advice for content entrepreneurs
Christina says entrepreneurs must be ready to deal with the different personalities of audience members, clients, collaborators, and team members. Be aware that someone may interpret an email or other response in a defensive tone, even if that wasn't your intent. Communicate clear expectations upfront and keep an open line of communication.
Creator entrepreneurs also shouldn't make excuses. So many creators and solopreneurs tell themselves they are not ready to publish or pitch themselves to the media because they don't make enough money or have a big team. Other people likely don't care about that, and you are just making a big deal about why you can't do something.
Christina's last helpful tip? Follow through on whatever you start. If you purchase a course or webinar, watch it and complete the activities. If you are going to invest in yourself and your business, spending the money is not enough. You have to do the work and follow the advice. Only then can you determine if the investment was worth it and feel good about spending the money.
Get stories of content creators and business advice for creator entrepreneurs every Tuesday and Friday in The Tilt newsletter. Subscribe today.
Marc Maxhimer is the director of growth and partnerships at The Tilt. He holds a bachelor's degree in English and mathematics education and a master's degree in educational administration.  He previously taught middle school for 16 years.  Marc lives in (and loves all things) Cleveland with his wife, two daughters, and dog.