Entrepreneur: Morgan Nixon (aka BettyNixx)
Biz: Bettynixx
Tilt: Twitch gamer and makeup artist
Primary Channel: Twitch (9.3K)
Other Channels: Instagram (2.4K), TikTok (1.6K), YouTube (467), website
Time to First Dollar: Few months; earned Twitch Partner status 2 years later
Rev Streams: Twitch subs and sponsored streams (plus a full-time corporate gig)
Our Favorite Actionable Advice:
Don't let perfect be your enemy: Start sharing your content creations. As Morgan says, if it doesn't come out right the first time, you can do it again.
Find your people: Search for relevant networking groups or browse tags to discover like-minded creators.
Cut yourself a break: Morgan recognized she needed to slow down and took a break from streaming. That's smart, so you don't get burned out. Just let your audience know in advance. Otherwise, they may wonder what happened.
The Story
The TikTok video on the Bettynixx account, Streamer Life, starts with a piano riff from Vanessa Carlton's "A Thousand Miles" as a voice says, "I started streaming as a cute hobby. Now I pay high taxes and plan content 24/7." Viewers then see Bettynixx, aka Morgan Nixon, at her desktop computer with a calendar open and a pen and notebook in hand. It ends with an expletive.
With 24K views, it seems to be resonating, and it's all in jest, sort of. Morgan launched her Twitch stream in 2018 on a lark. She figured she would showcase her makeup, hair, and gaming skills. Today, she's busy with both her streaming business and a corporate career.
"It's like I have two full-time jobs," she says.
Morgan Nixon says it's like she has 2 full-time jobs: a corporate day job and her @Bettynixx content business on @Twitch. #ContentEntrepreneur #CreatorEconomy
Click To Tweet
Discovering the best platform fit
Morgan can't even remember when she started gaming, but she was a child. Her first console was a Gameboy, then a PlayStation. "I had them all growing up," she says.
She wandered into content creation while in graduate school; the original plan was to share fitness, hair, makeup, and a little gaming content on YouTube. A Twitch stream would be secondary. But as she discovered what it took to put together a YouTube video, she realized she didn't have all the necessary equipment. Plus, Twitch seemed more natural to her.
"It's hard for me to do pre-recorded content," she says. "It's easier for me to talk live to people."
Her Twitch features a mix of story games and, more recently, horror games. And there's makeup. She's collaborated with SushieMonster on a stream where they chatted about makeup, experimented with Halloween looks, and played Back4Blood.
On a site where gamers are often white and male, Morgan's growth has come as she connected with other Black streamers. Groups like Black Girl Gamers, an online community for Black women in gaming, and Noir, a network for Black femmes in content creation, have helped her find streamers from similar backgrounds and experiences.
Twitcher @Bettynixx connected with @BlackGirlGamers community, which helped grow her content business. #ContentEntrepreneur #CreatorEconomy
Click To Tweet
"None of my friends really game like I do," she says. "It feels good to me to have a bunch of women that look like me play video games like I do. And not even just women. I really like the fact that I have a community of both men and women, and we all have similar interests."
Working toward a new dream
In 2018, a few months after she launched Bettynixx, Morgan earned her first payout when she earned affiliate status. Twitch partner status came in July 2020. "I was very surprised when I actually got it," she says. "That meant I was doing something right."
Today, her content revenue comes from Twitch subscribers and sponsored streams. This fall, she collaborated with Black Girl Gamers to co-host a stream featuring Norvina, president of makeup brand Anastasia Beverly Hills, with fellow streamer Pikachulita. The trio chatted and did their makeup together.
By day, Morgan continues to work full time as a pricing analyst. "It was never my intention to do this full time," she says. "I was always like, 'I went to school for a reason. I went to college; I went to graduate school for a reason. I want to have a corporate career.' And then I started doing this, and I really enjoy doing it."
Her dream now, she says, is to take her content business full time.
Advice for content entrepreneurs
Morgan has a couple of tricks when a streaming chat slows down a bit. "What I usually try to do is either say something random or ask random questions," she says. "Or I'll think about something that happened and try to discuss that."
Streaming advice: When the chat slows, ask a random question or discuss something that happened, says @Bettynixx. #Twitch #CreatorEconomy
Click To Tweet
It might involve celebrity gossip or sports. "I'm not into sports, so I can't talk about sports," she says. "But I'll pretend like I know what I'm talking about and say something random about football or basketball and say something wrong, and that will get the chat going."
Networking with groups like Black Girl Gamers and Noir has made all the difference for Morgan. She also recommends browsing tags on Twitch to discover like-minded streamers and start a conversation.
Morgan took a break from streaming at the end of summer 2021. It was a busy season for her day job, and she needed to slow down for her mental health.
Content creation is consuming, but it's not just about the hours. "A lot of people like to talk to you about their problems and whatever is going on in their life," she says. "And you may notice that somebody has disappeared, and you're wondering where they are. It can be a lot. It can definitely take a toll on your mental health."
Don't let a desire for perfection slow you down. "A lot of the things that hold me back from doing certain things is me wanting things to be perfect and me wanting everything to be aligned to execute something or record or stream," she says. "You have to just do it. And if it doesn't come out right the first time, you can do it again."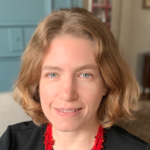 Sarah Lindenfeld Hall is a longtime journalist, freelance writer, and founding editor of two popular parenting websites in North Carolina. She frequently writes about parenting, aging, education, business management, and interesting people doing remarkable things.