What's the news? Billions, millions, and a milestone for audio content.
The billions? Podcasting will be a $1 billion industry this year. The audio only app Clubhouse could hit a $6 billion valuation in its latest investment round.
The millions? 104 million U.S. adults listen to podcasts at least once a month, a 15% jump from 2019 (Edison Research). Clubhouse active users increased from 60 million in December to 200 million in January.
The milestone? In 2021, digital audio, not traditional radio, will make up the majority of U.S. adults' audio time (eMarketer).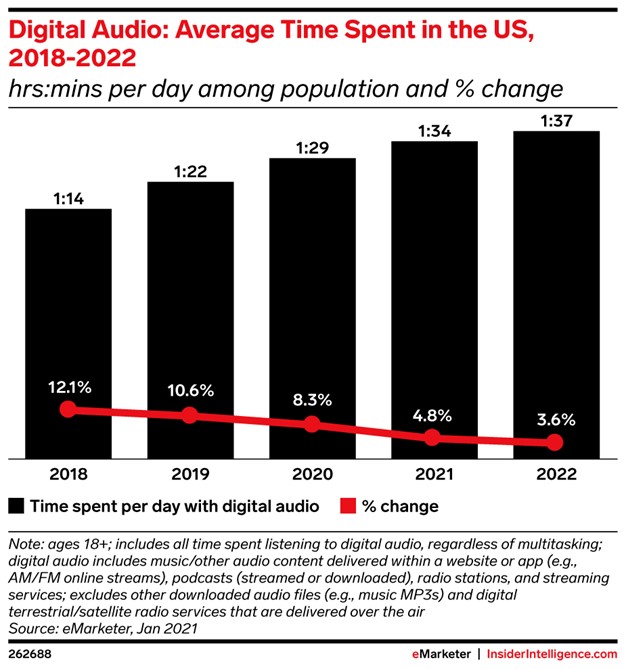 Why the tilt up? It's a combination of things. Voice-assisted tech devices are on the rise. More people are familiar with podcasts and other audio platforms. Listeners are drawn to the increase in big names (and smaller names too) doing audio shows. And more companies are investing in audio (Spotify, Twitter, Facebook, Discord, etc.)
Oh, and the doom-and-gloom predictions of audio's decline because people weren't commuting during the pandemic never materialized. "The lesson of last year is that digital audio is far more resilient and adaptable than we thought," eMarketer reports.
Why does it matter for audio content entrepreneurs? Podcasts are now starting to be monetized at high levels, according to Motley Fool.
It starts with the advertising game. Motley Fool's bullish on Spotify, which it says, can give "podcasters a bigger income stream they could get anywhere else."
But Spotify isn't the only avenue. A lot of good podcast advertising networks exist. Or go on your own if you have existing advertiser relationships or a great salesperson to do it (That's what we at The Tilt recommend.)
Rates are based on listeners. Advertisecast recently posted average rates of $18 CPM (1,000 listeners) for 30-second ads and $25 CPM for 60-second ads. Here's a more detailed breakdown of the analysis: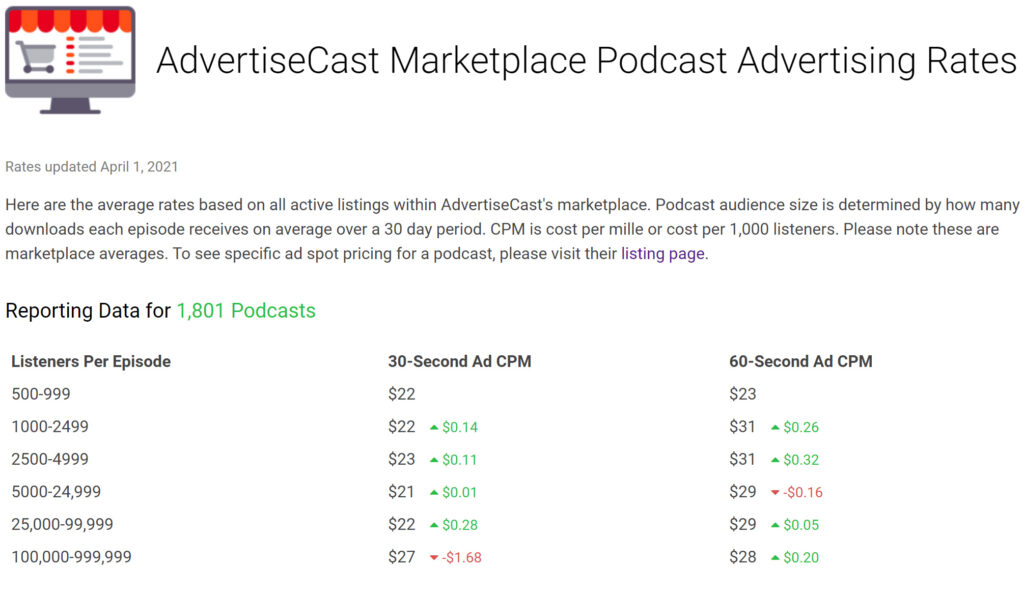 What should podcasters know about the ad business?
The effect: Podcast ads outperform many other digital options (banner ads, video pre-roll, etc.) A Nielsen study found regular podcast listeners said the ads authentic and well integrated (78% said they didn't mind ads/sponsors because they supported the podcast.)
The details: Know your audience and your listening data – that's what advertisers base their decisions on.
The business: Speak the lingo: live vs. pre-produced; pre-, mid- and post-roll ads; and baked-in vs. dynamically inserted ads.
Are there other revenue possibilities? Many. Beauty content entrepreneur Lauren Bosstick launched her Skinny Confidential-branded beauty products this month. Though she lives on many platforms (including 1.3m on Instagram), Lauren attributes her 5-year-old podcast as the distinguishing factor for the deal.
The Adventure Zone, a long-time podcast of live play of Dungeons & Dragons, has evolved to include a bestselling graphic novel series and sold-out cosplay-packed live shows.
Marc Maron turned his (1.5 million listeners) into a book, Waiting for the Punch: Words to Live by from the WTF Podcast. And don't forget the merch. This Is Important Podcast even makes merch, not the podcast, the link in its Twitter profile.
What about acquisition and investment opportunities? Edison Research senior vice president Tom Webster says: "Making great audio is really, really hard. It's much easier to buy than build." Though podcast acquisitions the size of Spotify's purchase of Joe Rogan (est. $100 million) are few and far between, we expect opportunities to grow.
And investors are taking a look at podcasting too. Podfund, for example, does deals between $25,000 and $150,000 with podcast studios and high-potential creators. Their investments are based on stage, track record, traction evidence, revenue, and intended use of the money.
What about Clubhouse? Tread carefully. Clubhouse announced this week it's rolling out Payment, a way for users to donate to people who open and moderate rooms on the audio-only social app. That's a good first step. It's not enough.
Use Clubhouse as an amplification tool for your podcast or non-audio content if you can devote the time to using it regularly. Hosting a room and starting clubs are great for interaction and cultivation of your community too.
Caveat: Clubhouse is popular, but it's restrictive. It's only available on Apple devices and requires an invitation. (And people with hearing difficulties can't access the content.)
And one more caveat came this week, Clubhouse may sell itself soon and that means the rules will change.
Ann regularly combines words and strategy for B2B, B2C, and nonprofits, continuing to live up to her high school nickname, Editor Ann. Former college adjunct faculty, Ann also helps train professionals in content so they can do it themselves.