A successful listening strategy can help you engage your audience in more meaningful ways. But to acquire that information, you need tools that provide reliable, accurate data.
The thing is that not all social listening tools are equal. I compiled this guide covering seven options to help you choose one that fits your goals and budget and can deliver actionable information that helps your content business grow.
Once you've reviewed the options, I will share some tips to get the most out of whatever social listening tool you choose.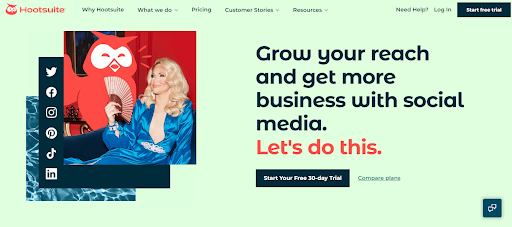 Hootsuite Insights enables businesses to monitor, analyze, and act on social media data. It provides real-time monitoring of brand mentions, customizable dashboards, sentiment analysis, and keyword tracking. It also lets you schedule and publish posts, monitor social trends, and even respond to messages from the same dashboard.
With its user-friendly interface, this platform can be an excellent social listening tool for content creators to stay ahead of the competition by paying attention to social chatter around their brands.
Key features include:
Real-time monitoring
Customizable dashboards
Sentiment analysis
Keyword tracking
Audience insights
Pricing: 30-day free trial; plans start at $99 a month.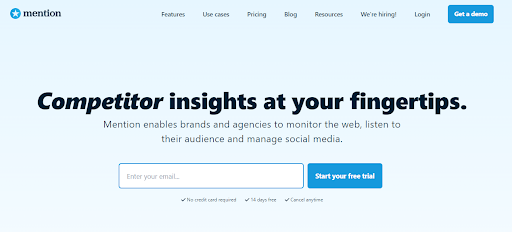 A personal favorite around our offices, Mention allows you to monitor your brand's online presence across multiple platforms, including social media, blogs, forums, and even news sites.
With Mention, you can track brand mentions, analyze the sentiment behind them, identify influencers in your industry, and collaborate with your team members to take advantage of this data.
Moreover, Mention also provides real-time monitoring, which means that you can quickly respond to customer feedback and stay up-to-date with the latest conversations related to your brand or industry.
Key features include:
Real-time alerts
Competitor tracking
Sentiment analysis
Schedule and publish content
Pricing: 14-day free trial available; plans start at $49 a month.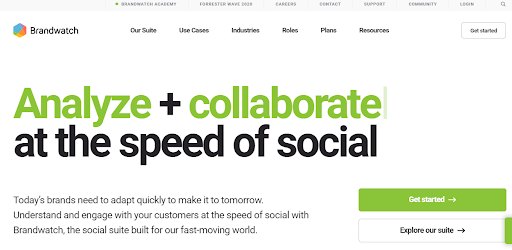 Brandwatch helps content creators to expand their businesses by monitoring social media conversations across multiple platforms and languages.
With all its features combined, Brandwatch allows you to understand customer feedback better, address it in responsive and flexible ways, and expand your brand's online presence in this fast-paced environment.
Key features include:
Competitive intelligence
Content marketing
Stakeholder management
Market research
Social media management
Influencer identification
Crisis management
Pricing: Provided after one-on-one conversation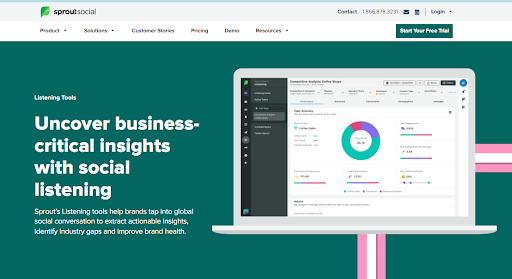 Sprout Social offers a range of social listening features to help businesses grow their brand and engage with their audience through data-driven insights.
Through its findings, such as brand mentions, audience conversations, and unfiltered customer feedback, you can compile data that helps you tailor content strategies to individual segments of your overall audience.
Sprout Social's data makes it possible to create full-scale social media marketing campaigns specifically aimed at building brand identity.
Key features include:
Reporting and analytics
Sentiment research
Social CRM
Trend identification
Brand keywords
Competitor comparison
Influencer identification
Pricing: Free trial; plans start at $249 a month.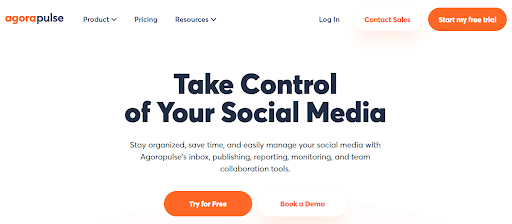 Agorapulse, a social media management tool, offers features like management, scheduling, publishing, and robust listening tools built around monitoring and tracking.
When combined, these features can help you craft consistently relevant content. That said, this platform is a relatively smaller and more compact tool.
Key features include:
Social media inbox
Advanced scheduling
Social media monitoring
Analytics and reporting
ROI calculator
Pricing: Free trial; plans start at $49 a month.

NetBase Quid, a marketing intelligence tool, offers potent insights into consumer behavior on social media platforms.
Unlike other social listening tools in the list, this one tackles categories like product innovation, brand health reporting, and technology scouting, which can unlock more opportunities to grow your business' overall reach or refine your digital branding strategy.
Key features include:
Advanced natural language processing
Consumer sentiment and emotion analysis
Competitive intelligence
Influencer and KOL marketing
Brand perception
Pricing: Provided after demo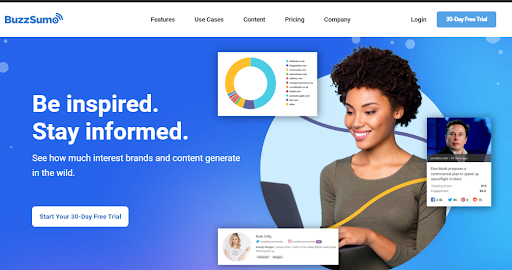 BuzzSumo has been around for a long while as a social listening and content marketing tool that can help businesses track and analyze the performance of their content across platforms.
One of the standout features of BuzzSumo is its content discovery, which means you'll be able to find popular and trending content across various social media platforms. That alone can already help you as a content creator or business to develop better content strategies that resonate with your target audience. But it can also be a great source of inspiration and research, resulting in richer and more targeted content strategies.
BuzzSumo's key features include:
Content discovery and analysis
Social media listening
Real-time tracking of brand and industry mentions
Influencer identification and analysis
Content curation and scheduling tools
Competitor analysis and comparison
Pricing: Free trial; plans start at $119 a month.
7 tips to get the most from your social listening tools
While effective listening tools are critical to audience development, they aren't always easy to implement effectively. So no matter what tool you choose, these tips can help you master the art of audience listening:
Learn your audience's language: To engage with your audience effectively, you must understand their language and the terms they use around your content tilt. By monitoring social media conversations, you can gain those insights and use that knowledge to create more compelling content.
Listen to your audience's language in social media conversations. Use that knowledge to create more compelling content, says #VictorBlasco of @YumYumVideos. #CreatorEconomy
Click To Tweet
Keep tabs on industry news and trends: Monitor conversations about your industry or niche to stay informed about the latest developments, emerging trends, and new opportunities. Use this knowledge to inform your short- and long-term content planning.
Start conversations: Identify conversations related to your industry or niche and join them to provide valuable insights and expertise. This can help you build relationships with potential audience members and establish yourself as a thought leader in your field.
Find feedback: Identify common themes, pain points, and suggestions to keep in mind when you plan and create your content to better appeal to your audience and improve their experience.
Develop leads from your competitors: Pay attention to not only what your audience is saying about your brand and what people say about your competitors. You can identify disgruntled audience members and customers and target them with more relevant content and/or products. This can be a powerful way to generate leads and grow your business.
Identify what disgruntled audience members say about your competitors and target them with more relevant content and products, advises #VictorBlasco of @YumYumVideos. #ContentBusiness
Click To Tweet
Pay attention to shared videos: A go-to medium in terms of engagement, video-listening tools can help you identify trends and stay ahead of the curve in delivering content about your audience's current interests.
Identify influencers: Content creators can work with influencers or other partners with a similar target audience. Identify influencers in your industry, then engage with them, build relationships, and potentially collaborate on content or campaigns.
Track and measure results: Gain insights into what's working and what's not with your brand's content. Use this information to refine your campaigns and improve your social media.
Ready to start listening?
Audience listening is an essential aspect of any successful content business. Monitoring and analyzing social conversations and data can gain valuable insights into your audience, industry, and competition.
Remember to focus on your objectives, choose the right tool for your needs, and use the tips to maximize your social listening efforts. Doing so can build stronger relationships with your audience, improve your brand reputation, and stay ahead of the competition.
Victor Blasco is a digital marketing expert, Co-Founder & CEO of Yum Yum Videos and Yum