On March 10, 2021, $TILT coin, the official social token of The Tilt, launched.
It was five months in the making. In October 2020, I went down the proverbial rabbit hole of social tokens, trying to wrap my arms around this phenomenon.
What was the big deal? The answer, I realized, is the power of the token – the idea that a creator with scarce assets can build and at the same time give property rights to their audience or community.
Since our goal at The Tilt is to help content creators become content entrepreneurs, we surely had to take a social token business model for a spin.
One year later
The model launched as an idea with $TILT coin on the Rally platform valued at around 30 cents. Now, the social token has grown into the very fabric of what we do. As of today, we have 1,800 coin holders. Over 154K are in the circulating coin supply with a current value at around $23 USD per coin. Our token has consistently been in the top five of Rally creator tokens and currently sits at the top position.
A year ago, @JoePulizzi launched $TILT coin on @Rally_IO. Now, he shares what he's learned about building a #SocialToken business model. #cryptocurrency #web3 #CreatorEconomy
Click To Tweet
Have we been perfect with our social token launch? Not even close. But we've done better than most.
Here's what we've learned:
Lesson 1: Define the benefits for social token holders
It took a few weeks, but we were able to find and communicate a clear benefits plan for token holders to communicate. You can find the plan here.
Social Token Business Model Lesson 1: Define the benefits for token holders, says @JoePulizzi of @TheTiltNews. #CreatorEconomy #CreatorCoins
Click To Tweet
Simply put, holders of at least one $TILT token are eligible for entry into our weekly token giveaways and can access the Tilt Club channel in our Discord community. Holders with at least five social tokens get an exclusive content drop monthly and access to the Tilt5 Club channel. Those with at least 20 tokens get 50% discounts on anything we offer and to the Tilt VIP channel and The Tilt team (including me).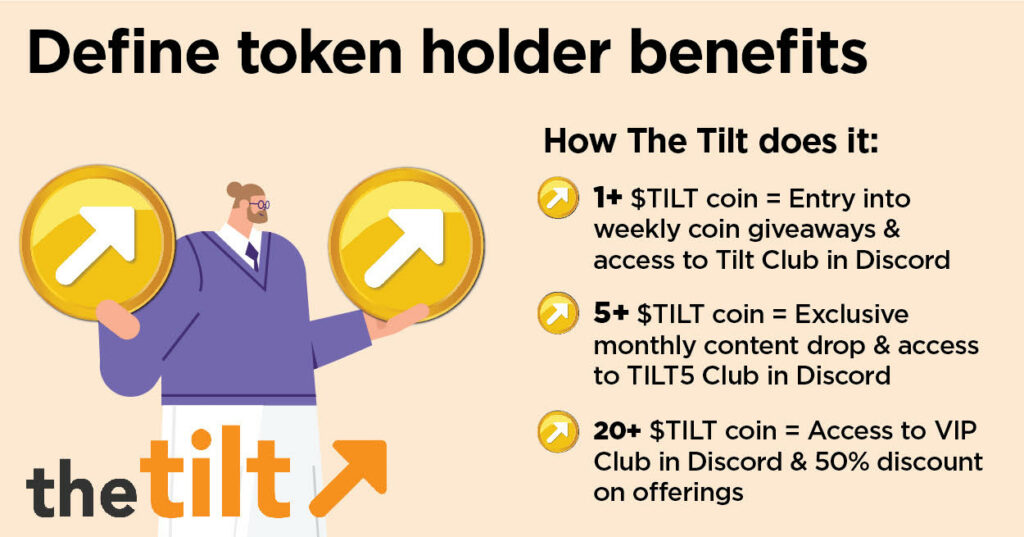 Lesson 2: Integrate the social token into sales
Having your own currency comes with a lot of responsibility. In other words, your token holders need multiple ways to use it.
Social Token Business Model Lesson 2: Integrate the #SocialToken into sales, says @JoePulizzi who launched @TheTiltNews coin one year ago. #CreatorEconomy #cryptocurrency
Click To Tweet
At The Tilt, we have worked hard to incorporate $TILT coin as a payment option on our offerings. This includes our merchandise, educational courses, events like Creator Economy Expo, and even things like an autographed book from yours truly. In addition, sponsors also may choose to use $TILT instead of US dollars or other fiat currency.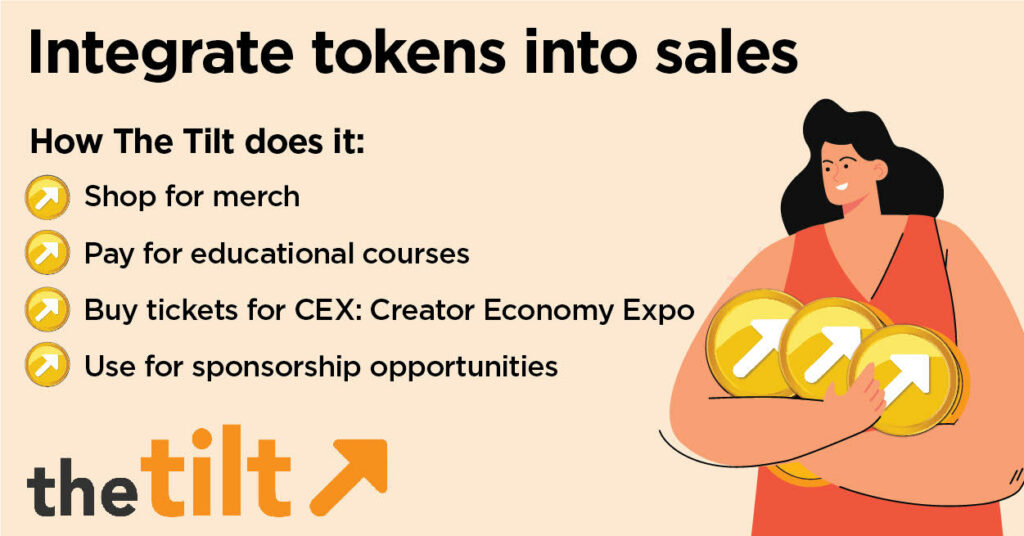 Lesson 3: Let the community earn social tokens
This is the area I've talked about to more Rally token creators than anything else. From day one, we integrated our primary content product – the newsletter – with the token.
Social Token Business Model Lesson 3: Let the community earn #SocialTokens, says @JoePulizzi of @TheTiltNews. #CreatorCoins #ContentEntrepreneur
Click To Tweet
First, all subscribers to The Tilt get $5 USD worth $TILT coin. Second, all subscribers have a personalized referral link included at the bottom of every newsletter. Every time a new subscriber comes through their referral link, they get an additional $5 USD in $TILT coin. We pay these earned subscriber and referral rewards every Friday.
Then, with their $TILT coin in their Rally account, holders go to our Discord group to activate their membership level, which gives them access to their unique groups and chat sections (see benefits outlined in lesson one.)
In addition to the newsletter rewards, we pay guest authors $TILT coin for articles published on our site.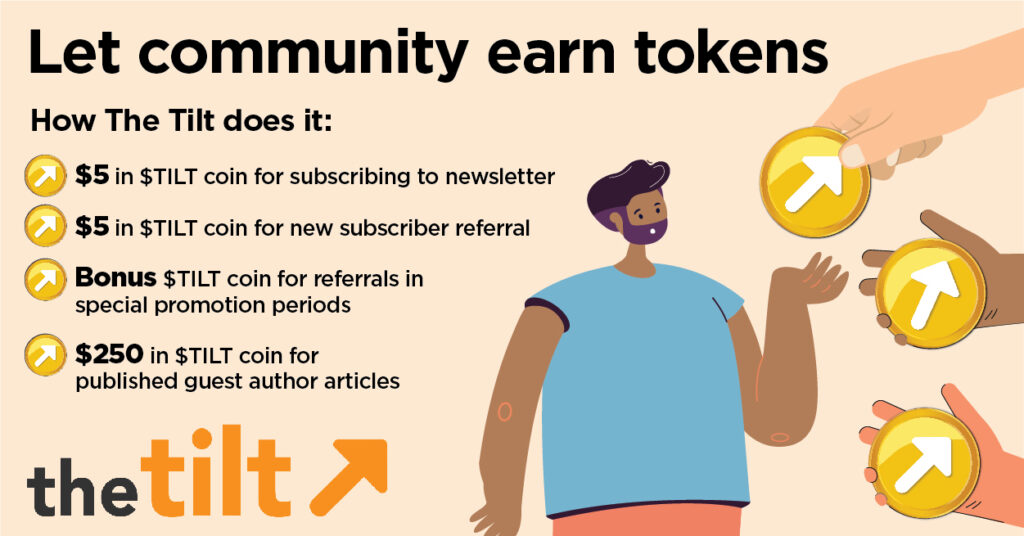 What's next
I wish it were easy enough to stop there and let the process work. Not a chance. Every day we are looking for more $TILT coin benefits and more ways $TILT holders can use the token. That's our task for the next 365 days.
Overall, the first year has been a success. I've found $TILT coin holders are our super fans. They feel part of the process. They believe they have a real stake in the success of The Tilt (and myself) – and they do.
Join Joe May 2 – 4, 2022, at CEX: Creator Economy Expo where I'll go more in depth on the social token business model. Register today!