Making sure your content gets found is a problem faced by over half (57%) of content creators.
What if your existing audience could help?
Even better, what if they could secure new subscribers for your content business?
It's all possible with a referral rewards program.
Morning Brew credited 35% of its 2.4M subscribers to its referral program in 2020. Their data shows those referred subscribers are among their most engaged. Engagement from subscribers who reap the referral reward also strengthens and their subscriber tenure is longer than those who don't refer.
.@MorningBrew credited 35% of its 2.4M subscribers to its referral program. #ContentBusiness
Click To Tweet
How do you launch a referral rewards program for your content business?
Answer these three questions:
What rewards will you offer?
How will you administer the referral rewards program?
How will you promote it?
What rewards will you offer?
You can go all in on one style of rewards or mix and match if that works best for your audience and budget. Common reward categories for content entrepreneurs include:
Exclusive content
Discounts or free access to premium content
Discounts or free brand merch or other products
Social tokens or points that can be held and/or redeemed for rewards listed above
Gift cards to vendors your audience patronizes
Entries into a drawing for a big gift like an iPad, airline ticket, etc.
Begin to think about how to structure a tier reward system. Will your subscribers earn the same reward for every referral? Will they be rewarded with bonuses when they refer a high number? Can they accumulate their referrals for a bigger reward?
The Tilt uses a mix of rewards for our referral rewards program. We offer monetary rewards in the form of social tokens ($TILT coin) and gift cards. Subscribers also earn merch or tickets to the Creator Economy Expo. Additionally, 100 referrals give the referrer a free shoutout in our newsletter for their brand or product. The mix of rewards aligns with our brand and audience's interests.
As you identify the possibilities, you also must identify the potential cost. Calculate potential cost per subscriber and subscriber lifetime value to structure a feasible reward referral program.
Calculate your subscriber acquisition cost and subscribe lifetime value as you plan referral requires to grow your audience, says @MarcMaxhimer. #CreatorEconomy
Click To Tweet
Cost per subscriber (CPS) is the single subscriber acquisition cost. To calculate, take the total reward price and divide it by an estimate of referrals required to earn that reward.
For example, let's say a T-shirt (with shipping) would cost you $19. If you estimated a T-shirt would be the prize for 15 referrals, the cost per referred subscriber would be $1.27.
Here's the formula: cost of reward / number of referrals to receive = cost per subscriber
We find most companies want to keep the CPS to less than $2 or $3 if the subscriber lifetime value is at least $15. Of course, ultimately, it's up to your budget and growth goals.
To understand the financial value of an average subscriber (i.e., how much revenue they'll generate) for your business, estimate the subscriber lifetime value.
Sparkloop has a great subscriber lifetime value calculator for newsletter creators, but it can be helpful for most creators. Among the revenue-related elements to consider: clicks on affiliate links, buying products through your links, seeing advertising in your content, or upgrading to a paid content offering.
TIP: Trigger the first reward with one or two referrals to get subscribers over the start hurdle. Once rewarded, they're more likely to refer again. Make the second and/or third tiers obtainable for 10 or fewer referrals to encourage their momentum. Big ticket rewards should be reserved for big number of referrals. The exact number depends on whether you can afford the cost per referral and will earn enough over the new subscriber's lifetime value.
At The Tilt, rewards are provided at one ($10 in $TILT coin), four (sticker), and nine (mug) accumulated referrals. We continue a Tilt merch offering for 15 (T-shirt), 25 (tumbler), and 50 (hoodie).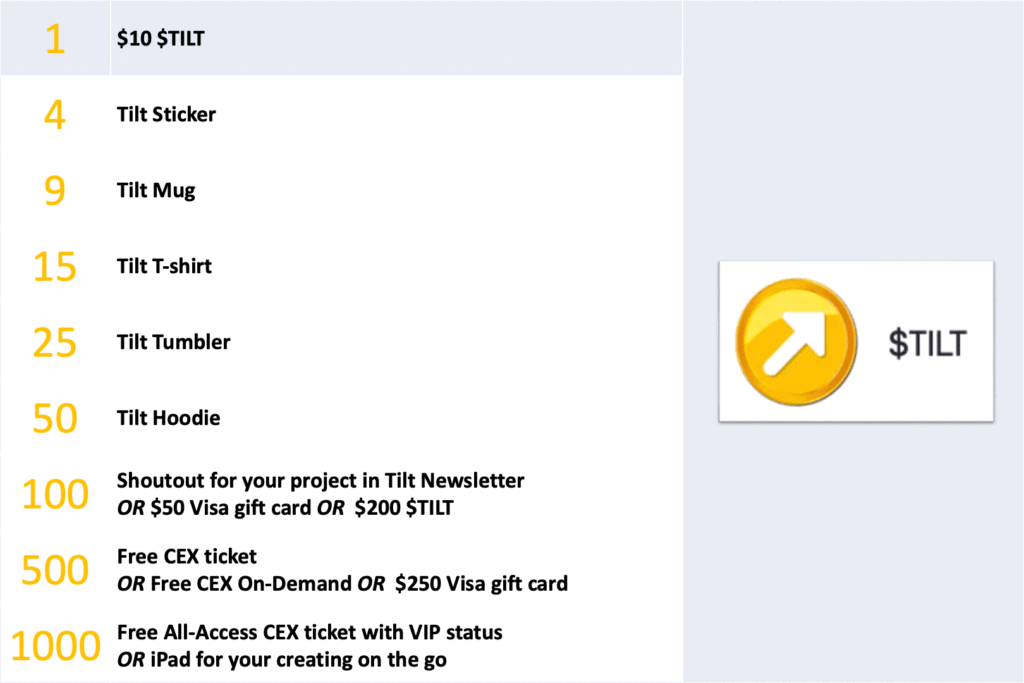 Mega referrers have a choice at 100 (shoutout, gift card, or $TILT coin), 500 (CEX ticket, CEX on demand, or Visa gift card), and 1K levels (all-access VIP CEX ticket or iPad).
How will you administer the referral program?
Setting up a referral reward program requires a solid tracking structure. How will you know who referred a subscriber? How will you calculate and issue their rewards?
In most cases, online tools can help you streamline your subscriber referral process. Their features include automatic tracking, customizable templates, fraud detection, third-party integrations, and built-in analytics. Popular referral services include:
The Tilt integrates Sparkloop into the newsletter with a custom referral link connected to its tracking program. The Tilt then uses a combination of automatic and manual processing of rewards based on the reward level.
TIP: If you can't afford an automated referral program, you can set up a manual system. However, the results of this labor-intensive referral program may not be worth your time.
Online tools, such as @SparkloopHQ, @ViralLoopsHQ, @GeniusReferrals, #UpViral, #Rewardful, help streamline your subscriber referral rewards process, says @MarcMaxhimer. #Referrals
Click To Tweet
How will you promote the referral rewards program?
You've done all the prep work to get a program started. You have everything in place. You're ready to spread the word about these word-of-mouth referrals.
First, you need a way for people to refer their friends to your sign-up landing page and form.
With a non-automated solution, for example, you could ask new subscribers who referred them in the sign-up form and track it manually.
Most likely, you'll create custom referral links for every subscriber – whether they use it or not – through your paid online tool. Using these trackable links also can let the referrer know how many referrals they've made each time you share the link with them.
Second, publish each referral link in your subscribed content. Newsletter creators should include a referral section toward the end with the custom link, earned referrals, and rewards chart.
Third, include social referral icons that link to your subscriber's custom sign-up URL. It will make it easier for them to promote on those platforms.
Promote the referral reward program opportunity. Consider a dedicated promotion or outreach when you launch it. Include the details in your welcome email. Recognize new referrers in your community and/or your content. The promotional possibilities are many.
Remind subscribers how they can use their referral link – adding it to their signature lines, posting it in their social media bios, sharing directly with people who might be interested, etc.
Finally, make sure you develop a plan for the ongoing promotion of your referral rewards program. Send out reminders periodically in your newsletter or offer special contests for referrals on top of the normal rewards. Give a shoutout to the top referrers on social media each month or announce when people hit milestone reward levels. Whatever your plan, it is important to be consistent and give your sincere thanks while recognizing people. After all, these fans are helping you grow and build your community.
Earn rewards through The Tilt's subscriber referral program. Get your unique link at the bottom of your newsletter. Not a subscriber? Sign up today and you'll get your first reward.
Marc Maxhimer is the director of growth and partnerships at The Tilt. He holds a bachelor's degree in English and mathematics education and a master's degree in educational administration.  He previously taught middle school for 16 years.  Marc lives in (and loves all things) Cleveland with his wife, two daughters, and dog.