Entrepreneur: Kar Brulhart
Biz: Kar Brulhart
Tilt: Growing brands on Instagram
Primary Channel: Instagram (48.1K followers)
Other Channel: Website
Rev Streams: Partnerships, online courses, digital downloads, coaching, speaking
Our Favorite Actionable Advice:
Learn and get paid first: Kar used the knowledge she gained in traditional full-time jobs to quickly build and grow her Instagram business.
Sell multiple things: In her first year, Kar expects to earn six figures rom her many revenue streams.
Don't fly by the seat of your pants: Develop a business plan or at least a content calendar with ideas.
The Story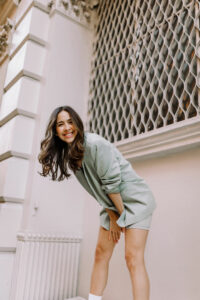 Just a year after launching her content business, Kar Brulhart is on track in 2022 to earn close to or more than six figures from her online courses, digital downloads, coaching, and more.
Kar quickly grew her presence on Instagram with Reels. A single video can of hers draws hundreds of thousands of views as she covers topics like trending sounds or how she quickly went from laid off to 35K followers.
The latter relates to her tilt – helping others grow their brands on Instagram. She shares information about everything from Instagram's latest releases and optimal image sizes to why she said no to a Kim Kardashian giveaway. On occasion, she mixes mentions of her personal life as a mom.
@KarBrulhart is on track this year to earn six figures from her #Instagram online courses, digital downloads, coaching, etc. #ContentEntrepreneur #CreatorEconomy
Click To Tweet
Kar Brulhart gets comfortable online
Content creation wasn't the original career destination for this one-time tax accountant. She's only now growing comfortable with the influencer moniker and admits to once laughing at people who seemingly lived their lives online.
"Before I launched my business, I would never post any personal photos of my family or child on my own account," she says. "And when I started this account, I was also really leery of sharing [daughter] Charlotte's face and telling people too much about myself or locations or things like that."
But as her followers grew, she realized she had more friends on Instagram than in real life in New York City. With Web3 and the co-called metaverse in the offing, she saw all of our lives going more virtual. As she culled her followers, removing bots or accounts that didn't match her target audience, she got more comfortable sharing online.
To feel more comfortable sharing online, @KarBrulhart removed bots and accounts that didn't match her target #audience from her @Instagram followers. #ContentBusiness
Click To Tweet
"I've been a lot more open about sharing personal moments and thoughts and feelings and fears and insecurities or past stories," Kar says. "That has all only helped to keep my audience close to me and feel loyalty. I don't do it just because of that; I'm not that methodical. It feels natural now because I am showing up on here every single day."
Learning from traditional employment
Kar worked in marketing when she moved from Vancouver, Canada, to Berlin, Germany, with her now-husband. She was part of a small team with the United Nations' World Food Program building an app aimed at ending world hunger. She was responsible for social media, public relations outreach, business development, and celebrity partnership management.
"I got to learn really quickly in this juggernaut of a not-for-profit," Kar says. "I could really hone my skills and get comfortable with my creativity because I was coming up with global omnichannel marketing campaigns with companies like Google, Facebook, Apple, and Michael Kors. I got a lot of exposure to really top talent."
After learning a lot in her 9-to-5 jobs, @KarBrulhart was well prepared to launch her #ContentBusiness. #CreatorEconomy
Click To Tweet
Later moving to the United States, she took on a role in advertising for a technology company. While it wasn't the greatest work environment, it led to an aha moment that sparked the creation of her own platform.
"I was watching all the paid advertising campaigns getting run through by huge, huge corporations and seeing how much money they had to just get impressions and reach," she says. "And that, combined with my experience at the UN – where we had no marketing budget and we really just relied on organic content and video primarily – I realized I had a unique skill set that I could probably show people how to grow organically on Instagram and social media."
Layoff sparks bigger commitment to Instagram advice
Kar already had some success building her presence on Instagram with House of Lugo, where she sold items from Mexico (where her mother is from) and donated proceeds to local charities. That venture prompted other female business owners to ask her for social media tips.
But it was a pandemic-related layoff that spurred her to launch her Instagram coaching business in January 2021. It wasn't long after Instagram introduced Reels when Kar saw the opportunity to help people like she did for the women who reached out to her on House of Lugo. She saw the chance to help them take advantage of Reels and Instagram to grow their platforms and use them as sales tools. "So, I went all-in with this," she says.
Today, her revenue comes from coaching calls, courses, digital downloads, and paid partnerships with Instagram Creators, editing apps, and more. "As I'm growing, I'm getting a lot more from partnerships," she says.
Advice for early-stage creators on Instagram
Among Kar's counsel for creators who are building at least part of their content business on Instagram:
Have a plan
Flying by the seat of your pants isn't the best method. "A lot of people will just post things and not even have a plan about it," she says. "The sooner you can get a plan together – and I mean a business plan or at least a content calendar with ideas and pillars (key topics) – that is really important."
Track your analytics
"Take a look at what's working and what's not working and keep adapting your strategy based off that," Kar says. "Use the numbers available to you."
Just in the last two months, Kar says, the market has become more saturated with creators in her tilt – Instagram coaching. The kind of content that would go viral for her a year ago no longer does. "It's a constant pivot," she says. "I have to really be identifying trends, topics, and be the first to break news to stand out from everybody else."
Look at your content analytics regularly to see what your audience is responding to. The kind of content that would go viral a year ago no longer does, says #Instagram coach @KarBrulhart. #CreatorEconomy
Click To Tweet
Leverage every Instagram surface
Don't just focus on Reels or photos. Use all the features Instagram offers. "They're created so people spend more time on the app," she says. "If you're keeping people on your page longer, then Instagram will prioritize you and show you to more accounts."
Instagram Guides is a feature often forgotten by creators. It's a simple collection of similar posts. Another is IGTV. Kar says a lot of features have been added to Instagram TV in the past year, including a dedicated video tab.
"I think we're going to be seeing in the coming year or two is that those are going to be merged into one single video tab along with Reels," she says. "That's a big opportunity."
What's next
After a wildly successful first year, Kar is excited to see what the next year brings. She wants to do more speaking engagements and find new ways to support and uplift the Latina community. And she's not entirely surprised about where she is right now. Kar explains why: "I never knew what I wanted to do with my life, and this feels really me and feels really in tune and just right."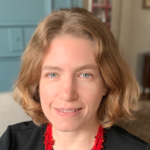 Sarah Lindenfeld Hall is a longtime journalist, freelance writer, and founding editor of two popular parenting websites in North Carolina. She frequently writes about parenting, aging, education, business management, and interesting people doing remarkable things.