Entrepreneur: Alyson Morgan
Tilt: Slow-living, environmentally friendly inspirational content
Scene: Blog, newsletter, Instagram (80.4K), Pinterest (1.8K)
Snack Bites:
Alyson quit grad school after being disenchanted by the capitalist impact on institutional research.
She started her website and Instagram after her family moved to California for a slower, more climate-friendly life.
Alyson works with brands aligned with her ethically focused content. She clearly discloses those paid partnerships in her posts.
Why We're a Stan: Alyson Morgan monetizes her online content in a way that suits not only her brand but her ethically focused content tilt. She also walks the talk by disclosing any paid relationships to her readers.
The Story
Writer, photographer, herbalist, and all-around intensional living maven, Alyson Morgan creates content around her tilt of wellness, healthy food, and a low-waste lifestyle. She developed these interests during her time in graduate school.
Working in research centers, she thought most institutional research was conflicted because it was rooted in a capitalist system. In 2019, she explained her views to Read My Tea Leaves: "How could they be a solution to climate change when they relied on funding from sources that were precisely the problem? Disenchanted and filled with anxiety and hopelessness, I quit graduate school, my husband and I packed up and moved to the midwest to start a family.'"
Her self-named blog is a highlight reel of her life in rural America, filled with beautifully photographed blog posts intermixed with poetic words and captions.
#AlysonMorgan quit grad school and institutional research to move her family to rural America. Then, she started blogging about their slow-living lifestyle. #Stan #ContentEntrepreneur
Click To Tweet
Bringing brands into Alyson Morgan's content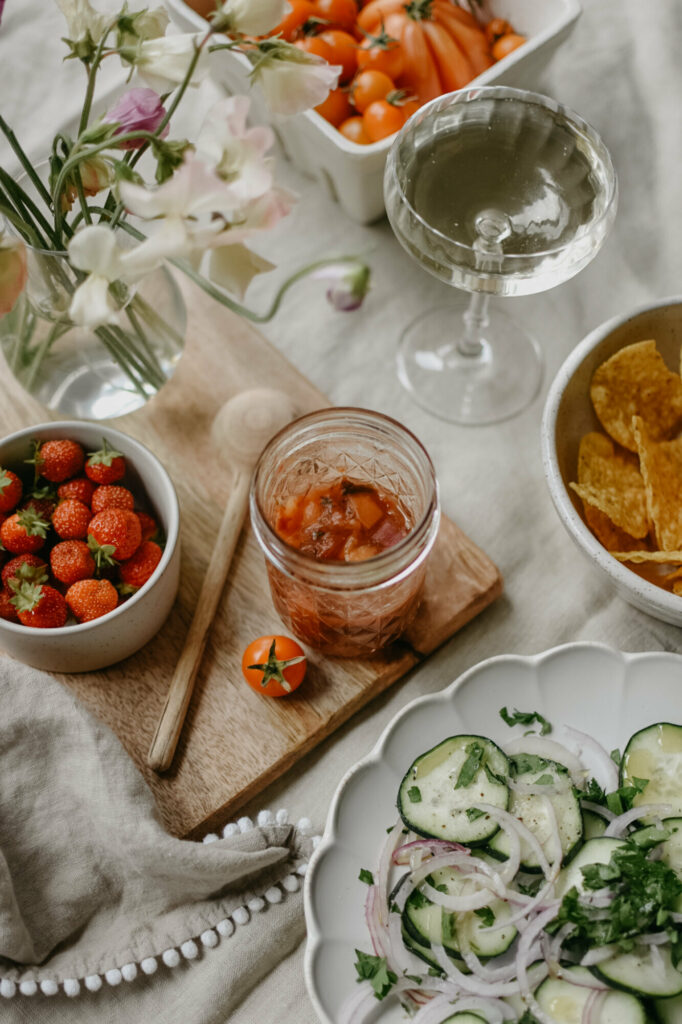 Alyson has worked to incorporate sponsored content on her site, including a fire-roasted peach salsa recipe post sponsored by Ball, a home-canning brand, in July 2021.
She's transparent in the paid relationships, disclosing it at the beginning salsa article and at the end of this post from October: "We are building our dreams, little step by little step, clearing patterns + paths, releasing identities no longer in sync with our dreams, and habits that hinder and do not support our work." At the end, the California native discloses: "This is a sponsored post that is part of an ongoing partnership with the Fresh Preserving Division of Newell Brands. They have provided jars, equipment, and monetary compensation. All thoughts and opinions expressed remain my own."
Beyond her blog, Alyson's Instagram page incorporates this mindfulness esthetic. In the second half of the Reading My Tea Leaves interview, she explains the brief moments of her meditation practices she shares on Instagram: "I found that meditation can come in different forms. Practicing yoga and asana is a type of meditation, but other activities can achieve that too. I find walking and gardening are meditation."
Her definition of meditation manifests itself all over her Instagram – planting flowers in her garden, exploring nature with her husband and children, and making sentimental comments.
#AlysonMorgan works with brands, like @BallCanning, that align with her sustainability content tilt. #SponsoredContent #Revenue #ContentBusiness
Click To Tweet
Talking sustainability and monetizing it, too
Though Alyson partners with brands, she knows consumerism isn't the way out of the world's climate issues. As she told Reading My Tea Leaves: "Buying a reusable bottle and bag are better ethical and conscious decisions, but (they) are not going to solve the problem. It puts the onus on the individual to solve climate change, shifts blame, and is rooted in the problem: individualism. I am in no way above the fray; at this point, we are not zero waste, I often still opt for convenience, ordering on Amazon and buying something wrapped in plastic."
Under the collaborations/ brand partnerships tab on the Alyson Morgan site, the creator allows prospect partners to see how she has worked with brands like Bloomist, Herbalist Academy, and Ball Canning.
The descriptions also include glowing testimonials, like this one from Bloomist's director of merchandising and operations, "​​Her beautiful ability to capture a brand's story and mission, Alyson is extremely prompt and professional to work with. Influencer marketing can be difficult to manage, but Alyson ensures that all content is posted by specific due dates and is diligent in making sure the product's story is meaningful and rich to her followers. She truly is a brand advocate and ambassador and is considered a member of our team. I cannot recommend her highly enough!"
Tip for #CotentEntreprenuers from #AlysonMorgan: Publish anecdotes and testimonials from brands to inspire others to work with you. #Stan #CreatorEconomy
Click To Tweet
It is smart to display her previous work with brands while appealing to new ones, weeding out brands that wouldn't support her overall cause. The page aims to entice similar brands to connect with her for future partnerships. Even her message inviting them to contact her is communicated in her brand voice: "An invitation to get in touch. Your wholehearted brand has crafted a sustainable, ethically made, high-quality product. I can help you reach more folks through my original writing, intuitive photography, and social amplification. Let's see whether we're aligned."
Gather with fellow creators in person at CEX: Creator Economy Expo May 2-4. Can't make it? Then, join us in the online Discord community for conversations year round.
Shameyka McCalman is a wordsmith whose work often centers around fashion, art, and other creatives of color. She earned her communications degree from the University of Massachusetts Boston and enjoys sifting through clothes in local vintage shops, frequenting nearby plays, and gazing at exhibitions on view in museums.