Entrepreneur: Joy Nyargem
Biz: Afrostylicity
Tilt: Igniting joy in travel, fashion, and lifestyle (now with a female and male perspective)
Primary Channel: Blog (100K+ sessions per month)
Other Channels: Instagram (134K), Facebook (18K), Pinterest (3.9K)
Time to First Dollar: 10 months (March 2017)
Rev Streams: Affiliate links, brand partnerships (Instagram and blog), product photography for brands, online course
Our Favorite Actionable Advice
Think before you quote: Joy was understandably so thrilled when a brand offered to pay her for a promotion that she quoted a price that was too low. Take a moment any time you get an offer to reflect before you speak.
Think SEO: She started writing what she wanted. Then, she realized to get her content found in Google, she needed to write what her audience wants. That led to bigger success and for her to become a full-time content creator.
Think expansion: Though Joy started with women as her primary audience, she expanded it to men with similar interests and brought her husband into the content business.
The Story
After getting her master's in health care administration and a master's in business administration, Joy had time on her hands. So, in 2016, she started Afrostylicity, a blog about her travel and lifestyle passions. In addition, she changed her personal Instagram account to the same name.
"I didn't really anticipate it growing beyond that. It was just a place for me to share my recommendations and reviews to my friends about travel," Joy says.
Growing up, Joy couldn't afford to travel. But, through her content, she shows people that it's possible to travel on a budget. "Especially as a person of color, it is possible for you to have these experiences, it is possible for you to live a certain lifestyle, without going into debt," Joy says.
Just two months after she launched, a watch company discovered her through an Instagram hashtag and asked her to write about their product on her blog. At the time, Joy had around 6K followers and had only thought her blog or Instagram promotion potential was limited to free products. The watch deal changed that. Today, she's a full-time content creator and no longer works in health care.
2 months after Joy Nyargem launched @Afrostylicity, a watch company discovered her @Instagram account w/ 6K followers and wanted to do a deal. #ContentEntrepreneur #ContentBusiness #CreatorEconomy
Click To Tweet
Getting first brand partnership
After her experience with the watch company, Joy pitched brands that aligned with her values. In March 2017, she got her first brand partnership. Chili's Grill and Bar reached out to promote a campaign celebrating their May 13th birthday. "They wanted content creators to go to Chili's and show their audience what their restaurant had to offer, including margaritas and food," Joy explains.
She was so excited for her first paid brand partnership that she charged them $500 for two Instagram posts and two Instagram stories. Today, the full-time content creator considers that to be a very low rate. Now, her rates really depend on the scope of work and how much time will go into creating the content.
Adding revenue-earning links
Joy also includes affiliate links in her blog articles. For example, if she took a non-sponsored trip to Miami, she includes travel-related affiliate links for deals on flights and sightseeing tours. If she promotes a fashion brand, she uses her rewardStyle affiliate link, which encompasses several brands. She also uses Amazon, FlexOffers, CJ Affiliate, and other programs because they offer different brands and commission rates.
Joy emphasizes the value of using affiliate links in evergreen content on her blog. "If I direct people to my link in bio from an Instagram post, that post will get lost shortly after. When it's on my blog, people can find that link whenever they search for the topic I wrote about," the full-time content creator explains.
She earns an average $2K from affiliate links per month. Her Afrostylicity business earns five figures every month from all her revenue streams.
@Afrostylicity averages $2K a month from #affiliate links and earns five figures monthly from all revenue streams. #ContentBusiness #CreatorEconomy
Click To Tweet
Implementing SEO
In 2019, Joy began learning search engine optimization (SEO) to help her blog content rank in search engines. "I wish I started using SEO on my blog sooner," she says.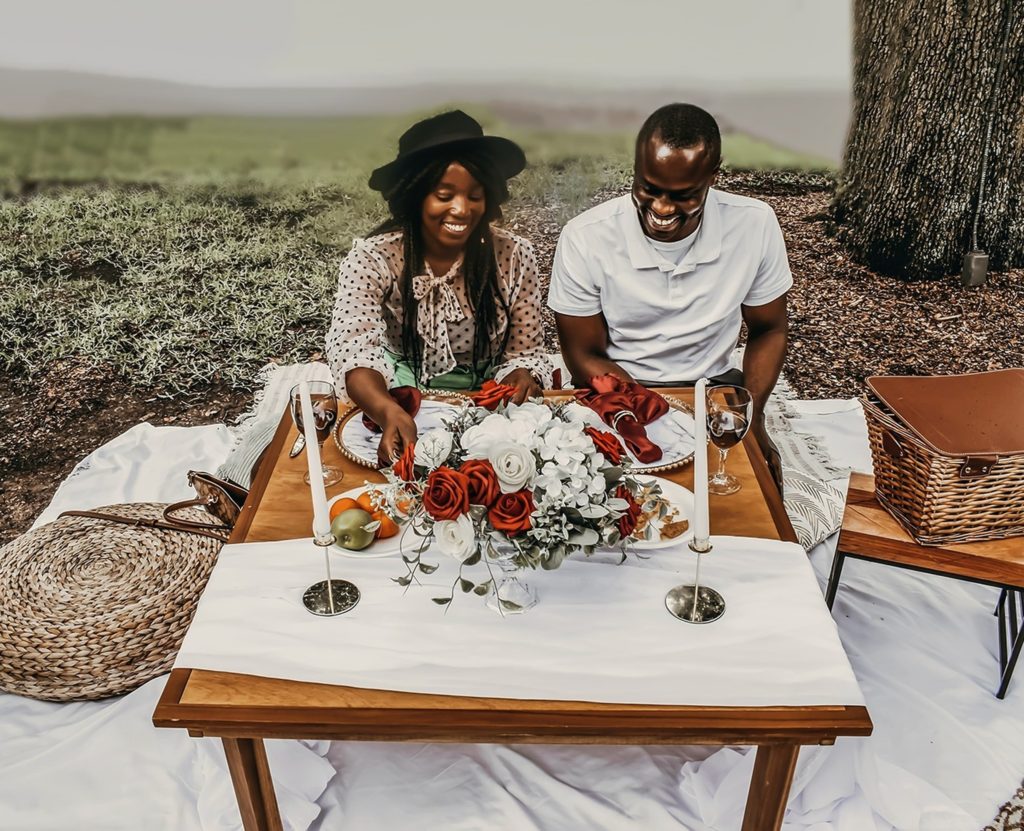 When she started the blog three years earlier, she was only focused on creating what she wanted to write about. "Now, I research keywords before I write a blog post because my blog is about what my audience wants and is asking for," Joy says.
She uses Keywords Everywhere, Google Trends, and Pinterest Trends. Joy has found Pinterest a particularly helpful tool for both keywords and content promotion: "Pinterest Trends is a search engine platform more than it is a social media platform. What you share on Pinterest can pop up on Google Search, too. I use Pinterest to drive traffic to my blog."
Afrostylicity has seen success with their SEO. For example, one of their articles ranks on the first page of Google for "best picnic places in Dallas."
Ask your audience
Joy doesn't rely on keyword research to understand what her audience wants. Before creating her upcoming Pinterest course, Joy quizzed fellow bloggers about their knowledge of the platform and explained how it could help grow their brand. Once she saw interest in her informal focus group, she realized her idea was viable.
Bringing in a partner
While Joy started her blog to cater to an audience of women, she soon learned there was a need for content inclusive of men. That's when her husband, now business partner, Hugh Zei came into the business. "One of our unique selling points as a brand is our male and female duality," they explain on their site.
Planning editorial
By the first of each month, Joy and Hugh already know what they're going to be posting for that month as well as the planned campaigns and travel. "We have a spreadsheet that we use to stay on top of everything, and then, of course, sometimes, things will come up like a last-minute travel sale that our audience would find valuable," Joy says.
They don't use a social media scheduling tool. They prefer to post their content in real time and use a separate account to test how images look on their grid.
@Afrostylicity doesn't schedule social media posts. They prefer to post in real time. #socialmedia #ContentBusiness
Click To Tweet
As far as the blog, Joy plans four value-packed posts a month. "I research the topic based on what my audience is asking for and SEO. I write a minimum of 1K words since that's (been a reported word count target for Google search rankings.)
"People aren't going to stay long on a site with a really short post. The bounce rate will be higher and Google doesn't favor that," Joy explains.
Bonnie owns Word of Mouth, a content agency specializing in social media, content marketing, and editorial writing. She's written for Marie Claire, Harper's Bazaar, Coveteur, Man Repeller, Health.com, and more. She loves wearing fanny packs and laying in the fetal position.