Entrepreneur: Charlotte Labee
Biz: Charlotte Labee
Tilt: Balancing brain for a fitter, more energetic, healthier life
Channel: Instagram Followers: 68.2K
Our Favorite Actionable Advice
Put your passion first: Charlotte didn't start to create a content business. Her goal was – and still is – to share information to help people.
Be authentic: Don't just listen to your audience, share with them your own stories, warts and all.
Don't stay single: As your business grows, you may need to hire people to help and/or to partner with others who can help you achieve a bigger vision.
The Story:
With the right side of her body paralyzed, Charlotte Labee got a clear message from her doctor: "If you continue to live your life like that for just another two to three months, you will end up in a wheelchair forever."
Seven years earlier, she reigned as Miss Netherlands. But her subsequent retail brand went bankrupt and her body was compensating for the heavy burnout. She responded to that wake-up call with a desire to balance her life.
But it wasn't easy. Her brain wasn't wired that way. She researched the brain and she researched it some more, striving to understand how it works, how food consumption affects energy levels, and more.
"It's so important to learn about the brain system to adapt to the modern world that is moving so fast. If our brain is not in balance, we can't handle all the changes around us."
Become a thought leader
Charlotte wanted to take what she learned to the masses. She began posting on Instagram and found like-minded people who wanted information on how to keep their brains fit and balanced. She started speaking at live and virtual events.
Her Instagram account went from a few thousand followers to over 50K in three years. In the beginning, she spent six hours a day posting and engaging with her community. "The first year, it was all about positioning myself as an expert. People would ask: 'Why are you an expert? Why do you claim that when you are not a doctor or have a major in neuroscience?'
"Building status was more important than the number of followers. I have had a clear mission and vision from the beginning, and I love what I do, so that made the job a lot easier," Charlotte says.
Today, her Instagram followers total over 68K. While she has a presence on all the major social platforms, she focuses most of her attention on Instagram as well as LinkedIn, where she has about 13K followers.
Tell your story
Charlotte knows her audience follows her because her topic is personal to them. Often, they share their stories and Charlotte shares hers – the ups and the downs, the pains and the gains.
She says stories also help people understand the science-backed information she shares in her content.
For Charlotte, those stories and other community interactions have given her a clear idea of what her audience wants. Her struggle? Narrowing her focus to a single niche. Her primary audience is women between ages 25 and 50 who have a family and career. But her other big audience share is made up of professional men. So instead of picking audience focus, Charlotte focuses on creating content for people interested in mental health and finding their brain balance. And she varies her topics based on the channels.
Getting into inboxes and on bookshelves
Charlotte expanded her brand to include a weekly newsletter. Over 25K subscribers signed up in two years. Then, she decided to write a book.
"The book was my own idea and everybody told me: 'You are really crazy – there are so many books out there, so who wants to read your story?' My take was more like: 'Even if there are only 100 people reading my book, there would be 100 people who are more brain balanced, so that is a success,'" Charlotte says.
Released in 2019, Brain Balance sold over 25K copies in the first year. In August 2020, Charlotte launched Brain Food, which became a bestseller in the first week. She's planning on three more books.
Sharer first, business model second
Until 2018, everything she did was free to consume. Her goal was to be a thought leader who imparted her wisdom to help people.
Within the last year or so, her revenue was sufficient to make a living. Today, her business includes five employees and a freelance team of digital content experts.
And she hasn't stopped. Last September, she and nine other partners launched a membership site, Your Brain Balance. It has over 3K members.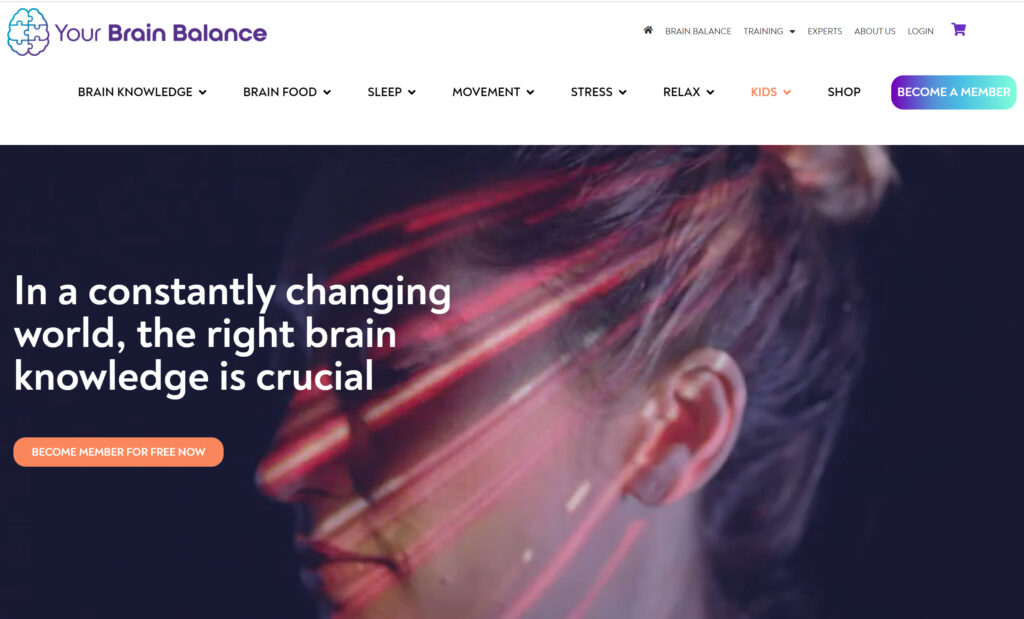 "I realized that I had too little time to share all the information that I wanted. It would be amazing to build a platform that could serve as a home for everybody who wants to know more about the brain," Charlotte says.
Still, Charlotte isn't motivated by making more money. She remains motivated by the rewarding feedback she receives from the community.
"One of my followers had a brain injury and started to follow the advice I shared. After two years, she had recovered completely, and she could live a normal life.
"She wrote me a handwritten letter and told me: 'You have become my online brain friend – the best friend I have ever had.' She talked about how she had suicidal thoughts and that the doctors have given up on her. She said: 'Thank you for the rest of my life.' That was so emotional," Charlotte says.
Check out her business
Website: www.CharlotteLabee.com
Channels: Instagram (68.2K); Facebook (14.4K); LinkedIn (13k); Twitter (1.5K); YouTube (2.6K)
This article is based on an interview by Joakim Ditlev.
Charlotte is one of the content entrepreneurs featured in the upcoming new edition of Content Inc. by The Tilt founder Joe Pulizzi. You can pre-order your copy before the May release.