A self-published author, Dakota Krout wrote his first LitRPG (literary role-playing game) fantasy fiction book in 2016 as a hobby. He published and sold it through Amazon. He tells Insider he didn't even hire a copy editor or cover designer to help him.
A review on social changed his trajectory. The reviewer posted to the 10K-member Facebook Group LitRPG Books. He didn't know about the group, but he joined as soon as they tagged him. A month later, book sales totaled $5,000, according to his Insider interview.
As Dakota tells Insider, he then immersed himself in learning about writing and starting a business while interacting at events with the larger community. He's now written dozens of books in the bestselling Divine Dungeon and Completionist Chronicles series. He's been a top 10 bestseller on Audible and a top 15 best seller on Amazon.
Along the way, he also launched a Patreon subscription service, and he and his wife, Danielle, founded the publishing company Mountaindale Press.
In 2020, Insider reports the now 30-year-old earned over $1.8M.
Why we're a Stan: When opportunity unexpectedly knocked in the form of a social media review, Dakota enthusiastically opened the door to become a content entrepreneur. He recognized that writing a book as a hobby wasn't going to get him far in business. Dakota charted his own content entrepreneurial education path. And while he's had tremendous success, he's never taken his eye off the core product – his literary role-playing game fantasy fiction – that drew his audience in the first place. (Oh, and he did bring in the pros to redesign his original covers.)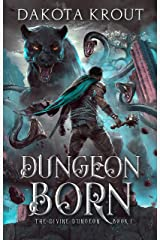 Ann regularly combines words and strategy for B2B, B2C, and nonprofits, continuing to live up to her high school nickname, Editor Ann. An IABC Communicator of the Year and founder of G Force Communication, Ann coaches and trains professionals in all things content. Connect with her on LinkedIn and Twitter.