After a decade-plus of teaching techniques in my Comic Book School, I recognized something extremely important: Most people did not complete their projects.
Every year, I would see many of the same faces, but few returned with a completed comic book. Like most content creators, they started with good intentions and fizzled out in a few months. After one of my classes at New York Comicon, aspiring creator Erin Donnalley detailed her plans for completing a Lord of the Rings-length epic comic series by next year. I replied, "No, you won't."
@ComicBookSchool creator @BuddyScalera found most students start with good intentions but fizzled out before their projects were complete. So he came up with a solution. #CreatorEconomy
Click To Tweet
Instead, I challenged her to complete eight pages – the standard-length comic story – in one year. It seemed like the perfect length for someone taking their first step into publishing. Then, I took that concept to my audience. I reached out to Comic Book School newsletter subscribers and social media fans to help on a new project. A small group of hands shot up and I had a diverse community of advisors – the Council of the Willing.
Community council helps implementation
The Comic Book School's Council of the Willing guided my decisions and planning. We set up message boards on my site. It would have been easier to use a social platform, but Joe Pulizzi and Robert Rose's words about building on rented land reverberated in my mind.
@BuddyScalera asked his @ComicBookSchool audience for help on a new project. A small group of hands shot up. The Council of the Willing was formed. #Community #CreatorEconomy
Click To Tweet
We planned an eight-page challenge to help a handful of students in an experiential-learning program. The goal for each was to create a story that would be ready to hand to editors and publishers at the next New York Comicon. I initially called it The Road to NYCC.
We created an outline, had it validated by a professional comic book editor, and started "sloppy" – our phrase for "not everything has to be perfect." We told the students we were making this up as we went. That openness gave them the confidence to provide real-time feedback to our council and our editors on the message boards. They gave us the space to experiment with the program.
The Council of Willing for @ComicBookSchool helped @BuddyScalera create a challenge where students would complete an 8-page story, using the site's message boards and feedback to help.
Click To Tweet
I couldn't have done all this work alone. The Comic Book School Council of Willing was key. This group of remote advisors contributed to design, content, social media, and even back-end technology. It was a group effort and people I'd never met were helping to create a fun and interactive online community.
Using message boards for follow-up conversations and more
In that first cohort, we used an all-ages Avengers script that I had written for Marvel Comics as a guide to walk students through the creative process, from concept to completion. I broke down every step in deep detail. It wasn't a theoretical discussion. It was a long-form example and a practical guide for how modern mainstream comic books are made. These became long articles on the website that then guided the conversation to the message boards.
When the pandemic hit, the role of the message boards' expanded to bring a lifeline of normalcy and creativity to the community. We hosted weekly chats and encouraged conversation.
We gave each other feedback. We broke down the process of making a comic into 12 logical steps.
Each student in our inaugural experiential-learning program was required to post each step of their creation on the message boards. The community was encouraged to give them feedback on their script, art, and more.
Visiting the website was functionally (and emotionally) important to the participating students, as well as to people who wanted to use their pandemic time to create something. As people heard about the Comic Book School, our message board community and newsletter subscribers grew. Admittedly, we were a bit too sloppy sometimes, but the community seemed to respect transparency and honesty. They told us what was working, what needed to be improved, and what kind of content they wanted.
Involving unexpectedly available experts in the community
We included real-time conversations with working pros from Marvel Comics, DC Comics, Image Comics, and other publishers. As a working comic book writer, I leveraged my experience and network to involve pros in focused, peer-level conversation.
With COVID-19 raging, booking guests who would talk at length with our community was relatively easy. They offered actionable advice about how to break into comics, succeed in the industry, and create comics for a living – all content tilts addressed at Comic Book School.
Publishing award-winning anthology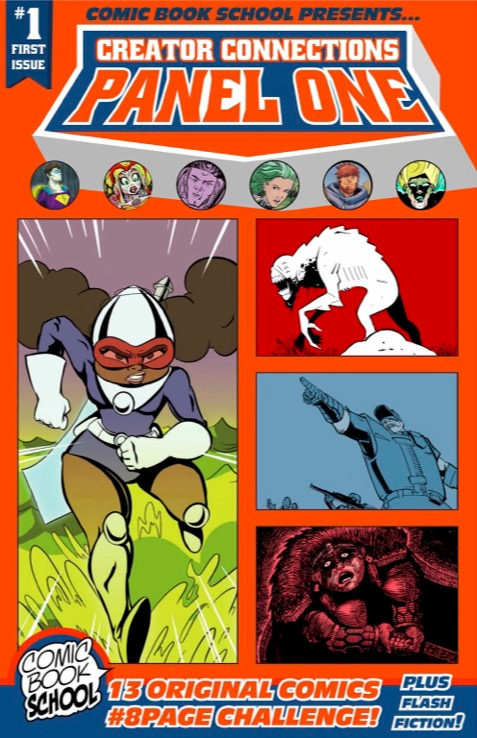 When the in-person New York Comicon – the target date for the eight-page story challenge – was canceled, the group just kept working on their comics.
Now, the first class in our eight-page challenge had grown and we decided to compile a digital anthology. Later, we decided to include a few short flash-fiction stories with single-page art. We decided to be flexible and open-minded about the stories. We championed completion over quality so that people could know what it was like to finish something.
In the end, we published a 144-page anthology of comics and flash fiction as a free downloadable ebook on the Comic Book School website. There were 32 contributors from diverse backgrounds and regions, including the US, Europe, and Australia. It was the first published work for 28 of them.
28 of the 32 contributors who completed stories for @ComicBookSchoolanthology were first-time published authors, says @BuddyScalera. #CreatorEconomy
Click To Tweet
The anthology won industry awards, including Best Anthology and Best Short Story from the community of Indy Advocate. It also earned Best eBook in the Content Marketing Awards.
In 2021, we updated the eight-page challenge curriculum with insights learned from the first year. We published a second anthology with several returning creators and a handful of new faces.
At least one of our contributors used the experience and contacts to get paid writing work with an independent publisher. Two others are getting their comics published by other publishers and are using the community to cross-promote their work.
Expanding to YouTube and growing channels
We also launched our YouTube channel for ongoing learning. We consistently go live at 8 p.m. every Tuesday with focused discussions about making comics. We've hosted many guests and continue to build a deep resource of learning materials.
As we continue to tilt, we're focusing on adding 201-level content to complement our original 101 content. We also see an opportunity for in-house publishing resources to guide creators to level up their skills – a gap we didn't even realize until our experiential learning pilot.
Next up, we are looking to build our learning into logical platforms like NFTs. Our community includes writers, artists, animators, filmmakers, marketers, and technical professionals. The plan is to learn together and then build some gravity behind our NFT drops.
The @ComicBookSchool has realized a simple vision: If you want to go faster, go alone. If you want to go further, go together. We're going together. #Community #CreatorEconomy
Click To Tweet
We grow the Comic Book School with a simple but clarifying vision: If you want to go faster, go alone. If you want to go further, go together. We've seen what it is like when we go alone, so we are going together.
Buddy Scalera is the founder of Comic Book School. He is a content strategist and digital pioneer with over 15 years of pharmaceutical multichannel marketing experience. He is an innovative team leader delivering excellence in digital marketing strategy, content engineering, website development, social media, distance learning, mobile marketing strategy, content creation, and content governance.
Buddy is a respected thought leader in the strategic and technical aspects of component content management systems (CCMS). He has developed enterprise-level CCMS platforms for web, social, and mobile content delivery.
He is currently working at IQVIA as Director, Commercial Content Product Management.