The most profitable monetization channel for creators? Online courses and workshops, according to The Tilt's inaugural content entrepreneur benchmark research.
With in-person events canceled and little to do during the lockdowns in the pandemic's early days, people's appetites for virtual events skyrocketed — and it's only grown since then. Between 2019 and 2021, student demand for courses has shot up across popular creator categories – 1,270% for personal development topics, 2,300% for fashion and beauty, 2,650% for health and fitness, and 3,600% for software and technology, according to Closing the Gap: 2022 Online Learning Trends from Thinkific, an online learning platform.
Online courses and workshops are the most profitable revenue stream for #ContentEntrepreneurs, according to creators surveyed by @TheTiltNews. #CreatorEconomy
Click To Tweet
And creators, with their own audiences and marketing channels, were the perfect people to meet that demand for online courses. They didn't even need a platform of millions of followers to find students. According to the Closing the Gap research, a whopping 62% of online students were taking courses from creators with fewer than 10K social media followers in 2021.
A @Thinkific survey found that 62% of online students took courses from creators with fewer than 10K social media followers. #ContentEntrepreneur #CreatorEconomy
Click To Tweet
But how does a creator get started teaching an online course? We checked in with creators and online course experts to get some secrets.
Why create online courses?
The potential benefits are many – more revenue, a wider audience, an opportunity to spread your message, etc. Unlike rented land, aka social media platforms, where your reach is at the whim of ever-changing algorithms, online courses are controlled by you. Because of that, they often can provide a steadier revenue stream.
"You bring your community to you," says Henk Campher, Thinkific's chief marketing officer. "Instead of being dependent on another platform, like an Instagram, you are the platform. So, when you have your courses and you have the audience captured, you can engage with them. You can do an upsell with them. You can do freebies with them … versus waiting for someone else to tell you the algorithm."
#OnlineCourses bring your community to you. You don't need to depend on a social media platform to bring them to you, says Henk Campher of @Thinkific. #ContentBusiness
Click To Tweet
When is the right time to launch online courses?
In reality, there's no single signal. "Any time is the right time, in my opinion, especially if you have a topic that you're passionate about and want to explore further," says Jimmy Huynh, marketing training programs manager for Kajabi, an online learning platform.
For content entrepreneur Christina Rozema, founder of New Wellness Perspective, the time came after she wrote an ebook to help friends and colleagues live healthier. She had been recovering from a heart attack induced by her high-stress health care career.
"After the ebook, I was open to what can I do to help my friends, basically," Christina says. She was listening to a wellness podcast and somehow landed on Screw the Nine to Five by Jill and Josh Stanton, who also run the Wealthy Course Creator. She took some online courses and realized the medium would be an effective way to spread her message too.
Monique Melton of Shine Bright School had been doing business and brand development coaching from home. A few years in, she thought more about the importance of Black liberation and anti-racism. Those terms might be well-known now, but they were hardly rolling off the tongues of the general population in 2018 and 2019 when Monique launched her first classes. But that didn't stop her. Since then, she's taught thousands.
"You've got to convince yourself that you should do it," Monique says. "Because, a lot of times, when you're trying something new that you've never done before and when you start to look and see that other people are doing, and they seem to be doing it well, that fear of failure can just rip you up and stall you in your process."
Creator and educator @MoeMotivate says creators shouldn't let fear of failure stall them in their #OnlineCourse publishing process. #CreatorEconomy
Click To Tweet
How do you decide what to teach?
As far as topics, the sky's the limit, as Thinkific's Closing the Gap report says. Few niches are too niche-y. But how do you even figure out what to teach?
Refer to your content tilt. For some creators, your teaching topic might be obvious, especially if your channels are educational by nature, says Marc Maxhimer, The Tilt's director of education and training. "You might be ready for courses sooner than a travel blogger."
But if your content tilt doesn't easily lend itself to course topics, Monique, who advises others on building online courses, says you should ask: "What are some of the most popular questions that people ask me?"
"Start with something that, if you lost your notes, you could still do it," she says, "because then it's going to feel like, 'I got this. I know what I'm talking about. I can do this.' And then you build on it. You add to it, and you go from there."
Listening to your audience is another way to nail down online course topics, Marc says. Posts and surveys can help drum up both ideas and future interest.
CAVEAT: Online course revenue doesn't have to come from the students, Marc says. You could consider a business model where a brand pays to attach its name as a course sponsor. Or you provide the course at no charge and upsell extra content, access to you, or a private community.
Revenue from online courses doesn't have to come from the students. Get a sponsor and offer the class for free. Or offer a free class and upsell extra content, additional access, etc., says @MarcMaxhimer, course creator at @TheTiltNews.
Click To Tweet
What kind of audience do you need?
As a content creator, you probably already have one. When Christina launched her online courses, she simply reached out to her friends and colleagues, and her audience grew from there. Monique had a network of contacts from her coaching business, public speaking gigs, and other projects. "But I didn't have a big audience; I didn't even have 5K Instagram followers," says Monique, who now has 286K followers.
You need an engaged audience. "It comes back to you have to know your audience and listen to your audience," Marc says. "You could start a course with a small audience if they are super fans, and you're probably going to be able to charge a little bit more to those super fans because they are willing to pay."
What kind of marketing is required?
According to Thinkific's Close the Gap report, social media traffic is, by far, the top way for course creators to attract students. Some 58% of respondents say that's their preferred method, followed by lead lists at 34%, word of mouth at 26%, paid advertising at 23%, and a built-in audience at 19%.
Christina relies on word of mouth and Facebook ads. Most of Monique's audience comes from Instagram. To boost her visibility, she takes advantage of every feature on the platform — from stories to lives, posts to carousels. And, she says, her direct-message strategy is "award-winning."
Christina Rozema @virtu1473 uses word of mouth and Facebook ads to market her virtual wellness classes. #CreatorEconomy #ContentEntrepreneur
Click To Tweet
When somebody reshares one of her posts, she's not shy about messaging them to thank them. If the post includes a mention of a class, she'll encourage them to sign up. That connection drives interest – and sales, Monique says.
Sometimes potential students need a little extra push before they commit. "You have to tell people what you have," Monique says. "If you don't tell them, they won't know. And then, you have to sometimes help them see how it will help them. They don't always make that connection."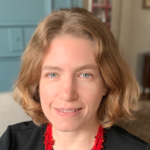 Sarah Lindenfeld Hall is a longtime journalist, freelance writer, and founding editor of two popular parenting websites in North Carolina. She frequently writes about parenting, aging, education, business management, and interesting people doing remarkable things.