Welcome to The Tilt, a twice-weekly newsletter for content entrepreneurs.
In Friday 5s: Follow the steps to build a solid ground for your community. Discover how many creators say it's their business in a new Adobe survey. Plus, 5 Things To Read, Watch, or Hear.
​
---
​
5 things
to do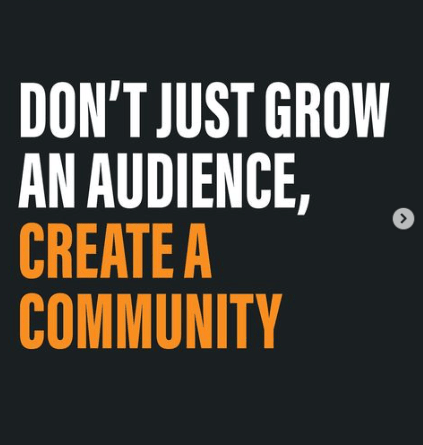 An audience and a community aren't the same thing. As Mark Master explains: "An audience is made up of people who agree to receive information from you. If the content is good enough, more people come on board. You can monetize; you can connect; you can grow."
While an audience is necessary, a community isn't required. However, it's a good choice to build a network eager to connect, and ultimately, spread the word about your content mission. Here are five things to do to create a strong community:
1. Write a community mission statement: Think about how the community fits into your business model. What do you want to achieve through your community? Then, think about the potential community members. How will they benefit by joining the community?
2. Decide on admission criteria: Will your community be open to anyone? Or will you limit it to subscribers to your content? Or do you want to have a paid-only community? Can community members invite others to join? Will you have different tiers or access levels?
3. Establish and enforce guidelines: Set the ground rules for community interaction – from behavior (i.e., no personal attacks) to topics (i.e., no self-promotion or advertising). Identify the penalties for not following the guidelines, such as issuing a warning, deleting content, or removing the person from the community. Ask community members to agree with the guidelines when they first sign up. Then, enforce them every day.
4. Pick a primary platform: Don't expect your members to show up on Facebook, Discord, Slack, your website, etc., to participate in the community. Select one gathering place. If it's a third-party platform, make sure it's a place where your audience likely already gathers for other communities. Asking them to use an unfamiliar platform adds an unnecessary hurdle.
5. Do a soft launch: Get the conversations going before publicizing the community to a wide group. Invite your most engaged audience members and fans to join you in a pre-public launch. Post conversation starters, encourage them to respond, reply to their comments, etc. Then, when the public launch occurs, prospective community members will better understand what to expect.
More resources:
​
---
​
5 things at
the tilt

​
---
​
5 things to
know

Money
Audiences
Tech and Tools
And Finally
---
​
5 things to
read, watch, or hear

​
​
---
​
---
​
the tilt
team

Your team for this issue: Joe Pulizzi, Pam Pulizzi, Ann Gynn, Laura Kozak, Marc Maxhimer, and Dave Anthony with an assist from Alberto Cabas Vidani.
​