As much as I love what Gary Vaynerchuck did with his VeeFriends NFTs and VeeCon event, those tickets last only three years. They expire. While this model worked for Gary and his community (and made him a lot of money), I think there is a better way: Never-Ending Tickets (NETs).
In late October, on the Content Inc. podcast (episode 312), I raised the idea of using an NFT (non-fungible token) as a Never-Ending Ticket. (I prefer referencing the ticket as a NET over a perpetual ticket because the latter sounds too much like mortuary school or a funeral mass.)
A NET is a ticket that literally never ends. We're publicly launching our first NET with today's announcement of Creator Economy Expo 2022.
@JoePulizzi sees #NFTs as the vehicle to create Never-Ending Tickets. He's put it into action with the new Creator Economy Expo (CEX) event. #ContentEntreprneurs #Creators #Influencers
Click To Tweet
Whether you acquire one of these Never-Ending Tickets (NETs) or not, I want our process to be helpful for you and your content business, so let's walk through the plan and process.
Step 1: Build the audience
Don't rush into a NET project (or really any NFT project) like so many do with their NFTs. They announce their NFTs, rush to build a Discord-type server, do spam-like outreach to everyone else to build a buzz, and then mint their tokens and try to sell them.
This short-term thinking works about 1% of the time. So it's not impossible, but it's most likely to fail and possibly damage the creator's reputation as all hype, no (or little) substance.
The better method – the long-term, more sustainable approach – requires the creator to first build the audience by following what I call the Content Inc. model. In simplest terms:
Identify your sweet spot – the intersection between your expertise and the audience's desire.
Figure out why your content is worthy or differentiated – your content tilt.
Create the base – one core platform where you publish and distribute your content, such as a newsletter, blog, podcast, YouTube series, Twitch stream, TikTok channel, etc.
Promote that content in multiple channels – acquiring your fans, followers, and subscribers.
Don't rush into a Never-Ending Ticket #NFT project like everybody else. Short-term thinking works about 1% of time. Build an audience first, says @JoePulizzi. #CreatorEconomy #CEX #Contententrepreneurs
Click To Tweet
Step 2: Move up the subscriber hierarchy
If your content base is an email newsletter or owned membership site, you can skip this step. If it's anything else, you need to move your audience to something you have more control over.
YouTube series? Now, create a newsletter or email offering people find worthy enough to give you their email address. The same thing goes for a podcast, Facebook group, Instagram, Twitch, TikTok … whatever. The opt-in permission lets you connect directly with your audience member (which you can't get on a platform you don't own).
Step 3: Get the community talking to each other
Once you can talk with your audience by email, offer up a community channel, like Discord or Telegram. Now, your audience can become a community and talk to each other.
So many NFT creators start at this step, but that is so difficult to do successfully. I'd rather build my content expertise, develop a following on a particular platform, and work up to the community part. Of course, there is never one way to peel a banana, but this order is my preference.
Building a successful NFT project boils down to building and cementing trust with the audience. They need to have faith in the creators (same for a community token model.)
Step 4: Create an event
Launching an event is one of the most lucrative ways a content creator can monetize their audience. When we launched Content Marketing Institute, more than half of our revenue and profit came from our big event, Content Marketing World. Simply put, it works. Your event can be virtual, in person, or hybrid. (I prefer in person, which has a higher revenue ceiling than a virtual event.).
Now, here's where your Never-Ending Tickets make an appearance. Create a small number of tickets as NETs. As far as pricing, if you want them to sell quickly, which might be the goal for larger events, you can set a lower price. I've seen some as low as 0.2 ETH. A smaller event offering a NET as a VIP-type ticket, like we're doing with CEX, should be priced about three to five times the regular one-time admission. To attract NET buyers, offer whatever VIP or exclusive experiences you deem, but the more and more differentiated, the better.
Create a small number of Never-Ending Ticket #NFTs and make them like VIP-type tickets, says @JoePulizzi. #CEX #CreatorEconomy
Click To Tweet
Of course, that advice may evolve. We're all new to this and everyone, including The Tilt, is in the experimentation phase. Experience level, exclusivity, and scarcity drive the NET's price. (You also can set escalating prices. For example, after 25 NETs are minted, the price goes up.)
You also should set up ticket options for the wider community. Consider offering a la carte as well as all-access tickets.
Step 5: Promote down the ladder
Then release your promotion machine. Create content on your base platform, promote on your social channels, describe in your email newsletter, and discuss in your community.
Step 6: Sell the tickets
Your most valuable and loyal audience members should get the first crack at the limited NETs. These are your community members who are the most involved. Then, you should open the remaining NETs to the public along with one-time traditional tickets.
CAVEAT: NET customers need a digital wallet. For example, through a platform like Coinbase, they would purchase Ethereum, then move that ETH to MetaMask to finalize the transaction. Given most audiences do not have digital wallets, you should be prepared to provide a lot of education, including a walk-through tutorial on how to mint their NET.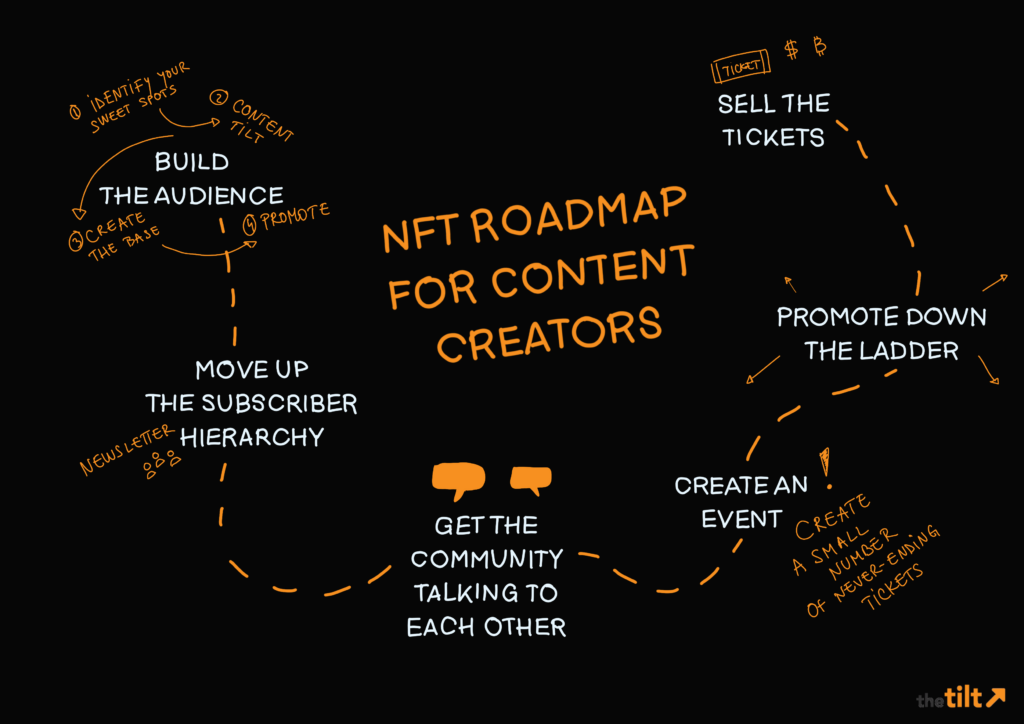 How The Tilt launched its NET for new Creator Economy Expo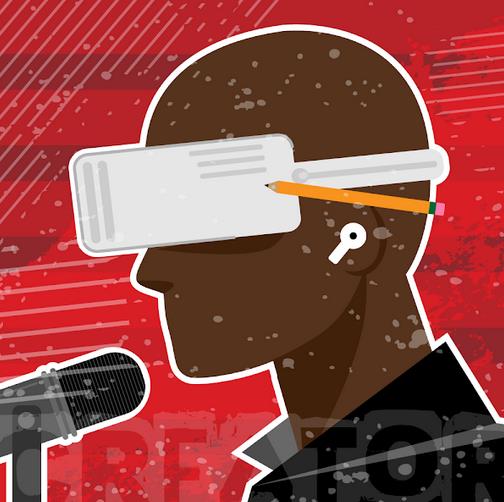 We followed this exact model to develop our Never-Ending Ticket for the new Creator Economy Expo event.
Our audience encompasses content creators who want to be content entrepreneurs. We focus on helping creators living in Web 2.0 be prepared for and succeed in a Web3 environment (step one).
We skipped step two because our core platform is an email newsletter (step three). While this is the best model, in my opinion, we have to work much harder to gain an audience because we are not publishing in a space like YouTube or TikTok where people are already gathered and are more likely to find us.
Once someone subscribes to The Tilt's newsletter, we incentivize them to join our community on Discord by sending our community token, $TILT coin (step four). Since our April launch, we've added 12K subscribers and 1K members in our Discord community.
@JoePulizzi reveals how @TheTiltNews launched its Never-Ending Ticket #NFT for the new Creator Economy Expo. #CEX #ContentEntrepreneurs
Click To Tweet
Now, we've moved to step five – creating an event. CEX – The Creator Economy Expo is May 2 to 4, 2022, in Phoenix, Ariz. We plan to admit over 500 to this event, so we opted to sell 100 CEX Never-Ending Tickets. These tickets let the holder gain access as long as we hold the event and admission to all VIP parties. In addition, 38 of the 100 NETs contain additional perks. (ETH minting prices ranged from .75 to 1.25 ETH.)
While we may lose out on some initial revenue by limiting the first NETs to 100, we intend to set a precedent for what's possible at a true-business-oriented event. As an event producer, the revenue from the NET launch helps us fund the physical event itself. Any in-person event is expensive to produce, especially a first-year event because it has no precedent or credibility yet. The NET launch made quite a few of our event startup funding problems go away.
Ten days prior to today's public announcement, we announced the event to The Tilt Discord community. Four days ago, The Tilt VIP community members had the first purchase to own the NETs. Initial reaction prompts us to anticipate a successful launch leading to a quick sellout.
Overall, I have learned so much from this NET project. I truly feel we are doing something innovative. To my knowledge, no organization has launched an NFT program quite like this. In the next few years, I anticipate Never-Ending Tickets becoming a standard offering with most conferences and trade shows.