Welcome to The Tilt, a twice-a-week newsletter for content creators who want to be or already are content entrepreneurs. We talk aspiration, inspiration, revenue, audiences, tech, trends, and more to help your content business thrive.
---
full
tilt

What is a Content Business?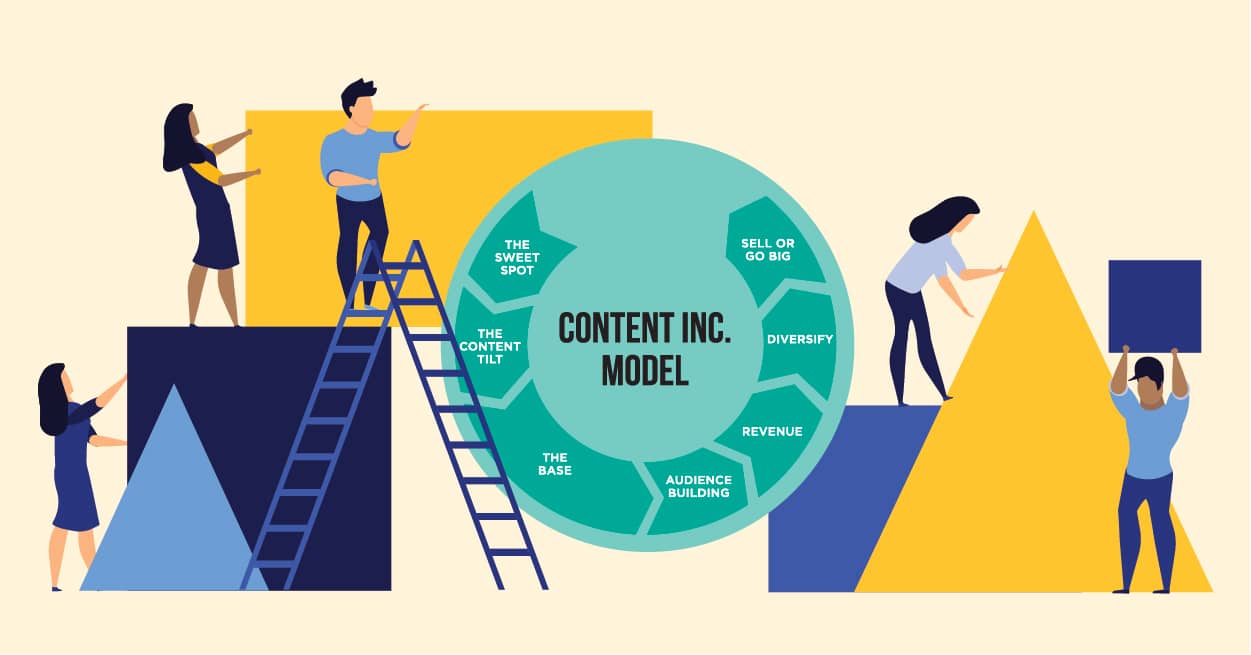 The crazy thing about starting a content business is that it's not like launching a more traditional business. You can't just make a plan and a few months later open a storefront, stock it with products, and market it to bring in customers.
Nope, a content business requires you to plan your content strategy – your sweet spot and content tilt (steps 1 and 2), construct your base – single format on a single platform (step 3), bring in an audience (step 4), and start earning revenue (step 5).
And that takes an average of 18 months, according to Joe Pulizzi, founder of The Tilt and author of the recently released Content Inc.​
– Ann Gynn
To learn the last two steps, which number is the make-it-or-break-it step, examples to help you create a vision for the stage, and how content businesses are like traditional businesses, read the longer story.
---
Instagram Creator Helps Other Influencers Monetize Their Brands
Entrepreneurs: Lissette Calveiro
Biz: Lissette Claveiro personal brand (agency: Influence with Impact)
Tilt: Honest and inspirational stories to help influencers
Channel: Instagram (51.7K)
Marketing channel: TikTok
Rev streams: Sponsored content, brand partnerships, speaking engagements, coaching
2020 revenue: $201K
Our Favorite Actionable Advice
Look for the spark:

Lissette strategizes her Instagram content by asking, "How will this piece of content spark up a conversation with the people I want to attract?"

Get a content mission:

Figure out what your mission is and who your audience is. Ask what type of transformation you want for them.

Post frequently on TikTok:

It wasn't until she started posting multiple times a day that her TikTok audience grew exponentially.
Some of the Story:
In 2018, after nine years in PR and social media, including a role as director of influencer marketing at Ogilvy, Lissette Calveiro started her own agency Influence with Impact. But in the process of helping others optimize their influence and content creation, the Latina CEO became an influencer and content creator herself.
Though she started her personal Instagram in 2011, a few years ago, she actively created a content strategy to grow her account. Today it has 57.1K followers. "It took about four years to actually know what the heck I was doing," Lissette says. "But the moment I started taking my Instagram account more seriously, it took me less than a year to start making money from it."
When it comes to her Instagram strategy, she focuses on searchable and relatable content. "I think to myself: 'How will this piece of content spark up a conversation with the people I want to attract?' I can tell my audience something in 10 different ways. So which way will make someone feel seen, someone feel heard today?"
Before her strategic postings, she created content about acai bowls, expensive clothing, and lavish vacations. Then she opened up about going into $10,000 in debt to keep up with that influencer lifestyle.
Lissette's Instagram, which only had a few thousand followers, grew by tens of thousands after she implemented her content tilt – honest and helpful influencer marketing advice. In 2019, she joined TikTok (31.5K), which she uses to drive traffic to her Instagram channel.
Lissette's advice to aspiring content creators and influencers is to get clear about your content mission and audience. "Figure out what your mission is, what type of transformation you want for people, and who you want to make that transformation."​
​
– Bonnie Azoulay
All the Story: To learn more about Lissette Calveiro, the content entrepreneur, how she balanced two full time jobs and the mix of her income today, check out the longer story.
Know a content creator who's going full tilt? DM us or email [email protected].
---
​
quick
talk

Caught on … Newsletter Glue​
"
Every rejection is a tiny piece of feedback to help you improve.
" –
Lesley Sim
​
---
​
things to
know

Money
Audiences
Tech and Tools
And Finally
---
​
we're a stan for
Corinthius

There are a lot of Minecraft and Minecraft-related streamers in the world. Corinthius focuses their YouTube videos on 100 Days content. To the uninitiated, 100 Days refers to the number of in-game days your character survives. In the game world, a "day" might equate to about 20 minutes of play time. (Also to the unfamiliar, that's a really long life.)
"(Corinthius) often pushes the creative boundaries with Minecraft and comes up with some of the most unique challenges one can think of," writes Sportskeeda.
In an interview with Sportskeeda Esports' Abhishek Mallick, Corinthius (no real name ever given) says: "While people see my recent success, what they do not see is the full year of hard work, posting weekly and then biweekly videos …
"As I began to grow, I made friends with bigger YouTubers, such as xNestorio, who gave me some pointers in how to grow steadily on YouTube and now here we are."
Based on their YouTube contact info, Corinthius is repped by AFK Partners, a talent management and influencer marketing agency dedicated to esports and gaming.
You also can find Corinthius streaming and posting on Twitch, Twitter, and Instagram. (Corinthius hasn't released their real-life name for security reasons.)
Why we're a Stan: Corinthius kept their videos unlisted until they found their content tilt – 100 Days content. When they started the 100 Days content, the channel had 800 subscribers. Now, it has over 338K – what great proof that the content tilt idea works.
---
​
the business of
content

​This week on the Content Inc. podcast, an interview with the amazing Ann Handley, who built her newsletter to over 50K subscribers in just a few short years. She details how she did it and what's next.
In the latest This Old Marketing, Robert raves about the Salesforce 360 movement, while Joe comments on Google knowledge panels.
​
---
​
the tilt
team

Your team for this issue: Joe Pulizzi, Ann Gynn, Laura Kozak, and Dave Anthony, with an assist from Bonnie Azoulay and Don Borger.