Welcome to The Tilt, a twice-a-week newsletter for content creators who want to be or already are content entrepreneurs. We talk aspiration, inspiration, revenue, audiences, tech, trends, and more to help your content business thrive.
---
full
tilt

Do People Know What You're About?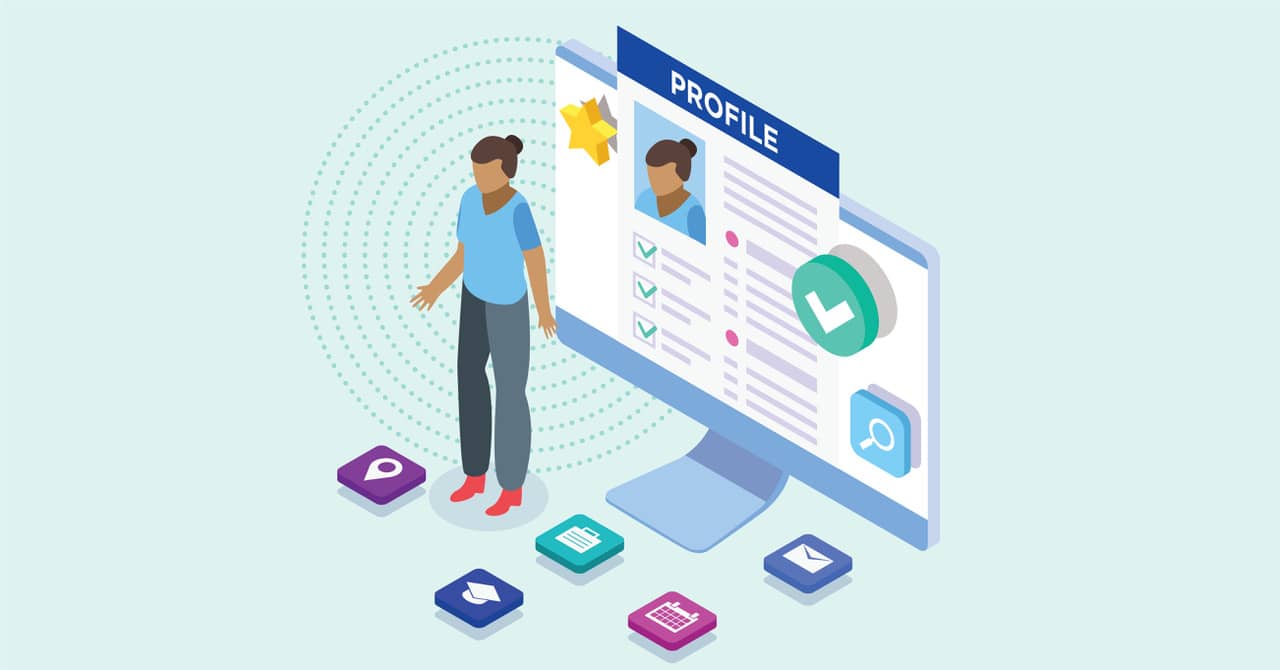 About pages, bios, profiles, channel descriptions – whatever the name – are valuable real estate that shouldn't be ignored or be done half-assed.
Interestingly, while the about page or bio is cornerstone content for your business, it usually isn't the first thing visitors see. They often come through a piece of content. When that entertains, informs, or just intrigues them, they start a digital investigation to see what this content creator is all about.
What will they find out about you? Since you control the narrative, that's up to you. But it shouldn't be too difficult to create a narrative about your content business if you already have your tilt and detailed your mission. After all, they speak to the who, what, why, and more you're creating.
Use that to create engaging descriptions that are memorable and motivate visitors to connect further with you and visit your owned and rented land.
The Tilt Advice
How do you craft a spectacular biographical narrative for your content business? Well, you can't create just one and use it on every platform. Tailor each description to where it's going to be seen but tie all of them together for consistent branding.
We recommend making the about page on your website the grounding narrative. You can pull excerpts from it and modify them to craft your social media bios, profiles, or channel descriptions.
Writing the about page
Be detailed and enticing as you tell the story of you and your business. First, explain who you are. This is not your life story. It's the story of who you are as a content entrepreneur in relation to this content business.
Next, detail the who of your content business. What does it provide? Who does it serve?
When those narratives resonate with your about-page visitors, they're likely to read on. Now give them the details of your content, such as frequency, and include calls to action.
Creating social bios
With your lengthier about-page complete, it's time to move onto your social media descriptions. In most cases, the shorter the better. That means you can only hit one to three points of what your business offers the audience. In fact, you really should get to the main point in the first 150 characters or so.
Stay focused on what the particular platform's audience would most likely want to know about or act on with your content business. For example, a Twitch about page may include chat guidelines and chat commands along with the usual stuff, while a Twitter bio might include a few popular hashtags relevant to your business.
If you have more to say than is allowed – or manageable – include a link to your about page or link tree.
Growing a link tree
A link tree is a simple list page where visitors can easily click on your offer, social media link, merchandise page, etc. Link trees began as landing pages for Instagram creators. Today, content entrepreneurs use them when they don't have a website to link to or want to make the CTAs as simple as possible.
Use only a word or two for your click-button labels. Otherwise, many visitors will turn away quickly because it's too much work to scrutinize each option. Linktree is the most popular tool to create them, but there are plenty of alternatives – some of which let you adjust the URL, letting you put your brand stamp on it.
And that's what it's all about.
– Ann Gynn
To see examples and view how one content business executes this strategy, read the longer story.
---
Illustrator Tyler Feder Tumbles Into Instagram and Book Success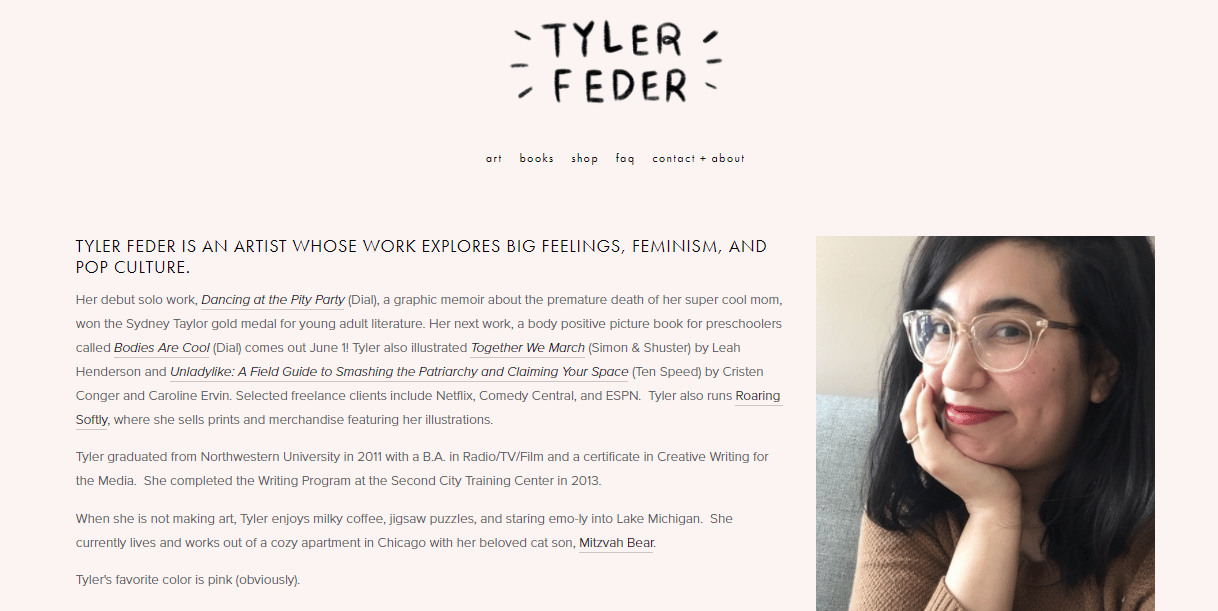 Entrepreneur: Tyler Feder
Biz: Roaring Softly
Tilt: Illustrations of an authentic life
Channels: Instagram (69.2K) Twitter (13.3K)
Rev Streams: Instagram, commissioned art through Etsy and website, published books
Our Favorite Actionable Advice
Don't follow trends:

Your content should be unique, and that requires doing what works for both you and your audience.

Post consistently:

To monetize your content, you should publish it regularly to manage your audience's expectations.

Make your ice cream:

Tyler gained traction when she illustrated characters from the show Parks and Rec as ice cream types. Think about how to tie your content to a bigger picture.
Some of the Story:
Relatability online isn't always about showing your face. Sometimes, it's about sharing your story. Illustrator Tyler Feder has found a way to share the most vulnerable moments in her life through her art, and it's landed her tens of thousands of dedicated fans and a handful of book deals.
Her childhood hobby found a platform when Tyler began sharing her illustrations on Tumblr. That was long before she made the leap to Instagram and eventually monetized her content, established a client base, and accepted publishing opportunities to create a content business.
Much of her work follows Tyler's own experience with mental health, grief, body acceptance, and being a woman in her 30s navigating the ever-changing world. While her content is often specific to her own life, Tyler's posts are relatable. A quick scroll through the comments on nearly any picture proves how Tyler has captured her audience: sharing the raw parts of herself as she meets them and allowing the world to be her mirror.
A stroke of luck and a post that hit the heartstrings of television workplace comedy fans started it all and attracted a lot of followers. "I drew this silly doodle of each main character on Parks and Recreation represented by a type of ice cream," Tyler says.
After her digital illustration company Roaring Softly took off online, Tyler connected with Penguin Random House, where she's published two books: Dancing at the Pity Party and Bodies Are Cool for kids of all ages.
Tyler offers advice to fellow content entrepreneurs who are still striving for success: "When I started posting my art on Tumblr, I was trying all these things that I thought were trendy, and no one was biting. When I started drawing things that appealed to my own tastes, that's when I slowly started to gain traction."
– Kelly Wynne
All the Story: To learn more about Tyler Feder's journey and her advice for what content entrepreneurs starting out should do, check out the longer story.
---
​
quick
talk

Caught on … Twitter​
"
Never underestimate the power of following up. People are busy!
" –
Kaleigh Moore
​
---
​
things to
know

Money
Audiences
Tech and Tools
And Finally
---
we're a stan for
Bella Poarch

Picture this: You make every clip posted to TikTok appear as if it's recorded in your personal karaoke lounge, closeups of you mouthing along to the music you love. Unexpectedly, one day after posting a video, notifications pour in as you gain an astronomical number of followers on the app.
In 2020, this was Bella Poarch's reality. The third-most followed platform user (74.2M) catapulted into stardom shortly after lip-syncing the words to "M to the B" by Millie B, which now has 50.2M likes. Though Bella's charisma transfixes her followers, some may be astonished to learn she created the account and went viral within the year.
Bella rode the new found wave of fandom, signed with Warner Records, and became a bonafide singer, releasing her first single in May. In March of this year, the creator's estimated net worth was $200K to $300K.
Why we're a Stan: Bella had the talent to make a living lip-syncing on TikTok and the popularity and talent to turn it into a musical contract. Social platforms like TikTok can be a great place to showcase your skills and build a fan base craved by most labels.

---
​
the business of
content

In this week's Content Inc. podcast, Joe talks about the recent acquisition of the Smartless podcast and lessons learned.
In the latest This Old Marketing, Joe and Robert discuss the new ruling that college athletes can now generate compensation from their image and likeness, and with that, the amount of content-based businesses launched is going to be staggering.
​
---
​
the tilt
team

Your team for this issue: Joe Pulizzi, Ann Gynn, Laura Kozak, and Dave Anthony, with an assist from Kelly Wynne, Shameyka McCalman, and Don Borger.
​