Entrepreneur: Leigh Henderson
Biz: HRManifesto
Tilt: Toxic workplace survival
Primary Channels: TikTok (605K), website
Other Channels: Instagram (39.9K), LinkedIn (32.1K), YouTube (2.28K)
Time to First Dollar: Within three months
Rev Streams: Brand deals, speaking gigs, coaching, and social media ads. She also has a full-time job as an HR professional.
Our Favorite Actionable Advice:
Test your tilt: Leigh wondered if audiences would want content about toxic workplace survival, so she downloaded the TikTok app and posted a few videos. (The answer was a resounding yes.)
Don't sign on to every deal: Leigh fields as many as 70 brand proposals a month, but only 20 or so relate to her message – helping people in toxic workplaces. She also advocates for creators to ask questions when they do a deal – finding out the budget and scope before quoting a price.
The Story of Leigh Henderson and HRManifesto
In June 2021, Leigh Henderson looked ahead to a summer focused on self-care and time with her kids. A career human resources professional, she had walked away from a particularly toxic and tough corporate environment — one of many in her career.
Within three days of her self-care summer, Leigh was back at "work," but this time, she focused on a passion project – a book she was calling "HRManifesto." The idea percolated in her mind for years as a "no-BS, toxic workplace survival guide for continuous employment."
Leigh wasn't sure, however, if her message or the way she wanted to deliver it would resonate with people. She needed a place to test her content.
"At that moment when I was trying to think, 'Where do I share these stories to test the approachability of the content, the relatability of the content?' A friend of mine sent me a TikTok," Leigh remembers. She downloaded the app and posted two videos that night to test the viability of her ideas and maybe help someone along the way.
Leigh Henderson tested her book idea for a no-BS, toxic workplace survival guide on @TikTok. And @HRManifesto became her #ContentBusiness. #CreatorEconomy
Click To Tweet
"I had someone reach out to me saying, 'Oh my God, your video helped me. It inspired me,'" Leigh says. "Two weeks later, I had 10K followers and it kind of snowballed from there."
Shared sorrow, story
Today, HRManifesto is Leigh's content empire. She has more than 600K followers on TikTok, along with thousands of fans on Instagram and elsewhere. She's pulling in brand deals from companies as big as Apple TV+ and IBM. And the answer to her original question, "Will my content resonate?" is clearly a resounding yes.
To many, the success of HRManifesto comes as no surprise. Leigh says the stories of toxic workplaces are a "shared sorrow" and a "shared story" with so many. Sharing those stories in people's feeds during the COVID-19 pandemic resonated even more as workers closely analyzed their working lives, speaking up about their jobs and quitting in historic numbers.
"It kind of happened when people are like, 'the workplace is toxic,'" Leigh says. "Honestly, in HR, it has always been this way. What has shifted are the platforms and the conversations and the courage and the bravery to have the conversations because of the accessibility with the platforms … we were always bitching about work."
Six figures in the first year
HRManifesto became a six-figure content-first business in just a year. A month after posting on TikTok, Leigh launched coaching services as "fellow toxic workplace survivors" reached out for guidance. She claimed the HRManifesto handles on other social media platforms and created a website on her own.
Given the demand for toxic workplace survival content, Leigh Henderson turned @HRManifesto into a six-figure, content-first business within a year. #ContentEntrepreneur
Click To Tweet
She also expanded beyond HR topics. Leigh now sells a four-page ebook, Content Creation on Social Media Coaching Toolkit, for $9.99. It includes the resources she used to grow the HRManifesto brand and business.
Her first sponsorship – a $3K deal – came a few months into the business. Brand sponsorships remain her primary revenue stream, with her earning as many as 20 five-figure brand deals in a month. The resulting sponsored posts are incredibly creative. In a campaign with Apple TV+, for example, she explains why one of the characters on the show "Slow Horses" is the worst boss ever.
Leigh absolutely loves the process. "I love acting, and I love content creation," she says. "I wish that's all I could do, and then I could have five other people help me with the other stuff."
Other revenue streams come from her coaching business, speaking gigs, and social media ads.
In 2022, she returned to a full-time HR job after a mentor reached out for help.
The money she's earning from her content business is a bit of a shock, and she looks forward to the day when she can make it her full-time job. "HRManifesto has become incredibly, incredibly lucrative for me in a way I wasn't expecting," she says.
Advice for content entrepreneurs
Leigh offers three tips for creators building a content-first business:
Don't wait for perfect
When she downloaded the TikTok app, Leigh was a newbie to social media. She didn't even have an Instagram page. But, instead of waiting to get every channel lined up perfectly, she just went for it and posted videos on TikTok.
"You do not need to seek perfection. You just need action," she says. "Working that 9-to-5, you're used to the process and perfection. You're indoctrinated into that. As a business owner and freelancer, you just kind of do whatever the hell you want. I had to learn to give myself that freedom to fail and that freedom to learn and achieve."
Protect your brand
Always be mindful of your brand's reputation and credibility when you create content and align with brands. Of the 70 or so brand proposals a month Leigh receives, she says only 20 relate to her content tilt – helping people in toxic workplaces.
"When I have a brand that's reputable reach out to me, I then ask, 'Is this helpful for my followers?'" she says. "I'm all about protecting HRManifesto and the brand and me, personally, because it's me on the line. Oftentimes, the brands that I have represented or done content with, I personally use."
Be picky when doing brand sponsorships, says Leigh Henderson of @HRManifesto. She rejects most offers because they don't align with her content brand. #CreatorEconomy
Click To Tweet
Don't disclose your rates first
When negotiating with a brand and the topic of money comes up, Leigh advises creators to ask questions first. "You don't give rates," she says. "I do not give a starting rate. I say, 'What is your budget?' and, 'I need that content brief.' … Don't lowball yourself. Don't lock yourself in."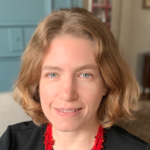 Sarah Lindenfeld Hall is a longtime journalist, freelance writer, and founding editor of two popular parenting websites in North Carolina. She frequently writes about parenting, aging, education, business management, and interesting people doing remarkable things.