Entrepreneur: Jodie Filogomo
Tilt: "It is never too late to look great."
Primary Channel: Blog (50K views monthly)
Other Channels: Facebook (3.2K), Pinterest (3.4K), Instagram (22K)
Time to First Dollar: More than a year
Rev Streams: Advertising and sponsored content
Our Favorite Actionable Advice
Invest in learning: Though Jodie tried learning blogging on her own, she realized she could learn better and more quickly by taking relevant courses.
Pick your tilt: Jodie isn't a general fashion blogger; she's carving an audience of women who don't fit the age, size, or shape of traditionally seen models.
Say no to some deals: She will readily say no if a brand doesn't align with Jodie's values. Being authentic with her audience is more important to her than sponsorships.
The Story
After a successful 20-year career as a cosmetic dentist, Jodie Filogomo sold her practice and embarked on a career as a fashionista. "I actually thought I'd be a personal shopper for people. In order to get that got going, my husband suggested I start a fashion blog. I had no idea what that was, so I started researching."
@JodieFilogomo started her blog as a #ContentMarketing tactic to get her personal shopping business started. But, a funny thing happened: The blog ended up being her new business. #ContentEntrepreneur
Click To Tweet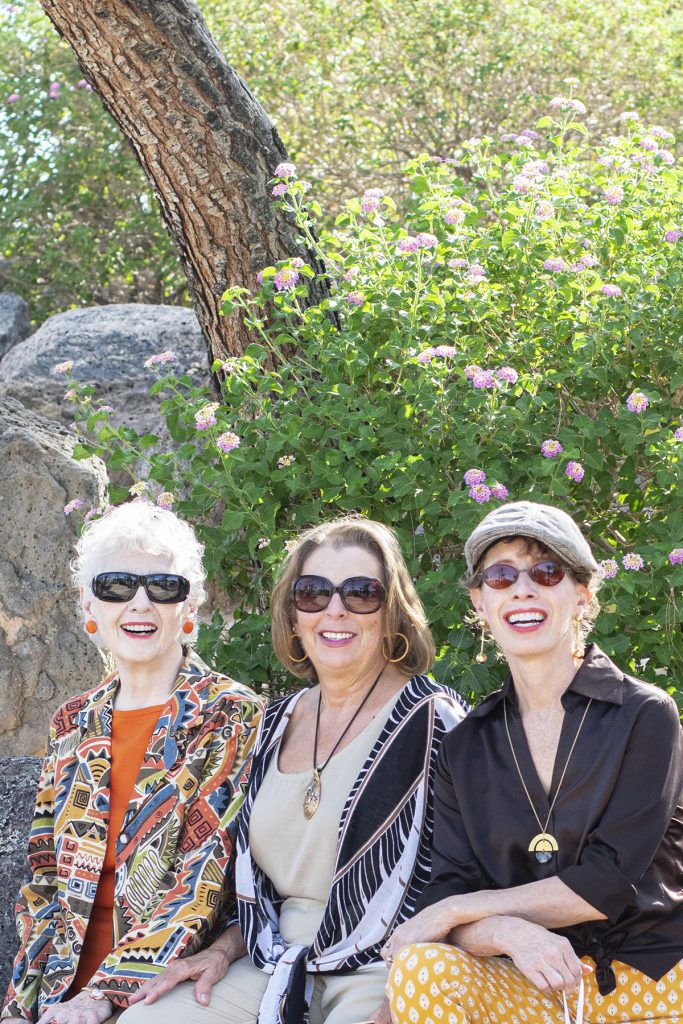 Now, eight years later, she teaches thousands of women how to dress fashionably no matter their age. While she is the primary face of the blog, Jodie has also incorporated her mother and stepmom as models to cover different age groups, body shapes, and styles.
"Just because your driver's license says a certain number does not mean that you can't continue looking fabulous. In the same thinking, your beauty is not dependent on being a specific size. And on top of it all, spending a ton of money on your clothes does not guarantee that you will look and feel great," Jodie says.
At the end of the day, Jodie wants her followers to learn to feel comfortable in their own skin. "I certainly wish that every woman could feel better about themselves with the clothes they wear. We all know that life is too short," she says. "We might as well wear the fun clothing, break a rule here and there, and look incredible each and every day."
Learning to blog
Blogging was not a skill that Jodie learned in dentistry school. She had to start from scratch. She tried to figure it out on her own, but after wasting countless hours, she realized the best way was to invest time and money in learning how to do it.
"At first, you might be like, 'Oh, I can just do it on my own. I can Google it.'  What happens is that's a lot of time. I think you save both time and money by actually starting off by doing it right," Jodie says. "Take some of the classes first. It's a lot of work, and it's hard because you have to pay money, but I think taking the classes really makes a difference. Even though you have to pay for them, it's money well spent."
@JodieFilogomo didn't know how to do a blog. She first used Google to learn but realized she would ultimately save time and money taking courses from those who were already doing it. #OnlineLearning #ContentEntrepreneurs
Click To Tweet
Even now, with several years as a successful content entrepreneur and fashion blogger under her belt, Jodie is still taking classes. " I am currently taking an SEO course. If I had taken this two years or four years ago, I feel like I could be further along," she says.
To find valuable classes, she looks to bloggers who are successful in the areas she wants to improve. "The SEO class is from a blogger who knows a lot about SEO. I've learned even more than just about SEO. I've learned ways of (using) my Google documents that I had no idea about," she says. "The online photography classes I've taken are from another blogger who is very good at them."
Don't be afraid to say no
As Jodie's Touch of Style has grown, so have the number of companies that reach out to partner with the blog. Jodie has become increasingly picky about which partners she chooses to work with. "Right now, brands usually find me. I do a bunch of research to see if they will be a good fit. I say no to probably over half, if not more, because I want it to fit into what I am doing," she says. "I ask myself, 'Is this something I would really buy?' I'm budget-oriented, so if it's too expensive, I don't think it's authentic to promote it."
Just as she doesn't box herself into one kind of style, Jodie doesn't limit herself to partnering with one kind of company. "I have worked with some companies that I would call 'young girl brands.' I wanted to prove that they're just clothes, you know? If I put them on me, they would look just fine. I do try to go outside the box for those kinds of brands," she says.
Over the years, Jodie has learned her worth by talking to other bloggers. "I've gone to a couple of blogging conferences and have learned how to work with brands so that when they would reach out, at least I would feel comfortable asking for money. Of course, it's easier when a company reaches out and says, 'This is our budget,' but that doesn't always happen. So I've learned how that I need to stand up for what I do because I have finally learned that my marketing is worth something," she says.
I've learned how to stand up for my blog's value to brands. I realized my marketing for them is worth something, says fashion #blogger @JodieFilogomo. #BrandDeals #ContentEntrepreneur
Click To Tweet
Doing to inspire
Despite the journey being long and difficult, Jodie keeps at it because she believes in what she is doing. "It is not so much about the money. To me, it is about inspiring women. I get emails all the time from women who say, 'Thank you for showing me how to wear color,' or just even (for) thinking outside the box. My husband tells me all the time I'm swimming upstream because I will say forget the rules," Jodie says.
"I would like to have more women join me (as models) … I would love it if there were more women with different body shapes so that I could reach even more women, including younger women," she says. "I think if we start with the younger women, you know you can make a big difference in how they're thinking so when they do get older, they're not stuck in those thoughts. Life is too short to get stuck there."
Kimmy Gustafson is a freelance writer with a passion for sharing stories of bravery. Her love for world traveling began when her family moved to Spain when she was 6 and since then, she has lived overseas extensively, visited six continents, and traveled to over 26 countries. She is fluent in Spanish and conversational in French. Currently, she is based on Maui and, when not writing or parenting, she can be found kiteboarding, hiking, or cooking.