In the hamster wheel that is content creation, it's easy to put yourself and your physical health on the backburner. Even 30 minutes to eat lunch away from a screen or walk down the street can feel like a luxury. Couldn't those minutes be better spent creating content, working on your invoices, or tackling something else on your to-do list?
Probably not.
A 24/7 grind isn't sustainable in the long run, and research shows a clear connection between a healthy body and the skills required for a healthy business. Moving your body improves your concentration. It boosts your thinking skills. It makes you more productive. It can lower your stress levels. And it can even bolster your creativity.
Hey #Creators: Does stepping away from the screen to eat lunch or take a walk feel like a luxury? It shouldn't if you want a sustainable #ContentBusiness, says @SLindenfeldHall. #CreatorEconomy
Click To Tweet
In other words, time away to move your body can be the thing needed to create your next successful content. Successful creators swear by it. Kat Norton, AKA Miss Excel, who earns seven figures, steps away from work for a day each week to do yoga, go outside, and meditate. Body positivity influencer Brynta Ponn makes a point to put down her phone and play with her dog or just read a book.
@TheMissExcel Kat Norton and body positivity influencer @BryntaPonn make a point to take time away from work to do yoga, go outside, play with the dog, or just read a book. #ContentEntrepreneurs #HealthyBusiness
Click To Tweet
In a field where you're faced with constant competition, trolls, and a community to maintain, movement is necessary, says Dylan Lewis, who streams Madden on Twitch and posts Madden content on YouTube. "Just having an escape like the gym is just so nice," he says. "You can just relax and focus on bettering yourself. I am by no means a health expert. But I think just going to the gym just improves your mental health. It makes you feel better about yourself."
Physical health important for content creators
Dylan understands the value of physical health. He went to Shenandoah University to play football, only to blow out his knee on the second day of practice. After years of training hard, he was sedentary during his recovery and realized how important a daily workout was for him. Now, to ensure he has time for that trip to the gym, he might not complete a YouTube Short or TikTok on his to-do list so he can focus on himself.
"I know how to train and the benefits of it, and I think it's really important for content creators. I would say that it is one of the most important things," says Dylan, who recently received his undergraduate degree from Shenandoah, where he was involved in the school's esports program and will continue graduate studies there in the fall.
Make the hard decision for content creator health and business
That decision to forgo publishing a new content asset is hard for content creators who have been laser-focused on growing their business and brand. The key, says Jeff Sanders, a podcaster and author of The 5 AM Miracle and The Free-Time Formula, is remembering why movement is so critical for you and your business.
"What tends to happen to everyone, myself especially, the more that you work, the less creative you become over time," Jeff says. "Without the rest, your content creation will just fall off the map because you'll run out of energy and creativity, which fuels what you're making."
Without rest, your content creation will fall off the map because you'll run out of energy and creativity, says #podcaster and #author @JeffSandersTV. #CreatorEconomy
Click To Tweet
It doesn't take long for your content business to benefit from your physical activity. Adults need just 150 minutes of moderate-intensity physical activity a week, according to the U.S. Centers for Disease Control and Prevention. That's 30 minutes, five times a week.
"If we're not getting that as a baseline, our mental capacity goes down, our sleep goes down, our bodily functions and organ productivity goes down," says Emily Marquis, a certified clinical health and wellness coach. "We're just not able to show up for our business as best we can."
If you don't get 150 minutes of moderate physical activity a week, you're not able to show up for your business as best you can, says wellness expert @EmilyMarquisCO. #ContentEntrepreneur
Click To Tweet
To build healthy habits and more movement in your day, Emily recommends taking these steps.
1. Shift your creator mindset and add health to priority list
Think of your health and well-being as something worth prioritizing. Recognize when you've done enough for the day, your work has been top-notch, and you're more productive when you feel well, Emily says.
"Awareness is the key," she says. "What are we telling ourselves? What is the pressure coming in from deadlines or likes? And are they real or worth it to our health and productivity? The capacity to (keep going like this) does have an end date."
2. Set boundaries
Recognize what's pulling you away from your health. "Are we checking email at 2 a.m.? Are we always available? Are we constantly looking at our blog posts, social media posts? Or do we have boundaries and say, `I'm going to post this and then look at the review in an hour,'" Emily says. "Set some boundaries and stick to them."
For Jeff, it's about saying no more often. "There are so many things we say yes to because we assume that activity equals productivity when in reality that's not the case," he says. "We're looking to do the things that actually move the needle, and the rest we let go.
Say no more often. It helps you choose things that actually move the needle in your #ContentBusiness, says @JeffSandersTv. #ContentEntrepreneur
Click To Tweet
"It's really a question of how can you say no more often. Then when you do say yes to a workout, it's not taking away from your work time because it's part of what you're saying yes to on purpose."
3. Pick something you enjoy doing
You don't need to train for a marathon or hire a pricey personal trainer. A walk around the block, dance lessons, or yoga sessions can be all it takes to get your 150 minutes done, Emily says.
When you find something you enjoy doing, you'll be more likely to continue to do it. If a 60-minute walk seems too hard to bite off immediately, work in regular movement throughout the day. Jeff says that could be 60 seconds of pushups, squats, or jumping jacks every hour. "The whole intention is that frequently, throughout the day, you are walking away from work to move your body and get your heart rate up, so you can come back to your work a little more refreshed and hydrated and ready to go," he says.
4. Find the right time
Research indicates people are most productive for no more than three hours a day. And not everybody's three hours is at the same time, Emily says. Some of us do our best creative work during the early mornings. For others, it's at midnight.
Time your day around your most productive hours, Emily says. If that's in the early morning, you might set aside time for your most creative tasks from 5 to 8 a.m., then eat breakfast and take a vigorous walk before you resume your day by completing less draining, administrative tasks in the afternoon.
Time your day around your most productive 3 hours, advises @EmilyMarquisCO. It isn't the same 3 hours for everybody. #ContentBusiness
Click To Tweet
"That's how you can pull back and look at your time and how it's spent around your energy and also scheduling in those health and wellness opportunities," Emily says.
Success in business comes from taking care of self
For Jeff, being intentional about taking care of himself and his physical health has been a focus of his content and, he says, a big reason why he's been able to build so much success over the last decade.
"The fact that I'm still here, doing it 10 years later, and still making content and still writing books and doing my business, it's because I'm still taking care of myself," he says. "My health is still a priority, and it will remain that way."
I'm still making content 10 years later because I'm still taking care of myself, says @JeffSandersTV. #ContentBusiness
Click To Tweet
With his sights set on his own future, Dylan agrees. And he is certain that even if he doesn't post every piece of content on his list so he can work out, his business and brand can remain healthy.
"Being mentally happy with yourself is more important than having just better numbers, in my opinion," he says. "Eventually, I think, I'm confident in my own self that I'm going to go ahead and reach those numbers that, sure, I might have missed out on, but we'll get it back."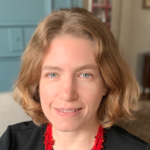 Sarah Lindenfeld Hall is a longtime journalist, freelance writer, and founding editor of two popular parenting websites in North Carolina. She frequently writes about parenting, aging, education, business management, and interesting people doing remarkable things.