One component of your content creation is the biggest determiner if it's going to be a hit or a miss.
Your headline.
Whether it's a YouTube video, a blog article, a Facebook post, or something else, your headline is what people will read first. Your goal is to make sure it's not the last content of yours they consume.
Make sure your headline is not the last content that the audience consumes, says @AnnGynn. #contententrepreneur #writing #creatoreconomy #bloggers
Click To Tweet
The other piece of prime content real estate that should get more attention?
Your email subject line. Almost half of email recipients (47%) open them based on the subject line alone, according to OptinMonster.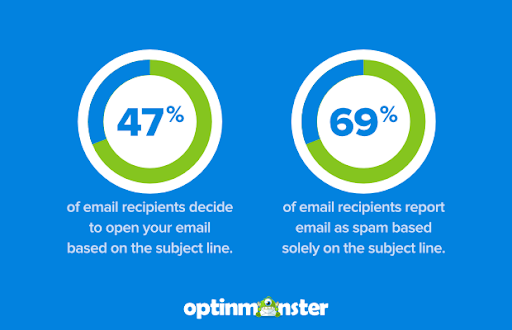 47% of recipients open emails based on the subject line: @optinmonster research #newsletters #creatoreconomy
Click To Tweet
And even though the headline and subject line are so important, you probably spend the least amount of your content creation time developing them. Let's change that today.
Tilt Advice
We're tackling headlines and subject lines separately because each has distinct purposes. Subject lines are seen by people who have subscribed to your content. They already have an interest in your topic or niche. On the other hand, headlines are the jack-of-all-trades content – they serve multiple audiences.
Your subject line should create a spark. Trigger something in the mind of the recipient that will motivate them to open the email. You could pique their curiosity with a few words or a question that they want answered. Or explicitly promise a solution to their challenge. Since you know this audience, you can personalize your subject line by including their first name or recognizing them as part of your special community. The key is to figure out what resonates best with your subscribers.
As far as the specific criteria around your subject lines, test email best practices to see what works best. For example, a Yesware study of 115M emails found numbers in subject lines led to higher-than-average open and reply rates. Another study of 262K email templates found open rates peak with subject lines between one and five words. It also found subject lines using title case (Title Case Headlines Look Like This) performed better than standard or lowercase sentences.
We're also big fans of A/B testing (we use it for The Tilt newsletter). Use two subject lines for the same email and see which one performs better. If you're starting this experiment, don't just change a few word changes. Think bigger picture – test length, topic angle, etc. Once you've learned your audience's preferences, then you can do A/B for word preferences, etc.
Now, let's move to headlines. They have to do a lot of work. But, here's the secret that many creators don't know: You don't have to write one headline to do all those different jobs.
Secret to great headlines? Don't write only one and expect it to work everywhere, says @AnnGynn. #contententrepreneur #creatoreconomy
Click To Tweet
Let's say you write a blog post. You craft one headline (H1 tag) that will appear on the page. If you want that content to be found through search, write it with your target keywords. What headline would attract someone who sees it in search? In this case, your headline will likely be more explanatory or direct. SEO expert Neil Patel recommends writing an SEO-focused headline between 20 and 70 characters.
Now, to promote that content on social media, you can get more creative (though not much longer). A BuzzSumo analysis found the most successful headlines on Twitter and Facebook averaged 11 words and 65 characters. But don't write the same headline for every social platform. The BuzzSumo study found instructional headlines drove the most Facebook engagement, while curiosity-driven headlines fared better on Twitter.
Want some help to figure out what headlines and subject lines might work best? Several free tools are available, including CoSchedule Headline Analyzer for sentiment, word balance, word count, clarity, etc., Capitalize My Title for SEO, readability, and sentiment, Advanced Marketing Institute Headline Analyzer for emotional analysis.
Create better headlines and subject lines with free tools from @CoSchedule, @CapitalizeMyTitle, and @aim_institute. #writing #creatoreconomy #contententrepreneur
Click To Tweet
To get more help for your content creation efforts, including headlines and subject lines, check out The Tilt's Essential Word Choice and Headline Tools Guide, which goes into more detail, listing pros, cons, and pricing.
Ann regularly combines words and strategy for B2B, B2C, and nonprofits, continuing to live up to her high school nickname, Editor Ann. Former college adjunct faculty, Ann also helps train professionals in content so they can do it themselves.