Last fall, headlines blared revelations that hardly surprised Twitch streamers who were paying attention: The platform can be a hard place for people who don't fit the mold of the "traditional" white male gamer.
In September, after a series of hate raids blasting Black and LGBTQ+ streamers with racist and bigoted comments. Some creators in the targeted communities launched a day-long boycott. Twitch introduced new safety features later that month. And in October, a leak of Twitch data revealed only three women and just one of color are among the platform's top 100 earners.
Jay-Ann Lopez, the founder of Black Girl Gamers, a thriving community of Black streamers who identify as women, admits she's in a bubble — away from the fray and with Black gamers like herself when she's on the platform. But, when she does emerge, she's reminded why she built the community that now boasts more than 36K followers on Twitch and 54K on Twitter.
"When the Twitch leak happened, and we commented on the fact that there was a lot of white males who were the highest earners and that wasn't surprising, the toxicity comes," Jay-Ann says. "They try and find our platform. We've had emails with the n-word. It's still there. There's a lot of shifting to be done, but it's happening slowly, but surely."
@BlackGirlGamers reacted with non-surprise to news that white males were the highest earners on @Twitch. That prompted some to send them emails using the n-word, says #founder @JayAnnLopez_. #CreatorEconomy
Click To Tweet
Solo creator to community builder
Jay-Ann, who is based in the United Kingdom, was a creator before founding Black Girl Gamers. In 2014, she co-founded Curlture. The platform, which includes over 45K followers on Instagram, empowers Black women to embrace their natural hair and beauty.
But Jay-Ann's always been a gamer. Her uncle bought her her first console — a Super Nintendo — when she was 6 or 7. Her mom, a radio presenter, encouraged it, letting Jay-Ann play games at the studio when she was working. "It's always just been part of my escapism, the way I relax and connect with others," she says.
She started a variety gaming channel on Twitch and made videos for YouTube, but her goal has never been to be a solo content creator. "That's not my bag," Jay-Ann says. "I like building things. And, for me, the main thing was how big of a change can I make. By creating a community-powered organization, I can have the biggest impact."
Her experience building Curlture gave her the knowledge to launch Black Girl Gamers in 2015. "I didn't have many people to play with," she says. "Some of the experiences with racism and sexism had just pushed me in this little corner of gaming. I didn't want to just exist there by myself. I thought there must be other Black women."
She connected with a few on Twitter, created the group, and the rest, as they say, is history.
Standing tall in Times Square
Today, Black Girl Gamers is a vibrant community of more than 8K Black women from around the world. The focus is on cultivating an online safe space and platform for Black women and advocating for diversity and inclusion in games and the gaming community.
@BlackGirlGamers is a vibrant community of over 8K who cultivate an online safe space for Black women and advocate for diversity and inclusion in #gaming industry. #ContentBusiness
Click To Tweet
The Twitch stream features gameplay, game-side chats, conversations, and other programs. Within its Discord community, gamers take part in movie nights and talk about beauty, cooking, and other interests, forging close bonds over time.
"From the beginning, I always had the phrase 'ignored to billboard,'" Jay-Ann says. "At the beginning, we were ignored or not really taken seriously. And last year, our members and myself were on a billboard in New York [as part of a Twitch Black History Month campaign]. It's literally been from ignored to billboard."
At the start, @BlackGirlGamers was all but ignored. Last year, they were on a billboard in @TimesSquareNYC. #gaming #inclusivity #CreatorEconomy
Click To Tweet
Talent agency plus
It took time, but brands as big as Netflix and H&M are now taking the platform seriously. In late 2020, Black Girl Gamers started a talent agency, helping members navigate the content creation business. In 2021, the agency put more than $37K in Black women's pockets, according to its Twitter feed. It's also consulting with a game publishing company to ensure Black characters are accurately represented in games.
Jay-Ann earns no salary from Black Girl Gamers; she actually holds a full-time job in addition to the work. But the platform is earning enough money to pay a few part-time employees who help manage the community. Jay-Ann focuses on partnerships, talent brokering, and events.
That community-led leadership, she says, was intentional. "I shied away from being the face too much because of colorism, and I know how that operates," Jay-Ann says, referencing the discrimination against people with darker skin tones that can happen in communities of the same ethnicity or race. She wants to make sure that Black Girl Gamers represents the vast variety of Black women gamers across the globe.
Starting small
Jay-Ann acknowledges that Black Girl Gamers was ignored in the beginning, partly because it was small. "Now that we've proven and shown our impact in this space, which is undeniable, we get more brands interested in working with us," she says. "It's the nature of the journey. You're not going to get many major sponsors when you only have small numbers."
But that experience is one reason she includes smaller streamers in her work. "When we talent broke, we try to provide a mix of micro-influencers, nano-influencers, and macro-influencers, so that the micro-influencers can have the boost up they may need," she says. "But [we also can] validate the work that they do and, if they are talented, regardless of the numbers, sometimes they should be supported.
For Black creators, especially, just starting out, Jay-Ann shared these words of advice:
Understand the market
Don't just pay attention to your friends who are streaming. To build a content business, you must understand the business of content creation. Jay-Ann brought expertise from her work building up the Curlture platform, which helped her as she launched Black Girl Gamers. But not everybody has that advantage. "Some streamers are really starting from scratch, so they need to start researching that side," she says.
Don't just pay attention to your friends' streams. Do the research to understand the business of content creation, says @JayAnnLopez_ , founder of @BlackGirlGamers. #CreatorEconomy #ContentEntrepreneur
Click To Tweet
Think about what makes you different
"Capitalize on your uniqueness," Jay-Ann says. "Streaming is saturated." In addition to gameplay, look to your other skills, whether it's cooking, makeup, playing an instrument, or teaching another language.
"Make your content about you as opposed to the game and incorporate the games that you like," she says. When she does stream, which isn't often, she features not just gaming, but skin care and beauty, for example: "It becomes Jay's corner of Twitch, not a cookie-cutter corner of Twitch."
Find your group
It can be a lonely and hurtful space when you haven't found like-minded streamers, Jay-Ann says. Black Girl Gamers offers a positive place for Black women gamers with a set of rules and expectations that make for a helpful, supportive network. "(That) is always the best place to go," Jay-Ann says.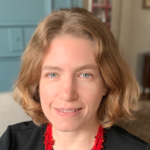 Sarah Lindenfeld Hall is a longtime journalist, freelance writer, and founding editor of two popular parenting websites in North Carolina. She frequently writes about parenting, aging, education, business management, and interesting people doing remarkable things.