In the beginning, you're overloaded with content ideas – so many to fill your content calendar for some time to come.
Eventually, though, the glut turns into a dry spell – your content calendar is almost empty.
Now what? How do you come up with content ideas when you're all out of notions?
Tap into a well of ideas from some unexpected and some inspiring sources. And all of them are free.
Tilt Advice
Don't just search for a single idea to help get you through your next post, video, podcast, etc. If you're going to do this work, plan for several weeks or months of ideas. Here are 10 ways to spark creative ideas.
Perhaps you'll be inspired by topics trending on search in regions around the world. Or you can input your topic to see trends happening in the past hour, four hours, day, week, 30 days, 90 days, or five years.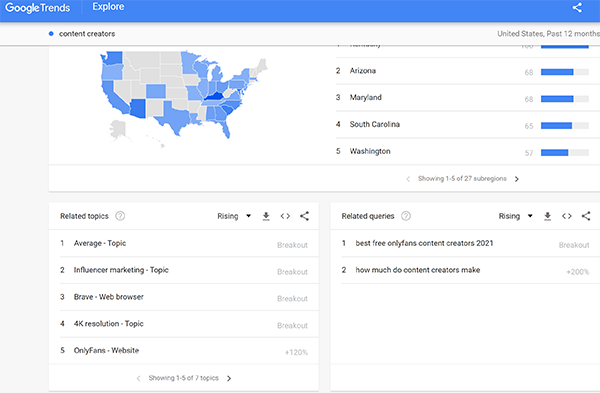 #2 Ask the world
Answer the Public is an easy-to-use and helpful idea-inspiring tool. Input the topic and get a starburst design of questions people ask or search for on the internet.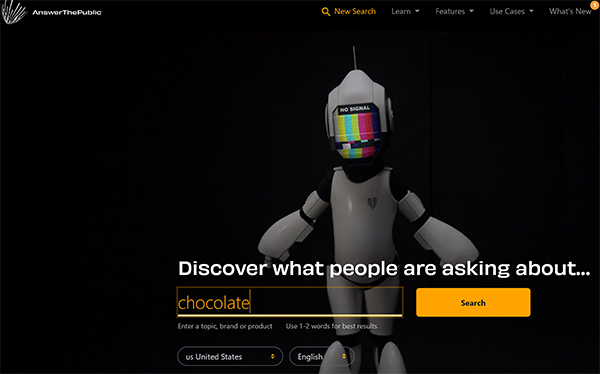 Type a word or two into @AnswerThePublic. Get a starburst of potential ideas in the form of questions. #ContentIdeas #CreatorEconomy
Click To Tweet
#3 Find a headline
Portent Idea Generator isn't a headline tool, but it does generate headlines. Type a word or topic and it comes up with a headline to inspire a content idea. Don't like the headline? Just click on the see-another-title button.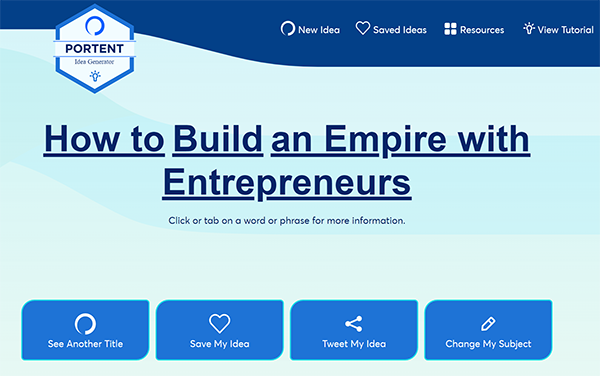 #4 Get a week's ideas
HubSpot's Blog Ideas Generator gives you a week of blog ideas once you type in your topic. (Though it says blog ideas, the generator can be useful to creators of other types of content.)

#5 Visit social Q&A communities
Quora and Reddit are two online portals where people gather to answer questions and have conversations around a lot of different topics. You can join those communities, or you can just go to the site, search for your topic, and see what everybody is talking about.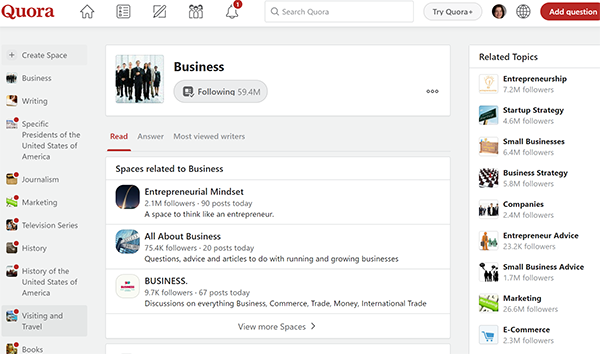 Register to receive an email when your topic or keywords pop up on the internet. You pick the terms, delivery frequency (as-it-happens, once-a-day, or once-a-week), and all results or best results.
Caveat: Don't sign up for alerts for every keyword, all results, or as-it-happens unless you're prepared to be bombarded with content. And if you are, maybe create a separate email address to receive them.
BONUS TIP: Sign up for alerts around your personal and business names. It won't help with content ideas, but it's helpful for knowing what's being said about you.
Set up Google Alerts to be notified when your keywords are in the news. It can help spark content ideas, says @AnnGynn. #ContentEntrepreneur #CreatorEconomy
Click To Tweet
#7 Search on social platforms
Put relevant hashtags and keywords into the search bar on your primary channel as well as other social media channels. For example, an Instagrammer might be inspired by seeing what content is being created on YouTube around their topic. Or a search of podcast titles might open your eyes to new possibilities.
Use the search bar on social media platforms to search for content inspiration around your topic. #WritersBlock #CreatorEconomy
Click To Tweet
The simple search page offers a wealth of opportunities. You can search for keywords and topics generally. But don't stop there. Look at the auto-generated drop-down suggestions as you type. Check out the People Also Ask section on the results page.
BONUS TIP: To see the more timely or newsy content, do a traditional search and click on News (just below the search bar).
#9 Ask your audience
Create a one-time request or an ongoing program to solicit ideas from your audience. After all, they're the ones who you want to consume your content. Post specific requests on your social media and other channels. Create a digital suggestion box (dedicated email address) for ongoing input.
#10 Look at what you did
Go back and look at the content you've already published. It may provide an opportunity to do a follow-up post or podcast.
Finally, remember not every good idea is good for your content business. As you collect all the ideas, pick the ones that work best for your audience, format, timing, etc. Only then can you bring the rain to dispel your idea drought and grow your content creation effectively.
Ann regularly combines words and strategy for B2B, B2C, and nonprofits, continuing to live up to her high school nickname, Editor Ann. An IABC Communicator of the Year and founder of G Force Communication, Ann coaches and trains professionals in all things content. Connect with her on LinkedIn and Twitter.