We Want to Be Used by You
Hi. My name is Joe Pulizzi, founder of The Tilt. I wrote this myself.
Glad you are here.
Our goal at The Tilt is to help you scale and grow your content business.
Whether you are just getting started as a content creator or are ready to exit your business, we have many resources that could (and should) make a huge difference along your content entrepreneur journey.
How We Think
Almost all successful content creators (who we call content entrepreneurs) use the Content Inc. methodology. I wrote the book on it in 2015 and updated it in 2021. If you are a book or audiobook person, you can get a copy.
If you are cheap or broke, you can watch this 30-minute overview of the Content Inc. model. (It's free, but we do ask for an email address).
The TL;DR? You are an entrepreneur first, then a content creator. Most content creators are the opposite. They never figure out the business side and end up failing. THAT IS NOT YOU. You know content is your business like any business, from owning a restaurant to whatever Elon Musk does. The Tilt is here so you don't have to make unnecessary mistakes along the way.
Now, if you have become a true believer, we have a full Content Entrepreneurship 101 education course that's 10+ hours of programming with worksheets and tests, and it's unbelievable. That's $99!
So, let's talk more about the how.
What's the Secret Sauce?
If you want to be a successful content entrepreneur, follow the seven-step Content Inc. model includes:
Step 1: Identify and Modify Your Sweet Spot and Story
The sweet spot is the intersection between your expertise and the audience's desire. This is a great place to start, but you're not done. You use your sweet spot to create your tilt.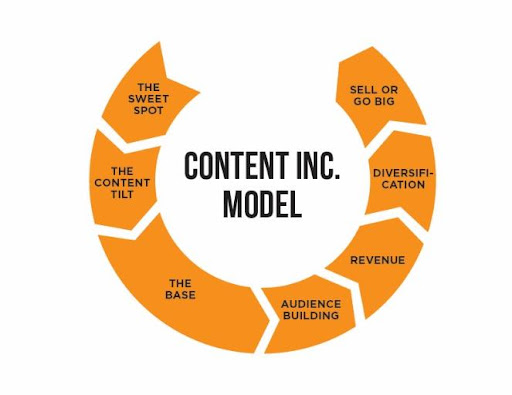 Step 2: Find Your Content Tilt – Your Area of Differentiation That Breaks Through the Content Clutter
Differentiating your message and cutting through the clutter is the most important thing you can do. Here's more the what and how of a content tilt.
Step 3: Build Your Content Base – How? Where Makes the Most Sense?
Throwing your content everywhere at once is a losing proposition. Pick one channel where you can be the expert and build your audience there.
Step 4: Build an Audience on Owned (Not Rented) Property
There's nothing wrong with building on Tik Tok or Instagram or Twitch, but that is all (what we call) rented land. They control your audience, access to that audience, and monetization opportunities in your business. At some point, you need your own distribution network. Think about growing your email list and considering Web3 options.
Step 5: Choose from 10 Revenue Sources To Monetize Your Audience
The more revenue options you have, the better chance for success. Once you build a loyal audience, you have six direct revenue options: 
Advertising/sponsorship
Conferences/events
Premium content (books, ebooks)
Donations
Affiliate revenue
Subscriptions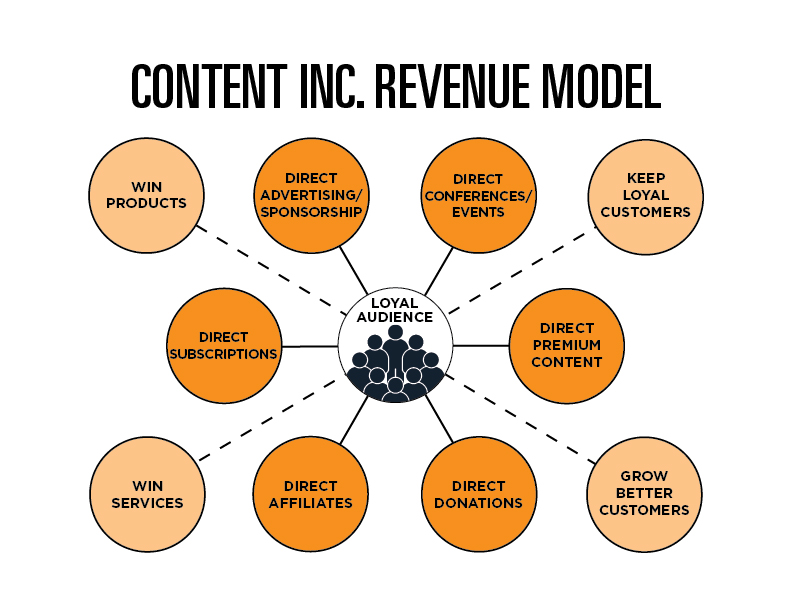 More advanced content creators scale their business through indirect revenue streams, such as merchandise or software products. The most popular revenue line for content entrepreneurs is consulting services. (See our research for more details.)
Step 6: Diversify Your Content Portfolio To Increase Revenue and Significantly Lower Risk
Once you build a loyal audience on one platform, you can diversify into other channels. For example, I started my last content business as a blog. Then we developed an email newsletter and podcast. Then we created an in-person event and webinar series. You get the idea.
Diversification is where you start to get big, but make sure you don't jump to diversify too quickly. Stay lean if you can.
Step 7: Do You Want to Sell or Go Big?
Ah … the ultimate question. Either way, you need an exit strategy ASAP so you are prepared to take advantage of all your options.
How Long Does It Take to Be Successful?
The Tilt has done a ton of research in this area. Just this year we surveyed over 1,000 content creators and found out that 17 to 18 months seems to be the runway needed to get to profitability.
In the chart to the right, you can see the average time for a content creator to move through the Content Inc. business model. The good news? Most content creators become financially independent in two to three years.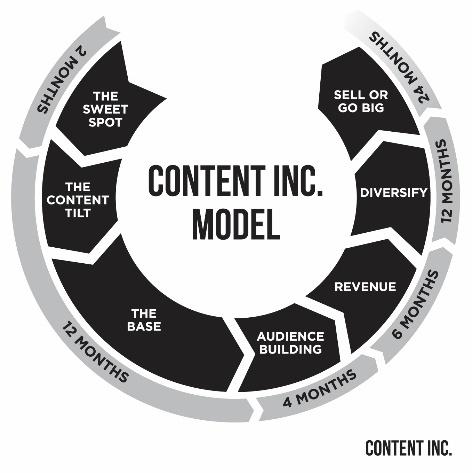 The Best News?
Once you make the leap, you won't regret it. A full 99% of content creators DO NOT regret their decision.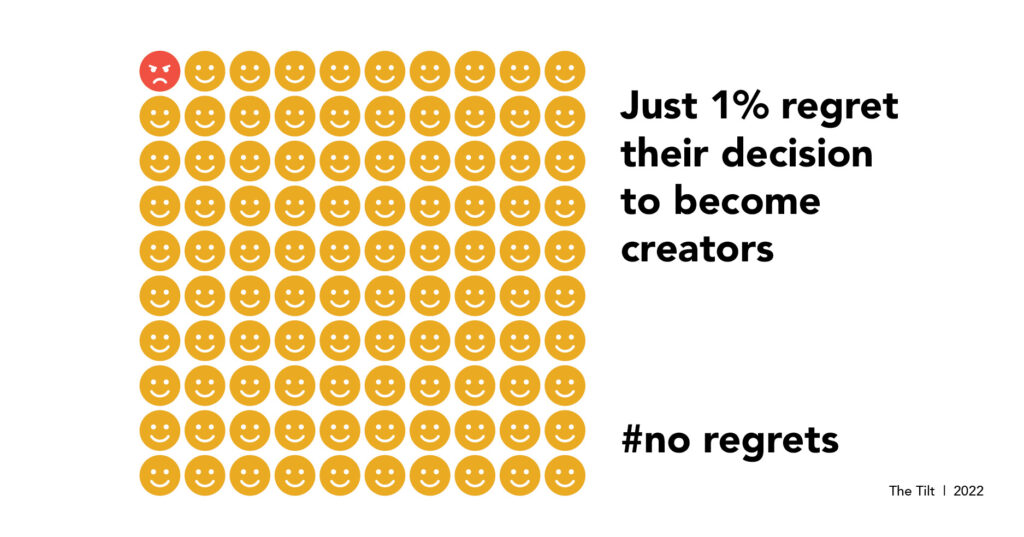 But it's not easy. We all need help.
That's why we are here.
Subscribe to our newsletter (2x per week). It will help guide your journey.
We also host an in-person event, Creator Economy Expo (CEX), each year.  Get access to this year's session recordings now.
Last but not least, if you prefer audio-based content we have two podcasts for you to enjoy.  Be sure to listen to Content Inc, for five minutes of inspiration each week.  Or This Old Marketing with me and Robert Rose for the week's latest media, digital content and marketing news.
Congratulations on making the best decision of your day!
Yours in Content,
Joe