What's the news?
The explosive growth of newsletter platforms like Substack, Ghost, Revue, etc., has prompted a rise in the use and creation of services that connect brand advertisers with newsletter creators.
Brands find value in advertising in #newsletters from independent content creators, says @AnnGynn. #ContentEntrepreneur #ContentCreators
Click To Tweet
Who are the players?
The list is lengthy. Some have been around for a decade, while a handful have popped up in the last few years. Built In shares a list that includes Paved, Swapstack, Hecto, SponsorGap, AudienceHunts, and Upstart.
Influencer Marketing Hub details LiveIntent, BuySellAds, Letterwell, Criteo, Admailr, Gold Lasso, and PowerInbox (primarily from an advertiser perspective.)
Why are brands interested in digital newsletter audiences?
In general, email advertising is less costly and delivers better returns than other digital advertising channels such as search, social, etc. A study by Litmus showed each dollar spent on email marketing returns an average $42.
But why independent creator newsletters?
Newsletters from solo creators often are focused on a niche topic. That's more attractive to brands that know exactly who they want to connect with than a general or wide-ranging topic newsletter.
Companies want to advertise to connect with audiences of niche newsletters more than general ones, says @TheTiltNews.
Click To Tweet
What does that mean for content entrepreneurs?
Content entrepreneurs with newsletters should think about adding advertising as a new revenue stream.
The Tilt Talk and Advice
What should a newsletter creator do?
Create a good value for potential advertisers.
How?
Focus on growing your audience – that's how advertisers will value any deal. Provide great content to motivate subscribers to open your newsletter and click on your links – two more statistics that potential advertisers want to know.
Then what?
Explore your advertising options. You could do it yourself, knocking on virtual (or real) doors to attract sponsors and advertisers. Or you can look into the advertiser-matching platforms.
To get advertisers for your #newsletter, content creators can knock on doors or work with an advertiser-matching platform, says @TheTiltNews.
Click To Tweet
Opt for a third-party connection platform?
If you go the third-party route, pick the one that fits both your content business' goals, newsletter format, and audience interests. For example, decide if you want to be compensated based on clicks or views. Identify the ad type offered fit with your newsletter style.
In most cases, these platforms also act as the fiduciary agent, sending invoices and receiving the payment. Make sure to read the fine print of any agreement to understand the financial structure for your business.
What ad content formats are offered?
In this case, advertising can encompass programmatic ads, sponsorships, sponsored content, text-based mentions, etc. Here are some examples:
Programmatic ad: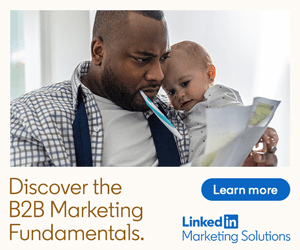 Sponsored newsletter:

Sponsored content: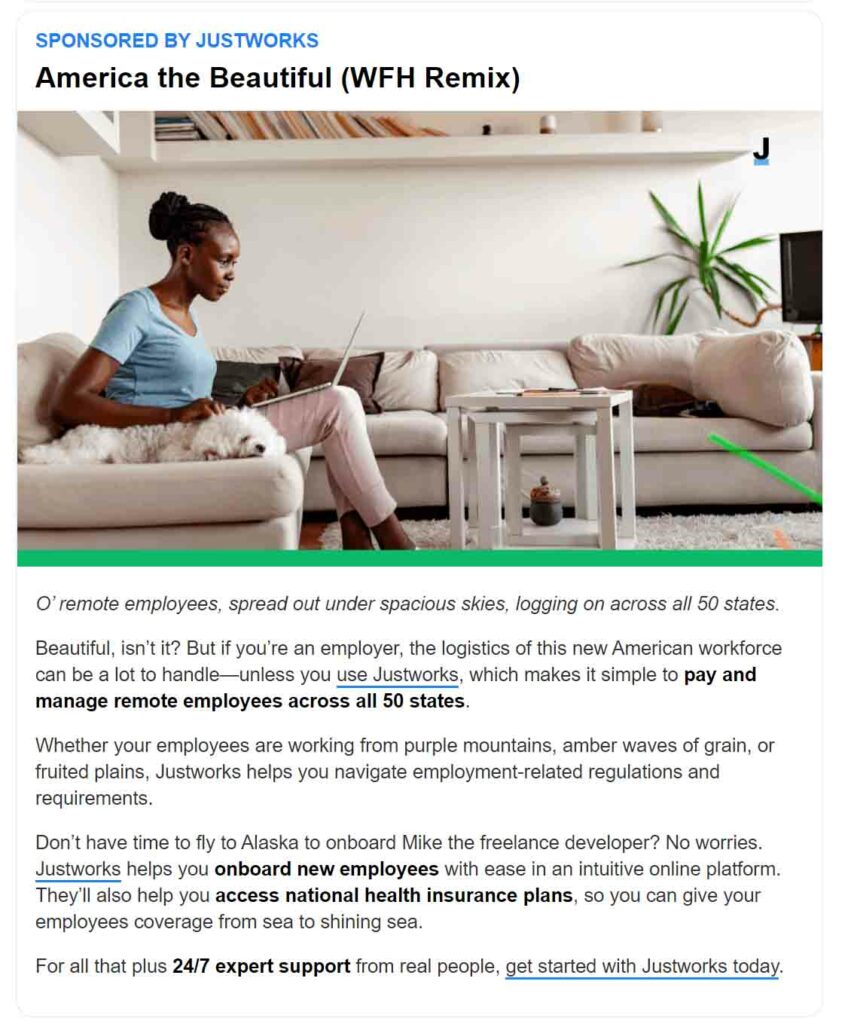 How should the newsletter ads be valued?
That's a challenge given newsletter advertising rates have not been standardized in the industry. In general, the rate is based on total number of subscribers, the open rate, and the click-through rate (CTR).
In the Newsletter Crew podcast, "Pete Codes," who runs two newsletters, suggests setting a newsletter sponsorship fee equal to 5% of total subscribers. Using that calculation, a newsletter with 5,000 subscribers would charge $250 to sponsor an issue.
Pricing newsletter sponsorship? @Petecodes suggests a fee equal to 5% of total subscribers in @newslettercrew podcast. #creatoreconomy #contententrepreneur
Click To Tweet
You also could charge based on total impressions, also known as your open rate. This amount often is represented as CPM (cost per thousand). According to Paved, CPMs for a healthy newsletter range from $15 to $30 CPM.
Another option is to charge per lead generated, which is based on the number of clicks the ad received. If you go this route, make sure to charge more per click than per impression. The value of those clicks is high for the advertiser.
For all of these options, you can limit the number of ads or advertisers in any newsletter. By doing that, you can charge a premium for the limited space available.
What else?
Two more things. Don't take any ad deal. Any advertising-focused content must be relevant to your audience. Otherwise, they won't open your newsletters or opt out. And neither you nor advertisers will like that.
And finally, make sure any paid content opportunities are visually recognizable as ads or disclosed in the text as paid promotion. That way you don't get in trouble with the Federal Trade Commission.
Ann regularly combines words and strategy for B2B, B2C, and nonprofits, continuing to live up to her high school nickname, Editor Ann. An IABC Communicator of the Year and founder of G Force Communication, Ann coaches and trains professionals in all things content. Connect with her on LinkedIn and Twitter.