Welcome to The Tilt, a twice-a-week newsletter for content creators who want to be or already are content entrepreneurs. We talk aspiration, inspiration, revenue, audiences, tech, trends, and more to help your content business thrive.
---
full
tilt

Think of Your Audience as People First, Business Assets Second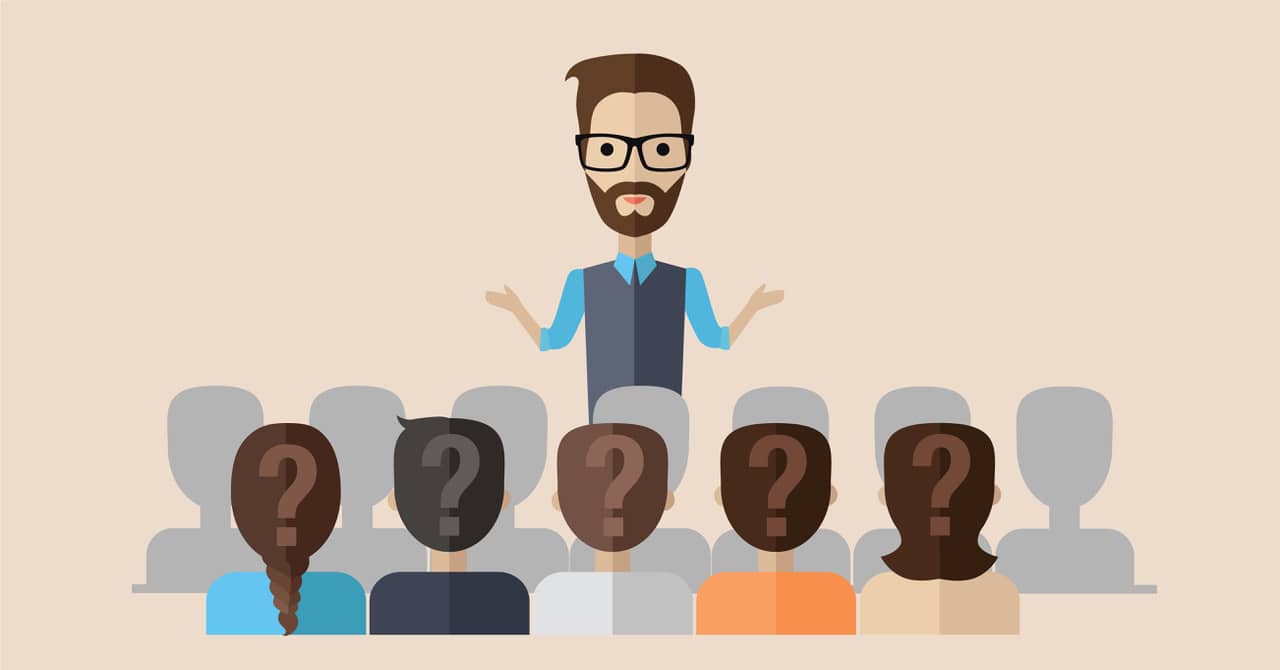 In a content business, you need a target audience.
Who are you trying to reach? Who are the people who would be most interested in the content you're creating?
While the phrase "target audience" works for a business model, it has a downside. It removes humanity from the equation and views your audience more as strategic assets than people who have a shared interest.
Thanks to comedian Michael Jr., there's a better question to ask: Who do you want to serve?
That's the interrogatory on which he bases his comedic content business, which includes live and digital shows, videos, a weekly podcast Funny How Life Works, and a book with the same title.
Though that probably wasn't what he was thinking the first time he told jokes in public. Nope, that was a dare from a friend in a movie theater after the projector broke. His fellow moviegoers laughed. After he sat back down, security came in to kick him out. "This white lady, who I don't even know, stood up and said, 'If you kick that young man out, I want my money back.'"
More people – bikers with long hair and tattoos, Black people – stood up for him too. The proverbial lightbulb went off. "What I'm called to do isn't just to make people laugh. It's to make them laugh and come together for something that's bigger than just themselves," Michael Jr. says.
He had found what would become his content tilt. "That's what happened in that moment, and that's what's happening in the moments of my life as I breathe right now."
The Tilt Advice
Whether Michael Jr.'s on stage or talking in a video or on his podcast, he's asking himself: "How can I make some positive change into the person's life who's listening?"
You don't need to be as magnanimous as Michael Jr. But it is smart to view your audience goals from two perspectives – your business' goals and your audience's goals. The first category centers around subscribers, followers, etc. The second centers around humanity.
His advice for every content creator or content entrepreneur: "Are you asking 'what can I give' or are you asking 'what can I get?'
"If you don't know the answer … you're probably asking, 'What can I get?' because that's what we all do by default. You have to make a decision to ask, 'What can I give?'"
– Ann Gynn
To learn how Michael Jr. really found his life's tilt when he was a little boy, which advice helped land him on The Tonight Show and Oprah, and why he stopped asking what would make his audience laugh , read the longer story.
---
ThatDenverGuy Reveals Video Platform Secrets
Entrepreneur: ThatDenverGuy
Biz: ThatDenverGuy gaming content, Zero to Legend YouTube Mastery Course
Tilt: Second favorite phys ed teacher who creates video gaming content
Channels: ThatDenverGuy YouTube (1.08M), Den Top 10 YouTube (259K), Twitch (50.2K), TikTok (70.9K)
Rev Streams: YouTube and Twitch subscribers, YouTube ads, course, merch
Our Favorite Actionable Advice
Know it takes a lot of work:

Though he found monetary success early, ThatDenverGuy says content creation requires big time commitment.

Don't be a copycat:

Resist the urge to replicate what works. Find a mentor who can inspire your work.

Stick with YouTube:

ThatDenverGuy believes the world's largest video platform is the best one for creators who want to earn long-lasting revenue.
Some of the Story:
When ThatDenverGuy (whose real name is Denver) started his first YouTube channel, he had just welcomed his first child, worked a full-time job as a fourth grade and physical education teacher, and was generally stressed out. He spent his nights creating content to make a little extra cash to pay some bills.
Five years later, Denver's main channel has 1.08M subscribers. His dedicated followers return weekly to watch his gaming content, mostly advisory videos on the well-known battle royale game Fortnite or play-through guides for more niche games like Stardew Valley.
Denver always planned to make money from his content and first did so through YouTube's AdSense program. "I monetized as soon as I could through YouTube but never really got into selling merch and other stuff until much later," he says. "My main sources were Adsense income and livestream memberships, donations, and subscribers through both YouTube and Twitch."
His career took off across platforms. Denver now has two YouTube channels (while acting as the creative director for three others), a successful Twitch streaming account, and even caters to a new audience on the ever-rising app TikTok. Though he's tried them all, Denver continues to return to YouTube as his favorite and most profitable stream of income.
"I believe that YouTube is the absolute main platform all content creators should strive to capitalize on," Denver explains. "Twitch is excellent, but once a stream is over, it's done forever, and hours of work will no longer have anything to show for it minus a few long-term viewers.
"YouTube, on the other hand, is still rewarding me years later. I have videos from four to five years ago that still bring in a couple of hundred dollars a month each. YouTube also has the best system in place to promote new creators to a wide audience and gives people the best chance at building a community."
– Kelly Wynne
All the Story: To learn more about ThatDenverGuy, what he says all content entrepreneur wannabes need, and how he expanded his revenue streams, check out the longer story.
Know a content creator who's going full tilt? DM us or email [email protected].
---
​
quick
talk

Caught on … Twitter​
"
Creating a two-way communication with an audience is everything.
" –
Ishneet Singh
​
---
​
things to
know

Money
Audiences
Tech and Tools
And finally
---
shout-out in the
tilt

Shout-out to MarTech Alliance, a learning solutions business with marketing technology & ops events, courses & resources.
Also, special thanks to the This Old Marketing podcast sponsor, MarcomGather, for their free trial offer.
With MarcomGather you can quickly centralize assets, eliminate unorganized file storage, and best of all – never lose track of your files again. Experience MarcomGather free for 30 days at https://marcom.com/tom/.
Now, you can send the next shout-outs. Spend your $TILT coin to create your shout-out and we'll publish it in an upcoming issue. See here for details.
​
---
we're a stan for
Deere

Five years ago, makeup artist Deere built a following on Twitch when she morphed two subcultures into one: video games and drag. The streamer explains to NBC News, "I was thinking to myself, 'I have a new computer, it has the capabilities of streaming, and I just want to be a drag queen, so why not be the video gaming drag queen? It just made sense.'"
She then formed a collective with drag streamers called Stream Queens, which now has over 80 members, hoping to cultivate a supportive community for queens (and kings) on the platform.
Well, pushing for inclusivity online pays. According to the Twitch Money Calculator on Influencer Marketing Hub, Deere's channel (42.2K) has an estimated media value of $14.6K. Paid subscriptions, donations, and influencer marketing, along with ads, affiliate sales, and sponsorships account for her various income streams.
Why we're a Stan: We love that Deere saw the power in collaboration. Making space for queens and kings also allowed for her account to become a recognizable part of drag gaming.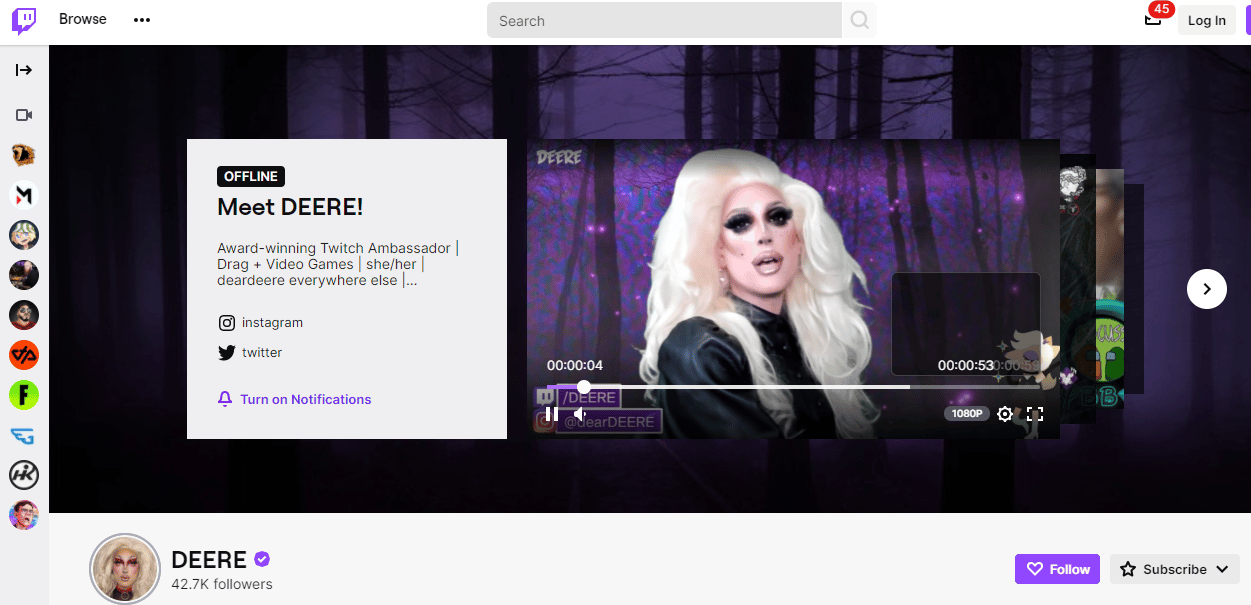 ---
​
the business of
content

Joe interviews Nathaniel Whittemore in his weekly podcast, Content Inc. Hear how The Breakdown with @NLW went from zero to millions of downloads. From launch to audience to revenue, they cover it all.
In the latest This Old Marketing, Robert and Joe discuss who will win the social audio wars as Spotify gets into the competition. Also listen in to hear the rants and raves of the week, including Link-in-Bio startups, which really isn't a thing and how big tech is taking over the creator economy.
​
---
​
the tilt
team

Your team for this issue: Joe Pulizzi, Ann Gynn, Laura Kozak, and Dave Anthony, with an assist from Kelly Wynne, Shameyka McCalman, and Don Borger.
​