Welcome to The Tilt, a twice-weekly newsletter for content entrepreneurs. Each edition is packed with the latest news, strategies, and tactics, plus inspiring creator stories and exclusive education, all to help you create, grow, and monetize better.
---
​
full
tilt

A Successful Content Creator Does These 4 Things in Their Content Business [Research]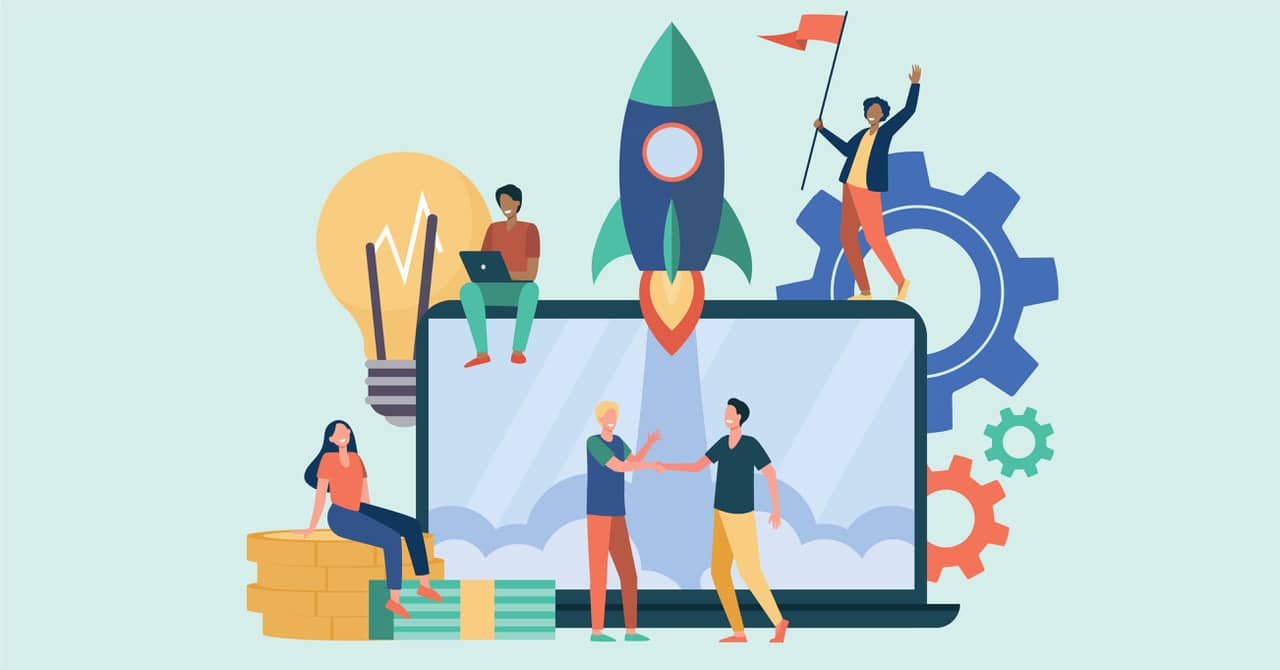 Success is what every content entrepreneur wants.
But what are the ingredients to a prosperous content business?
With the release of The Unconventionals: 2021 Benchmark Study of Content Entrepreneurs, a study of over 1,400 content entrepreneurs, we now know what goes into a successful content business: They are focused, disciplined, and patient.
Here are some of their characteristics and differentiators. They:
Spend two years on average before bringing in enough revenue to support one person

Work full time on their content business

See themselves as business owners, not just content creators

Prefer owned channels for their content rather than social or other third-party channels.
Let's look a little more into how you can translate that to help your content business.
Tilt Advice
Take the time
They know success doesn't happen overnight. The research shows it takes about nine months until the first dollar is earned and 26 months until the business brings in revenue to support at least one person.
Did they know how long it would take when they started? Probably not. In this relatively new category, they didn't have anything to compare themselves to. But now you do. Use that knowledge to do two things:
Create a business strategy

with realistic benchmarks and goals.

Expand your learning

on what works and accelerate that timeline.
Pursuing passion isn't enough
Three in four content entrepreneurs say they got into business to pursue their passion. Yet, only 30% of a content entrepreneur's time is spent on creating content. Knowing that, here's what you need to do: Adopt a business mindset. Get into all the business things like marketing, sales, project management, finances, and more from the very beginning.
Also, don't try to do everything yourself. You're not a lawyer or an accountant. It's better to invest now for experts than to pay later because you didn't have them. Look for expert resources who understand an entrepreneur's world. Don't hesitate to ask them how you can do the non-expert legwork to keep the bill as low as possible. Frankly, as much as possible, outsource everything you don't like to do or are not good at.
Take control
Successful content entrepreneurs are likely to create blogs, newsletters, and other content on their owned channels, usually their website and email list. They dismiss the need for intermediary platforms as revenue channels.
We've long been big advocates of owning your content channels. With emails, you have a direct way to reach your audience. With websites, you know how your audiences behave with your content in detail. You can't get that on social media platforms.
After all, Facebook, TikTok, Twitch, Instagram, YouTube, Twitter, etc., are focused on how to grow their business. Sure, creators are a part of that, but decision-making always revolves around what's in the best interest of the business.
It's OK if you use those third-party platforms to market your business or even to start building your audiences there, just make sure you have a plan to move those fans onto your owned channels. Another benefit? You'll likely see healthier profit margins because you won't have a middleperson taking a cut.
– Joe Pulizzi
To find out a few more success differentiators and our tips on how to build a content business if you can't quit your day job, read the longer article.
You can read this data and more in the primary report: Unconventionals: 2021 Benchmark Study of Content Entrepreneurs.
---
Puppy Songs Entrepreneur Matt Hobbs Sees Huge Numbers on TikTok, Prefers Instagram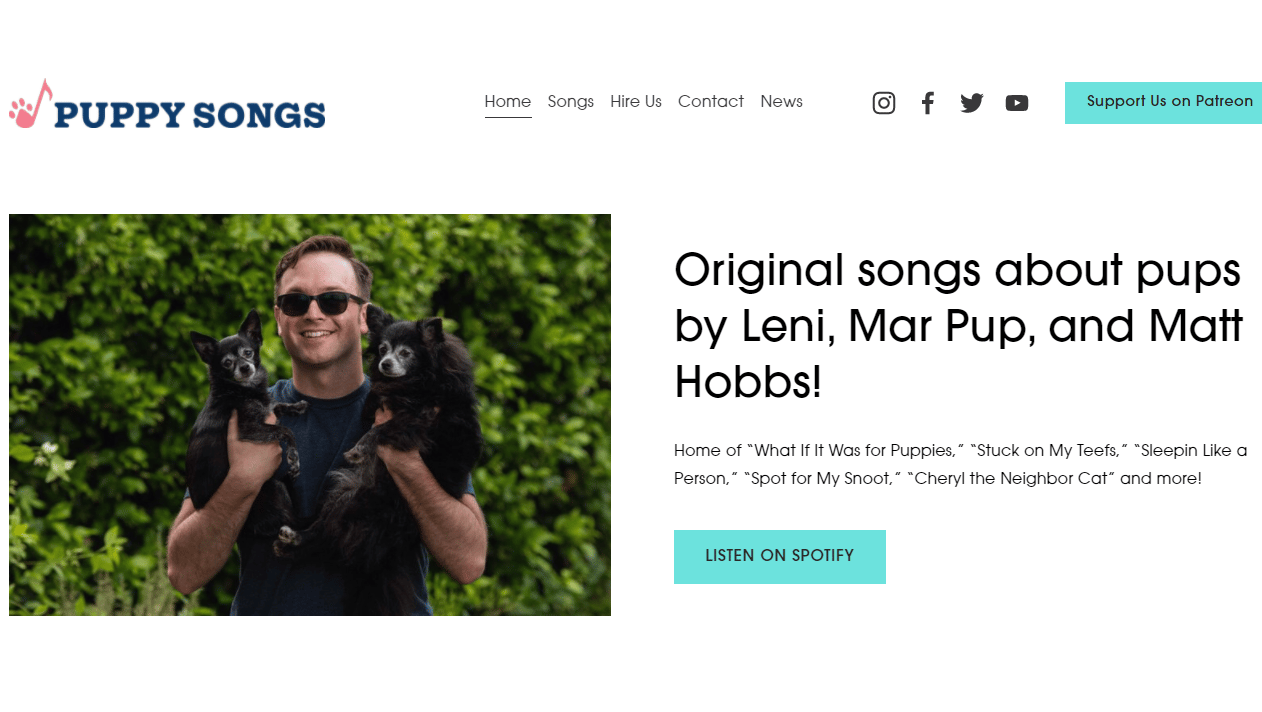 Entrepreneur: Matt Hobbs
Biz: Puppy Songs​
Channels: TikTok (428K) YouTube (1.13K) Instagram (25K) Spotify​
Rev Streams: Patreon, TikTok, Instagram, Cameo, Merchandise
Our Favorite Actionable Advice
Think people, not numbers:

Matt responds to comments and direct messages to form genuine connections with his fans.

Stick to your niche:

Though he's a talented musician, Matt says he only publishes songs about dogs on his platform.

See TikTok for what it is:

Puppy Songs has been a huge hit on TikTok, but Matt sees that audience there as fleeting. He spends most of his time interacting on Instagram.
Some of the Story:
Matt Hobbs wasn't thrilled at his 9 to 5. He left his job in 2019. Then, during the pandemic, all his contract work was put on hold. So, in his free time, he produced more of the silly songs he sings to his dogs and uploads to Instagram. What followed was a big response from audiences, leading some of his songs to become TikTok memes.
Matt launched the Puppy Songs accounts on Instagram and TikTok in 2019. He says it was a miracle that the simple name was available on every platform and even as a domain name. Whether fate or good timing, Matt's musical talent, combined with his love for his dogs Leni and Mar Pup, made him a top contender for those interested in animal content.
Each song brings a wholesome, animal-loving tune to the forefront. Matt writes and produces each piece of music. They center on his own pups or the dog of a Puppy Songs fan. He's published 96 original melodies that reflect the unique nature of the dogs close to his heart.
While many new creators gifted with overnight success on TikTok see it as a quick way to gain followers, Matt prefers Instagram. He wants to build authentic connections with his audience and says Instagram guarantees his content will be seen by those who really care about it.
"There's no way to say that that doesn't sound cheesy," Matt continues, "but you get these messages from people saying, 'Me and my daughter who is 6 years old listen to your songs. She loves to sing Gimme Da Beef.' That never gets old. If someone takes their time to send that to me, I'm going to reply with a picture of Leni because Leni is their favorite. Bonus content straight to them."
The Puppy Songs Instagram account has over 25K followers (a smaller audience compared to its TikTok's almost 430K.) But the number isn't what matters to the success of the brand.
"Our audience is smaller there, but I recognize almost every handle I see who comments or interacts with us," Matt explains. "I have friends. I message people. I respond to every message. The view count is lower. The whole machine is lower. But it's all higher quality."
Each song in the Puppy Songs playlist takes Matt somewhere around eight hours to produce. His unique formula differs from many because he delivers authenticity, both in personal interaction and the scope and depth of his content.
– Kelly Wynne
All the Story: To learn what Gary Vaynerchuk strategy Matt Hobbs follows, the things he really does like about TikTok, and his best advice for content entrepreneurs, check out the longer story.
---
​
quick
talk

Caught on … Entrepreneur​
"Be prepared to evolve, integrate, adjust, adapt, and tinker with your business every single day." – Liv Bowser
​
---
​
things to
know

Money
Audiences
Tech and Tools
And Finally
---
​
we're a stan for
Timothy Betar (aka TimTheTatman)

Call of Duty fans would be remiss not to watch Timothy Betar's livestreaming sessions. Known by his handle TimTheTatman, the content entrepreneur began in 2012 hunting enemies in single-person shooter games for fans around his work schedule. The double duty meant he worked 70 hours a week.
Though Tim made little to no income at first, he was able to leave his full-time job after three years of nonstop gaming. Adding snippets of commentary and investing all his efforts into his new career were key to earning the now 31-year-old thousands of views and subscribers.
Continuing to play countless rounds of Call of Duty: Warzone for his 6.8M subscribers allowed him to top GQ's list of 10 highest-ranking Twitchers, placing fifth for earning $1.21M.
Why we're a Stan: It takes time before your content creations turn into a successful content business. As he grew his subscriber base, Timothy gamed around his 9-5 life. But he didn't stop there. He also dedicated time to improving his craft and commentary to help him achieve his goals.
– Shameyka McCalman
---
​
the business of
content

In this week's Content Inc. podcast, Joe talks about our just-released content entrepreneur benchmark study. There are two very concerning statistics that need to change if we are going to move this profession forward.
​
In the latest this This Old Marketing podcast, Joe and Robert digest the breaking research from The Tilt on the state of the content entrepreneur. Rants and raves include a shout out to Marketing Dive, YouTuber Miles Beckler, and Dax Shepard breaking down crypto.
​
---
​
the tilt
team

Your team for this issue: Joe Pulizzi, Ann Gynn, Laura Kozak, Marc Maxhimer, and Dave Anthony, with an assist from Kelly Wynne, Shameyka McCalman, and Don Borger.